Our New Family Program, Celebrity-Approval, and Interview with Elite Pool Butler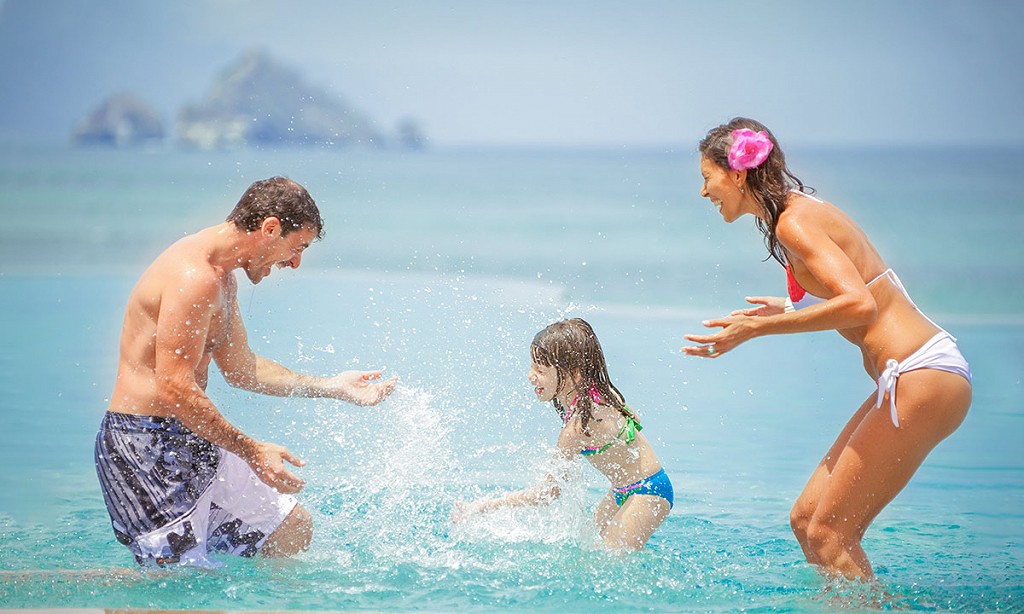 Garza Blanca Resorts, Villa del Palmar Cancun, and Sierra Lago
Launching our new Family Program
We are pleased to share with members that we are launching a new Family Program across all of TAFER´s family-friendly properties in Puerto Vallarta, Los Cabos, and Cancun. This is good news for families and will allow them to dive into the ultimate family beach vacation, while packing light.
As part of our Family Program, we will be offering amenities for use while at the resort including baby bottle sterilizers, baby monitors, bottle warmers, bouncers, strollers, car seats, baby bathtubs, and terrace door protectors.
To make our smaller guests feel like VIPS, we will now be offering kid-sized bathrobes and slippers for children to use while staying at the resort. There will also be the option for parents to purchase these amenities to take home, if they wish.
In addition, each child aged 4 -12 will receive special take-home amenities designed especially for them including a jute drawstring backpack, a plush with resort logo, a coloring book with games, and a traditional Mexican handcrafted toy.
Our Family Program will be offered as an exclusive service to families available for no additional cost and applicable to reservations in the One Bedroom Suite category and above, based on a minimum 3-night stay. Amenities are available upon request at the front desk at the time of check-in or upon making the reservation.
The VIP perks are intended to provide everything families need to enjoy a wonderful beach vacation and will complement the existing activities that are available for kids and families at our resorts.
Refined luxury and hospitality awaits you with a tailored family vacation experience designed to impress vacationers of all sizes.
Garza Blanca Cancun
Celebrity-Approved Resort
Almost everyone loves a bit of celebrity gossip, and we are excited to share that our newest property, Garza Blanca Cancun, recently had a very special guest, Floyd Mayweather Jr., staying with us. He booked a stay in the 4 Bedroom Penthouse Loft and gave his Instagram followers a peek inside repeating the words, ¨Beauty, Beauty, Beauty!¨
For anyone who has never heard of Floyd Mayweather Jr., he is a former professional boxer with a huge following of fans and 25 million Instagram followers. He won fifteen major world titles and is known as being one of the best, or quite possibly the best, defensive boxers in history.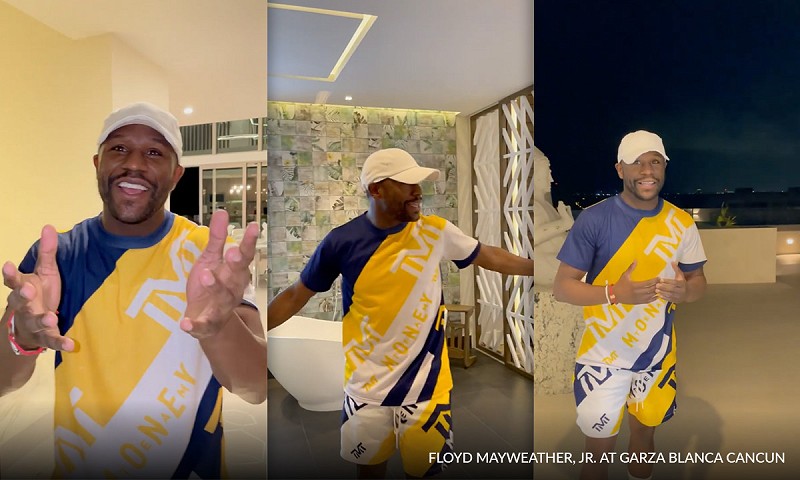 During the tour of the stunning split-level Penthouse Loft that Floyd gave to his fans, while up on the private Rooftop terrace with a jacuzzi, Floyd proclaimed that Garza Blanca is the best hotel in Cancun.
We are very proud to be a celebrity-approved resort. Come to see for yourself what makes this property so special, and most importantly, come to vacation like a celebrity! We guarantee that we will provide you with the VIP treatment you deserve.
Villa del Palmar Cancun
Interview with Carlos Josué Hernandez Arroyo, Pool Butler
Meet Carlos Hernandez, the Elite Pool Butler at Villa del Palmar Cancun. He takes some time out of his busy schedule to tell us a little about himself in this exclusive Q&A.
Tell us a little bit about your career path?
I am originally from Mexico City. I can say that my career path hasn´t been straightforward, but I can say that I am happy with where I ended up. I studied two professional careers, one in biology and another in business administration. During my studies, I also studied English, not knowing then that it would help me to work for Villa del Palmar Cancun.
I am 27 years old and I arrived in Cancun 2 years ago. At first, I worked for an environmental consultancy. Then some friends recommended I apply for a job at Villa del Palmar Cancun because of the work environment. I applied and got the position of Pool Butler at the Elite Pool. I have now been working here for one year.
What is it like working at Villa del Palmar Cancun?
I really enjoy working here. The resort is so beautiful and our members are so wonderful. Being around them makes me feel happy. It is completely different from anything I Imagined doing, but I absolutely love the job. I love interacting with the members, hearing their stories, providing the best service that I can for them, and being able to share a joke with them and put a smile on their face. I feel very at home here and I like to ensure that every Elite Member who comes to enjoy the pool here has a beautiful experience.
Last year, the situation was very difficult because of the pandemic, but I still have my job here, and I know that that means I work for a good company, and also that they value my work, and I am very grateful for that.
What does Cancun mean to you?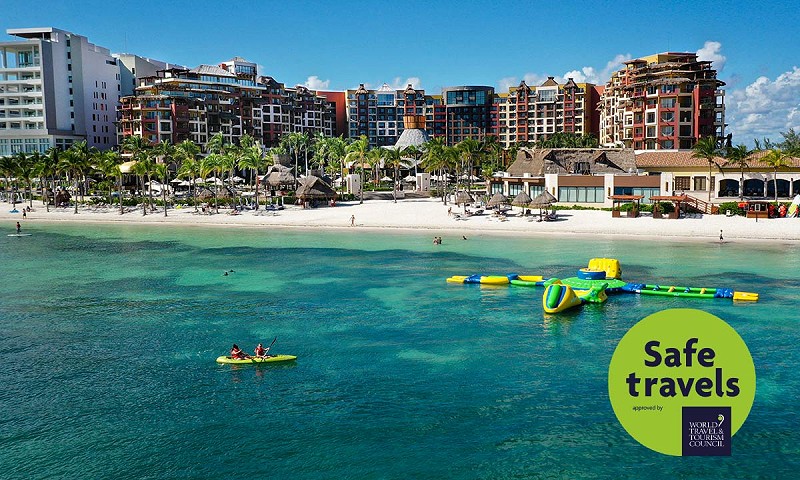 Cancun to me means an opportunity to live new experiences. When I first moved here, I had many doubts. I had never known any place other than my home. Moving here meant leaving my family and going out on my own. But I stayed positive and thought about the prospect of learning about a new place and knew that the experience would help me to grow as a person. Since moving here, everything has been very good and I know it has been worth it. The experiences I have had here have exceeded my expectations.
What inspires you?
I guess I could say that I am inspired by meeting new people and making others happy. I am also inspired by new experiences and learning new things. I like knowing that I have helped to contribute to making our members´ vacations unforgettable.
When guests mention me on Tripadvisor or my leader´s recognize me based on positive comments, it fills me with a great sense of joy and purpose, since then I know that I am making a difference.
Carlos has been repeatedly recognized for excellence by our guests and members both on Tripadvisor and on resort comment cards. The next time you stop by the Elite Pool at Villa del Palmar Cancun, be sure and say hello to him.