Hotel Mousai
Puerto Vallarta, México
Hotel Mousai in Puerto Vallarta sets the pace for a new generation of designer hotels for TAFER Residence Club members aged over 16 years old, where fresh flirtatious aesthetics and cutting-edge comfort will inspire you to live sensationally.
WiFi Internet
24 Hrs Front Desk
24 Hour onsite doctor
24 Hour Room Service
Access to certified white sandy beach with

VIP

area
Temperature-controlled outdoor Jacuzzis
Professional wedding services
Laundry and dry cleaning service
Wine and imported liquor cellar
Concierge
Ocean view gym
Infinity pools
Ocean view hotel suites
Valet Parking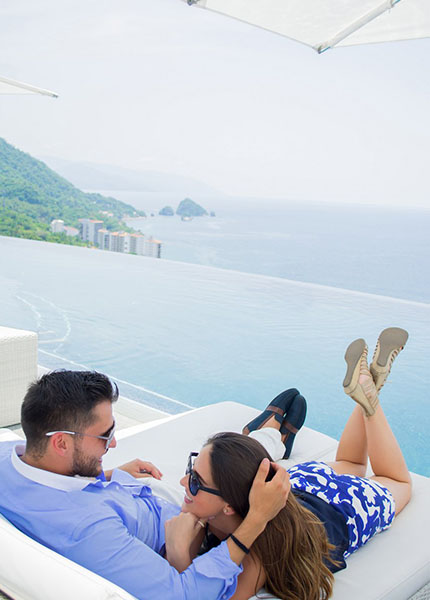 Suites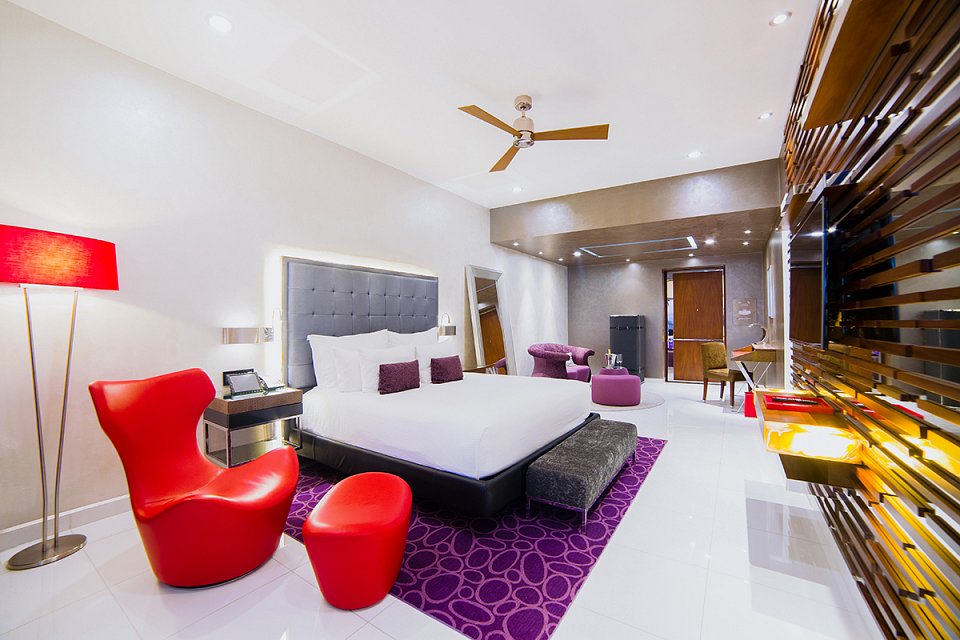 Suite North
This spacious and lavishly designed 1,069 sq.ft Mousai Suite featuring a deluxe king size or two twin bed, stunning ocean view, private...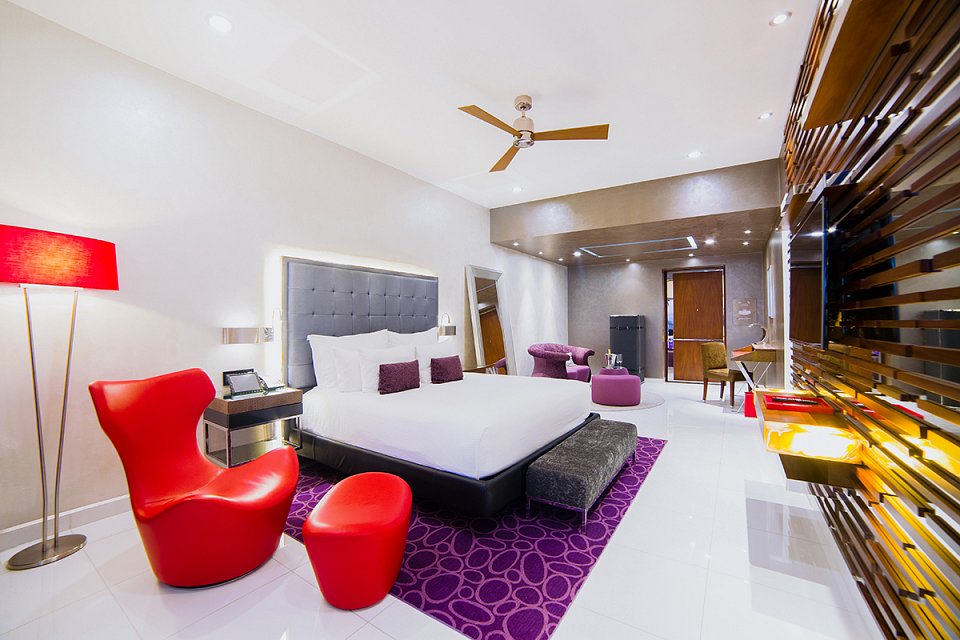 This spacious and lavishly designed 1,069 sq.ft Mousai Suite featuring a deluxe king size or two twin bed, stunning ocean view, private terrace with gold-tiled jetted plunge pool, mini-lounge with sofa and en suite bathroom provides a deliciously elegant and trendy setting for exclusive contemporary vacations. One night in the Mousai Suite and your expectations of luxury will be changed forever.
Amenities
Bathrooms with a Twist
Sliding doors open to terrace plunge pool from bathroom
Separate state-of-the-art automated Toto comfort toilet
Walk-in Rain Shower
Shower walls decorated opulently in Venetian chocolate litmus and quartz plates
Chic bathroom...
Features
Private terrace with jacuzzi
Dazzling dual vanities on an onyx pedestal sink
iPad operated ambience system for lights, electric curtains and mood.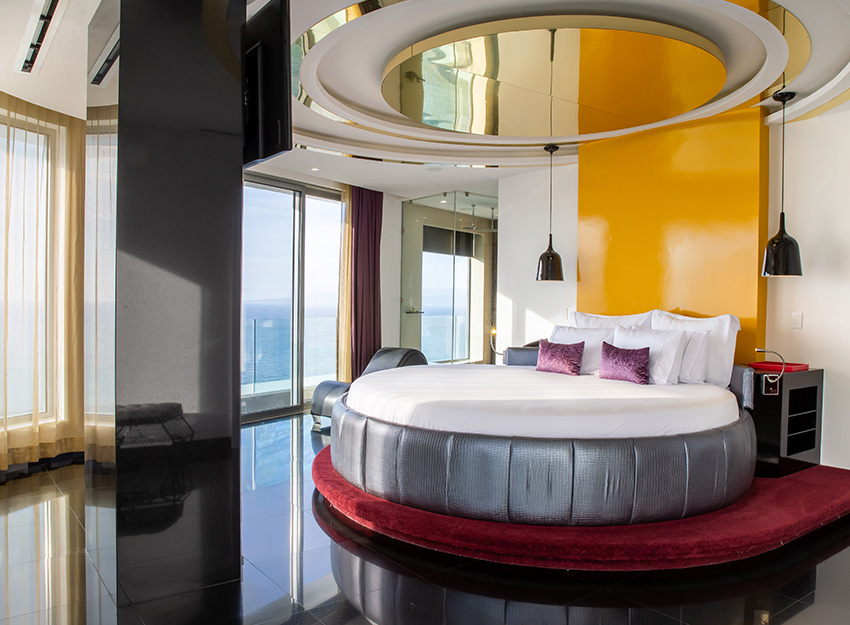 The Penthouse North
Bask like a sultan and relax like a deity in this splendidly proportioned 2,852.24 sqft one bedroom penthouse, a breathtaking tribute to...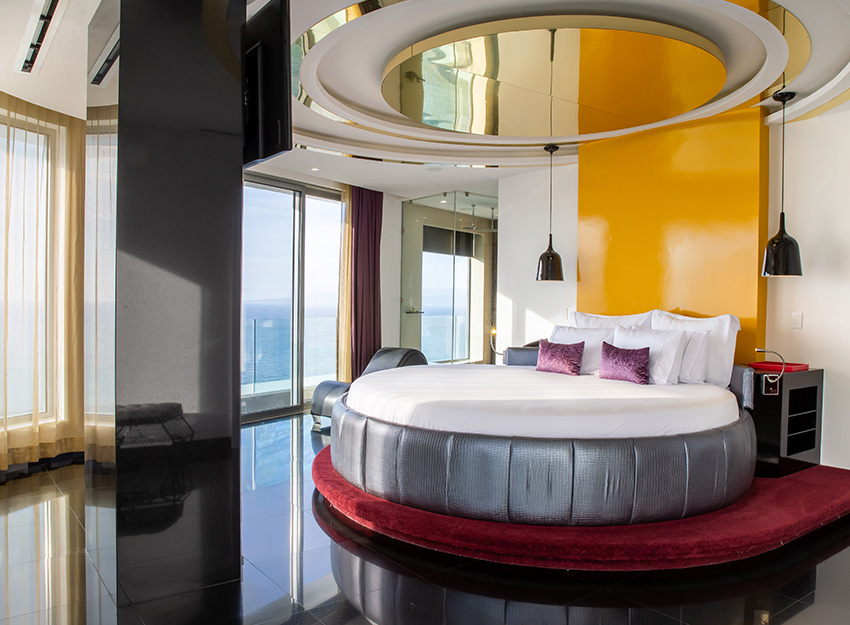 Bask like a sultan and relax like a deity in this splendidly proportioned 2,852.24 sqft one bedroom penthouse, a breathtaking tribute to chic and sophisticated experiences at the beach. The art of enjoying life becomes second nature in this palatial one bedroom work of art.
Amenities
Bathroom with a Twist
Large steam room with stunning ocean view
Two different sized shower heads
Dazzling dual vanities
Moen sinks
Two dressing tables with large circular mirrors
Separate state-of-the-art automated Toto comfort...
Features
Large steam room with stunning ocean view
1 jetted infinity plunge pool and iPad responsive curtains
Monogram equipment in the bar (wine cooler, ice-maker, small fridge)
Full-size gourmet kitchens with a breakfast bar
Gourmet Dining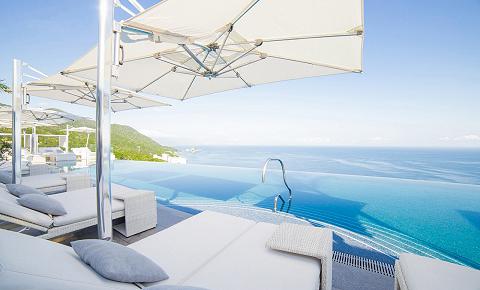 The Rooftop
Breathtaking is a flagrant understatement for this unrivaled option for ravenous guests seeking flirty dishes and sassy nibbles…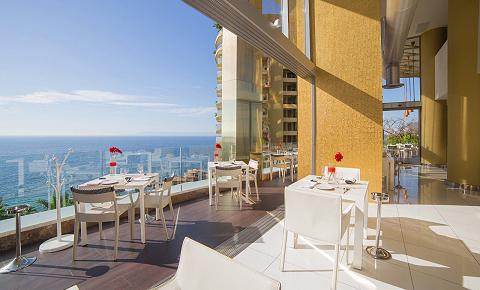 Hiroshi
A seductive selection of contemporary Asian gourmet, playfully presented for seriously avid fans of delicious culinary creations…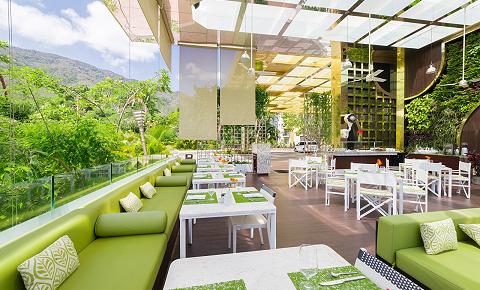 The Terrace
A bold trinity of appetite appeasing options, The Terrace is reinvented throughout the day to dazzle you at breakfast, teatime…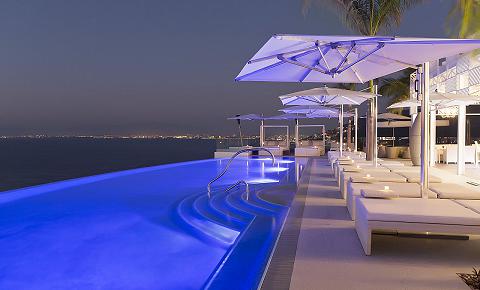 The Rooftop Bar
Transcending expectations to deliver innovative excellence high above the horizon, this poolside playground invites you to be…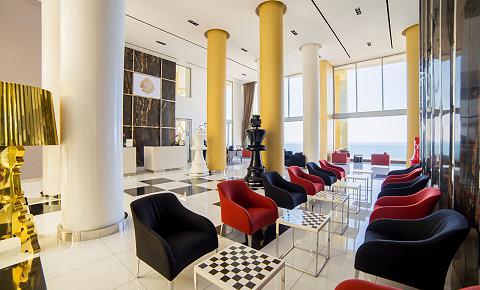 Lobby Bar
Bold and playful, even the most adventurous spirit will feel at ease amidst the trendy decor, DJ selection and signature…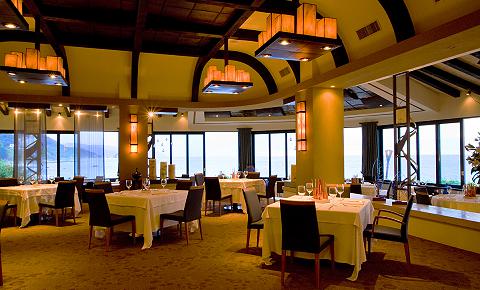 Blanca Blue
Breakfast, lunch or dine overlooking the water's edge and enjoy a selection of contemporary gourmet dishes in a chic elegant…
Bocados Steak House
Sassy steaks and succulent bites await at the vibrant BocaDos Steak House, a modern steakhouse at the foot of Hotel Mousai. A delightful…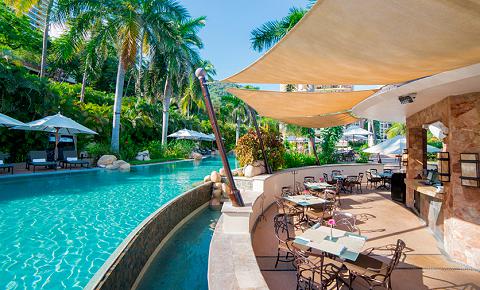 Aquazul
A fresh menu serving the beach and oceanfront pools with light snacks and cocktails during the day and tasty Italian dishes…
The All-Inclusive Meal Plan can be used by members staying at Hotel Mousai only. Please note that you must be 16 years old or older to enter Hotel Mousai Tower. *The Rooftop Pool is exclusive for Mousai guests.*
What includes?
Breakfast a la carte at Blanca Blue Restaurant and Bocadoss STK restaurant (7am-12pm).
Lunch a la carte at Aquazul Restaurant, Bocados STK Restaurant, and Blanca Blue Restaurant (12 - 6pm).
Dinner a la carte at restaurant Blanca Blue Mexican Avant Gard Cuisine, Aquazul Italian Cuisine, or Bocados STK (6-11pm).
Dinner at Hiroshi (6-11pm).
Roof Top Bar (6pm -1am).
Snacks from 12am-6pm in the pool areas & Aquazul Restaurant.
Alcoholic Drinks & House wines included: Premium brands local & Intl by the glass the Resort restaurants & bars (10am-1am) (Bottled Drinks not included other restrictions may apply).
Room Service (7am-11pm).
Deluxe Service Bar Included in Room (2 bottle waters, 2 regular coke, coke light & sprite, 2 Corona & Pacifico beers).
Personalized Check-in and Concierge Service.
Daily maid and turn down service.
3M & bath amenities with local craft accessories including bathrobes, slippers, safety box.
Unlimited access to gym (7am to 11pm for ages 16 years old and up only).
Imagine Spa Concierge service (8am to 8pm).
10% disc on Imagine Spa treatments & services.
Preparation of Jacuzzi (1 per stay).
Activities & Entertainment.
Welcome coffee kit in room the day of arrival.
Board games, books, magazines, towels, & pool amenities.
Non-Motorized water sports.
Parking.
Valet Parking service.
Private security 24/7.
Taxes & Gratuities included.
Not Included:
Telephone Calls.
Laundry.
Dry cleaning & Ironing service.
Services/Spa treatments.
Golden Premium mini bar.
Wines of the cave & alcohol by the bottle.
Cigars & Cigarettes.
National & International drinks and Golden Premium brands.
Take out from Restaurants.
Activities & Tours outside of resort.
Special tasting menus/Private Romantic Dinner.
Additional services.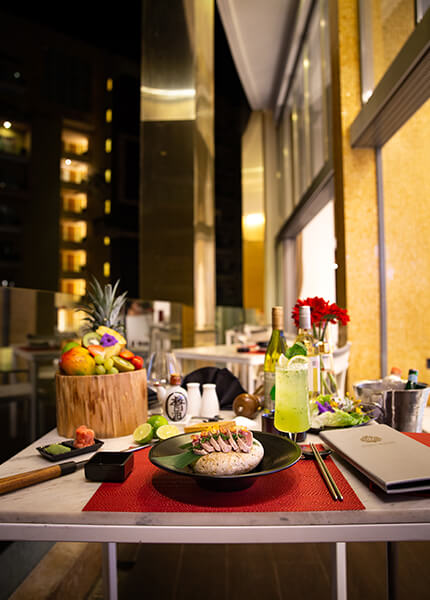 Spa Imagine
Joining the ranks of the best world class luxury spas in Puerto Vallarta, Mexico, Spa Imagine is a lavish hotel spa with a difference. Our mission is to support you in achieving your beauty and wellness goals through an exceptional palette of personalized spa treatments and therapies focused on balancing the body, mind, and spirit.
Services
Sauna & Steam room
Pressure massage shower
Six-cycle vitality pool
Large jetted hot tub
Cold plunge pool
5 Individual therapy rooms
3 Specialty therapy suites
Beauty Salon
Area for pedicure and manicure
Luxury showers and amenities
Digital lockers with personalized pin
Getting Here
Hotel Mousai is just 40 minutes south of the Puerto Vallarta International Airport. At Hotel Mousai, you can indulge in a range of five star amenities that ensure the ultimate lavish beach vacation for adults only.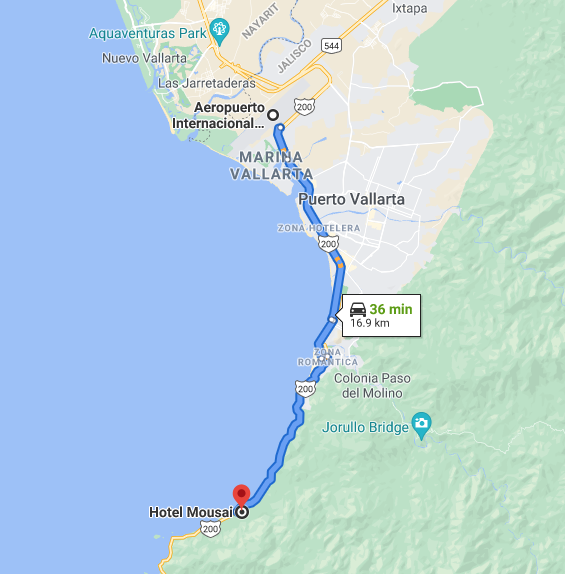 Navigating the Airport to Find Your Transportation