Awards and Garza Blanca Cancun News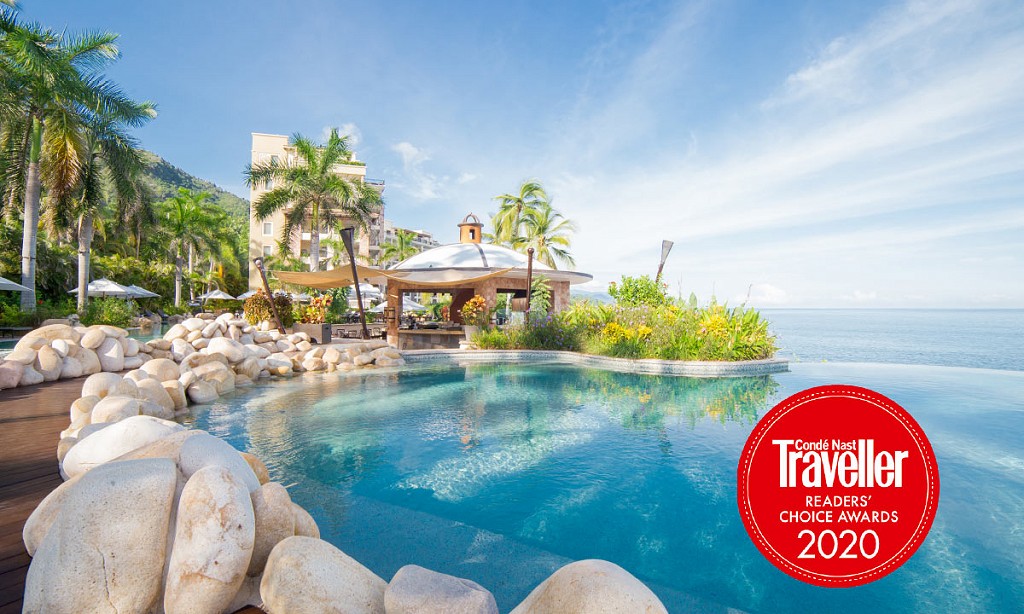 Garza Blanca Puerto Vallarta
Condé Nast Traveler Names Garza Blanca One of The Best Resorts in Mexico of 2020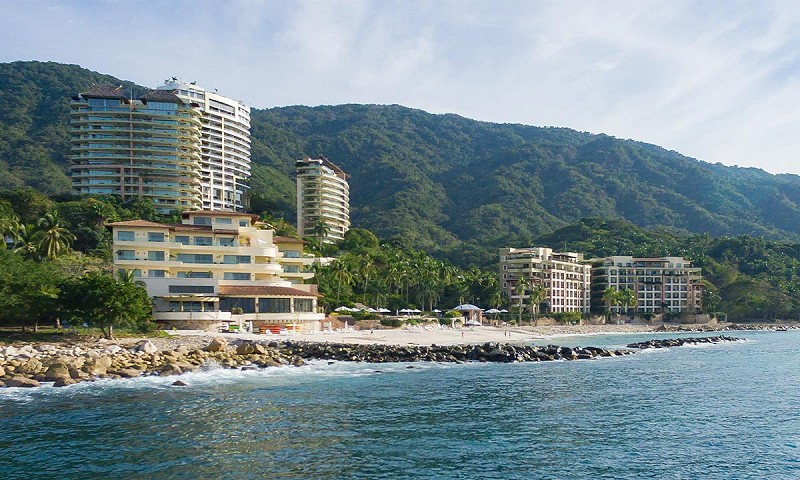 Every year the luxury and lifestyle magazine, Condé Nast Traveler, recognizes excellence in the travel industry with its ¨the best of the best¨ lists. The lists are compiled based on the comments and ratings of Condé Nast readers on the places they have visited and hotels they have stayed at, among others. The best of the best lists in 2020 were based on more than 715,000 surveys completed by its readers. The top-rated businesses received the annual Readers' Choice Award.
2020 was the 33rd year in a row Condé Nast gave out its prestigious awards, but it was the most unique year in the history of these awards, since travel came to a standstill for much of the year. In the 33rd edition, readers as well as mentioning the places they managed to visit in 2020, also mentioned the places that they were dreaming of returning to if they had been prevented from traveling.
In October 2020, Garza Blanca Preserve Resort & Spa in Puerto Vallarta had the honor of receiving the Condé Nast´s Readers' Choice Award ranking #12 in the category ¨Top 20 Resorts in Western Mexico¨. Recently, Condé Nast Traveler announced its list of the ¨Best Resorts in Mexico¨ and named just 40 resorts on that list. It is with great pride that we announce the inclusion of Garza Blanca Preserve Resort & Spa as #18 on that list.
Being named on these lists is a huge honor for Garza Blanca, particularly at a time when travel has been impacted so greatly by the pandemic. To all our members who voted for us, we are extremely grateful for your support and that you took the time to share your positive experiences in Condé Nast´s reader´s survey.
¡Gracias!
Villa del Palmar Cancun
Proud Recipient of Traveller Review Award 2021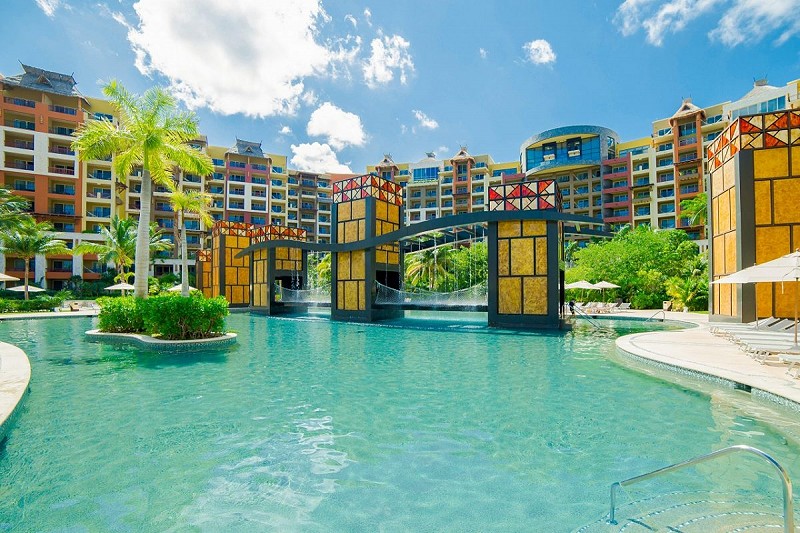 We are so pleased to announce that Villa del Palmar Cancun has been recognized for its dedication to outstanding hospitality and has received a Traveller Review Award 2021 hosted by Booking.com.
The 9th edition of this award recognized Booking.com´s accommodation and transportation partners that receive consistently high ratings on its website. All winners of the Traveller Review Awards 2021 had to have an average review score of between 8 and 10 based on reviews published on booking.com. Villa del Palmar Cancun received 183 reviews and achieved an average rating score of 8.3.
Villa del Palmar Cancun is extremely proud that all its efforts to deliver first-rate travel experiences have not gone unnoticed and these consistently exceptional review scores prove its commitment to industry excellence. Seeing our hard work recognized is the greatest ever reward.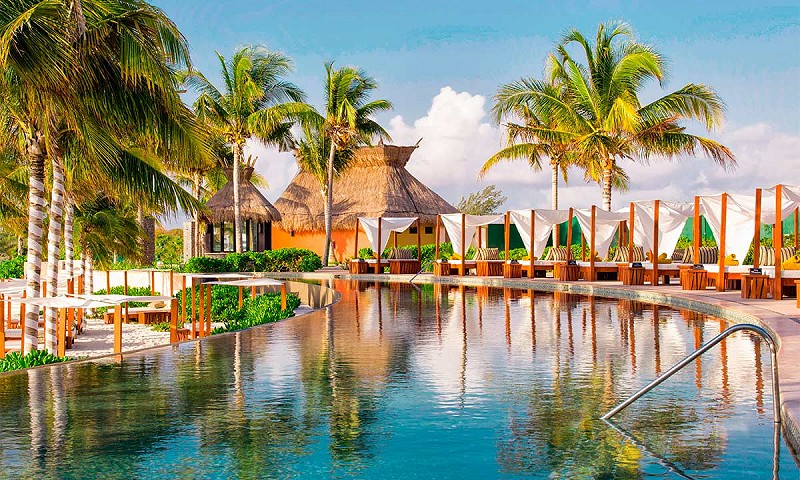 Today we celebrate this award and we thank all our valued members who have been part of us achieving this prestigious award recognition.
Eaglewings Together with Staff at Villa del Palmar Give Toys to Children with Cancer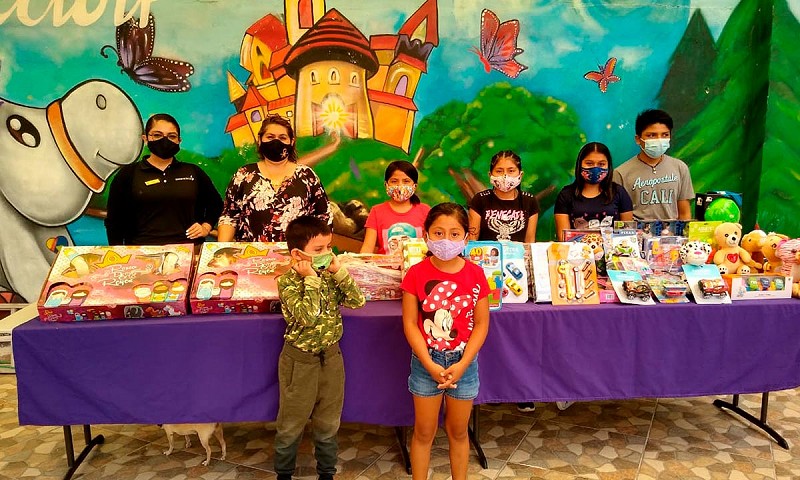 On Thursday, January 7, toys that were voluntarily donated by the employees of Villa del Palmar Cancun were delivered to the Fundación Aitana (Aitana Foundation), a non-profit organization that works to improve the lives of children with cancer.
Thanks to the Eaglewings Foundation (which Mrs. Julieta Reynoso is in charge of), the Human Resources department, and the staff´s kind donations, a total of 40 toys and 11 roscas de reyes (a sweet bread, which is traditionally eaten in Mexico on January 6th, known as ¨Three King's Day¨), were donated. The donated items included toy cars, mega blocks, stuffed animals, and balls. All of these toys helped to put a smile on the children´s faces.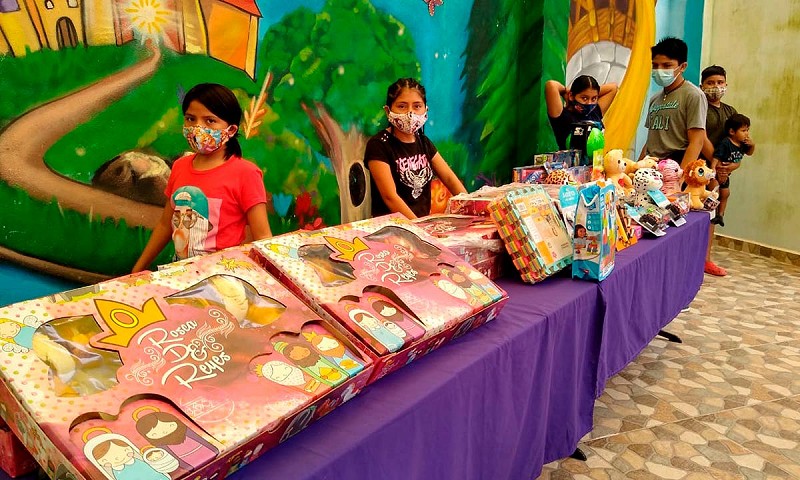 The Aitana foundation supports children who have cancer with treatments and counseling services in order to improve their quality of life.
Garza Blanca Cancun
The Grahams are Back Again!
At Tafer Residence Club, our members are truly part of our extended Club family. Their faces become familiar and we love creating shared happy memories with them.
You may remember our Elite Members, the Grahams, who were the first guests to stay at Garza Blanca Cancun when phase one opened on December 20th, 2019. The Grahams returned to visit Garza Blanca Cancun again for its soft opening of phases one and two on December 15th, 2020. On both occasions the Grahams had the privilege of cutting the blue ribbon and received a warm welcome by all the staff of Garza Blanca Cancun, as well as Otto Pareto, its Resident Manager, Juan Carlos Gonzalez, the General Manager of its sister resort Villa del Palmar Cancun, and Roger Schaaf, Vice President of Operations for Tafer Hotels & Resorts.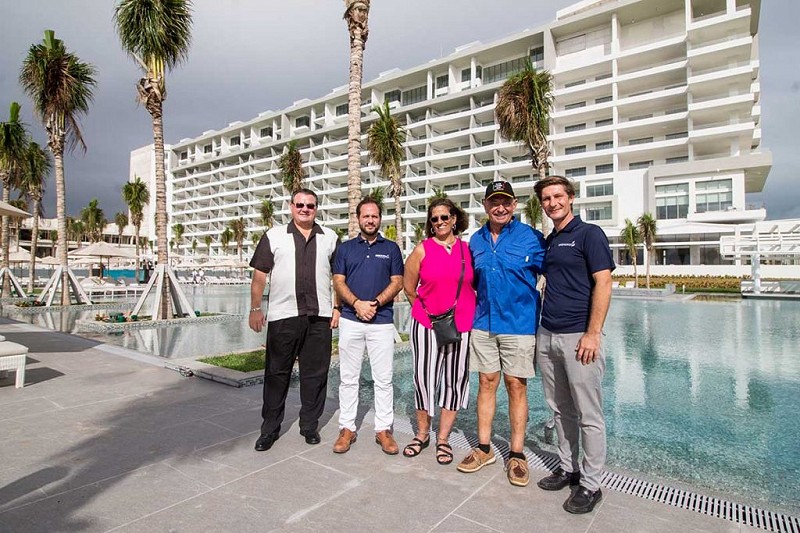 As the Grahams entered the lobby, all of the staff greeted them with their right hand over their hearts as a gesture to signify gratitude and respect. Mr. Graham was all smiles when he checked-in and he put a hand on his heart too.
From the lobby they moved outside to the area with swimming pools and the hammocks relaxation area and they were applauded the whole way. They enjoyed a welcome cocktail out on the terrace of Blanca Blue restaurant accompanied by live music. Then they were given a tour of their One Bedroom Ocean View suite and to top it off they were given an embroidered pillow that said, ¨Welcome to your new home Mr. & Mrs Graham. ¨ Watch the video. https://www.facebook.com/GarzaBlancaCancun/videos/460660847977703/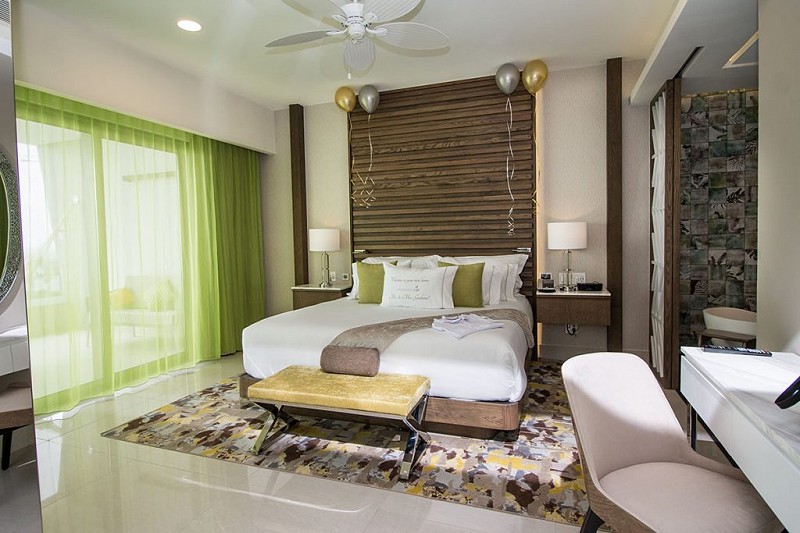 Since the Grahams, we have had additional guests who have given us very positive feedback about their stay at Garza Blanca Cancun and the resort is very proud of its 5.0 rating on Tripadvisor based on 56 reviews so far and is ranked #8 of 244 hotels in Cancun. Click here to read the reviews. https://www.tripadvisor.com/Hotel_Review-g150807-d21401702-Reviews-Garza_Blanca_Resort_Spa_Cancun-Cancun_Yucatan_Peninsula.html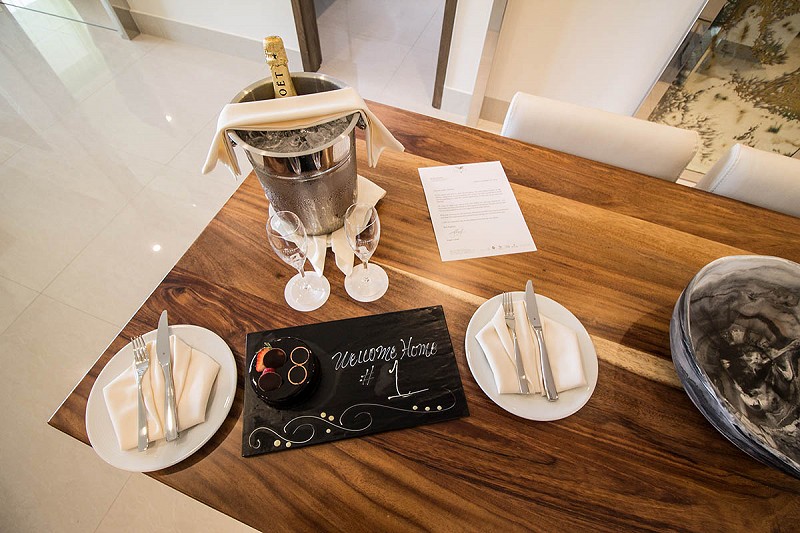 Now it´s your turn! If you would like to be the honored first guests, our next resort to open is Hotel Mousai II in Puerto Vallarta slated to open for November 1st, 2021. If you are there for the opening, you will also receive a warm welcome!
Our New Chef Patron at Blanca Blue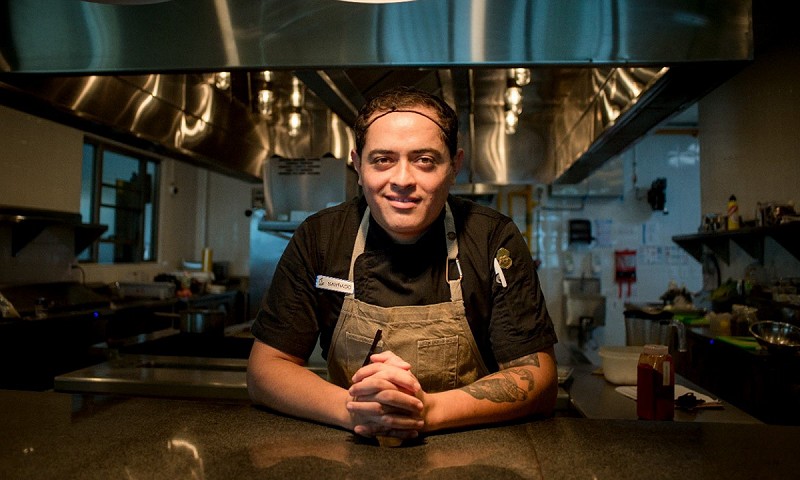 Introducing Tiago Aceituno, our new chef patron at Blanca Blue. Originally from Morelia, Michoacán, Tiago arrived in Cancun at the age of 17 and after finishing his gastronomy studies, he specialized as a pastry chef.
He then worked at Moon Palace, Zoetry, Isla Mujeres (opening the restaurant "Le Metissage" and preparing the menu for 14 days of tasting menus without repeating dishes), and at the opening of the Hotel Breathless in Riviera Maya, as well as 4 years at Casa Rolandi (kitchen by Chef Daniele Müller), in which he improved his cooking techniques.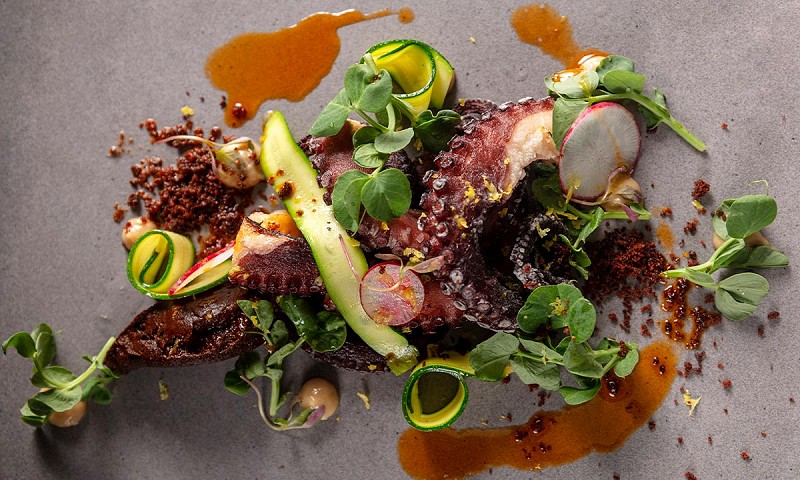 Tiago has participated in all kinds of festivals and events around the Mexican Republic such as: Morelia en Boca, MAG, Sibarita, Sabor del Saber, Convite, Wine & Food, etc. He is a very talented chef and there are mentions of his work in magazines with national distribution such as Vatel, Food and Travel, Wine & Food Fest, and more.
Chef Tiago has a very important role to lead the team and ensure that the quality of Blanca Blue´s Mexican avant-garde cuisine lives up to the expectations of our valued guests and members. His goal is to create flavorsome dishes for modern taste buds using cutting-edge cooking techniques while remaining faithful to Mexican flavors and ancient culinary techniques.
Blanca Blue at Garza Blanca Cancun is fully open and ready for you to savor all of its spectacular flavors on your next visit.