Your Favorite Italian Flavors Debut in Los Cabos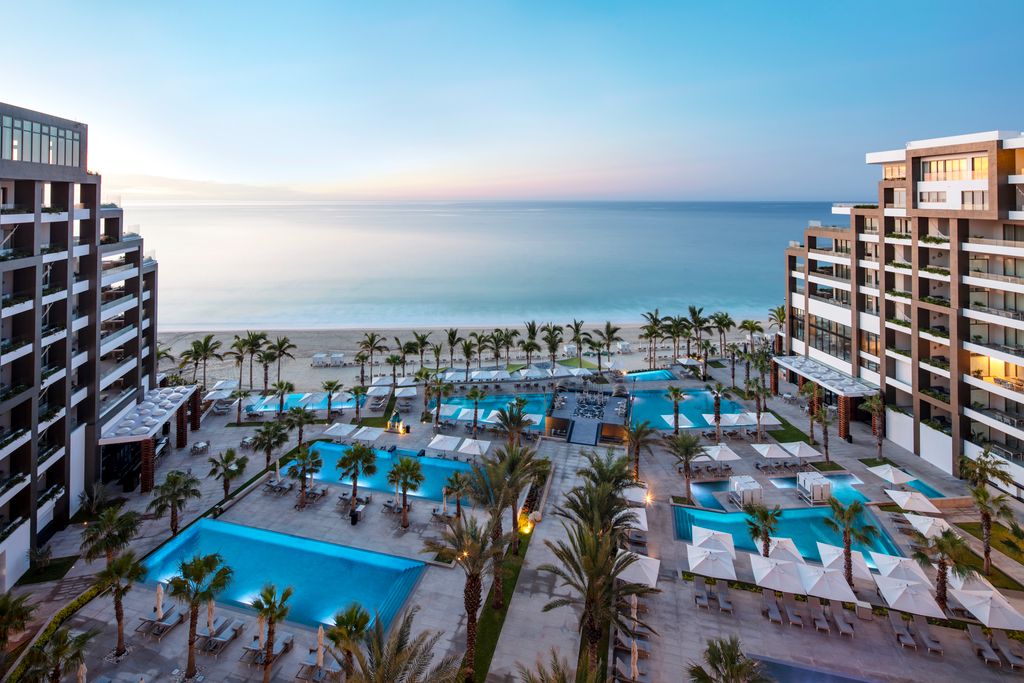 TAFER's dining offering is breaking the mold of the all-inclusive resort dining experience. However, one of its restaurants has become a staple of luxury and gourmet dining in Puerto Vallarta and Mexico, and that is NOI Italian Restaurant. This trendsetting restaurant debuted in 2022 when Hotel Mousai's South Tower opened its golden doors to our 18+ members and guests. Vallarta's NOI is in the lobby, where dazzling innovation and traditional Italian techniques intertwine. With exquisite Risottos, fresh pasta, and signature beverages, the NOI experience is one to add to your must-try list.
Learn more about NOI in Los Cabos and why you must indulge in its flavors!
NOI meets Garza Blanca Los Cabos
Garza Blanca Los Cabos, TAFER's only all-inclusive luxury resort in Baja, welcomes NOI to its collection of oceanfront restaurants. With Mexican, Japanese, modern grill, and seafood cuisines, adding the traditional yet innovative techniques of NOI's Italian masterpieces was the right move, as it adds up to the international flare Garza Blanca in Cabo is all about.
With an inspiring design, the interiors of NOI will complement the artistic and stunning hallways of the property, which boost modern art inspired by traditional museums but with a high-class luxury feeling. NOI's interior is inspired by light and contemporary art, creating a chic atmosphere where dining is a unique experience for the tastebuds and the eyes.
NOI in Cabo will open by the end of June 2023, so leave space to try the restaurant during your next visit!
NOI's Gourmet Offering
From Burratas and Mushroom Lasagna to Ravioli Di Ricotta Bresaola, Polpo Colossale Al Etna, and Pizzas, you will feel as if you are in Italy when eating at NOI. NOI's Chefs deliver an exquisite taste in every dish prepared, as they are made with the freshest and highest-quality ingredients. You can accompany your dinner with our signature selection of gourmet beverages and drinks by the glass and end the experience with an artistic dessert. Choose what you choose. An exclusive culinary journey will tantalize your taste buds.
NOI's dishes couple the best of traditional Italian cuisine with modern techniques in a stunning space that overlooks the ocean, making the experience a 360° experience for your senses.
About Garza Blanca Los Cabos
Garza Blanca Los Cabos is TAFER's only all-inclusive resort in Baja California. Like the other resorts in the collection, Garza Blanca has an all-inclusive plan covering it all: Food and beverages, daily activities, luxury accommodations, and tips, among other perks. This resort in Baja has family-friendly areas and adults-only spaces, such as The Rooftop, located on top of the resort, offering an infinity pool overlooking the ocean and exquisite dining options to enjoy while admiring the view. The activities collection of the resort is among our members' and guests' favorite features, such as E-Bike tours, Paddle Yoga lessons, cooking classes, and more activities are available on selected days at the resort. Spa Imagine is a crucial feature at TAFER. Garza Cabo has one of the most stunning spas in the world, featuring traditional and innovative treatments to help you balance your senses while vacationing in paradise. But the crown jewel is the highly attentive service, as from the reception staff to your personnel, Buttler will go above and beyond to satiate all your needs while staying at the resort.
Make sure to visit Garza Blanca Los Cabos soon to delight in NOI's Italian offering. We are sure you will visit the restaurant more than once during your stay!