Romantic Dinner Packages and Dream Weddings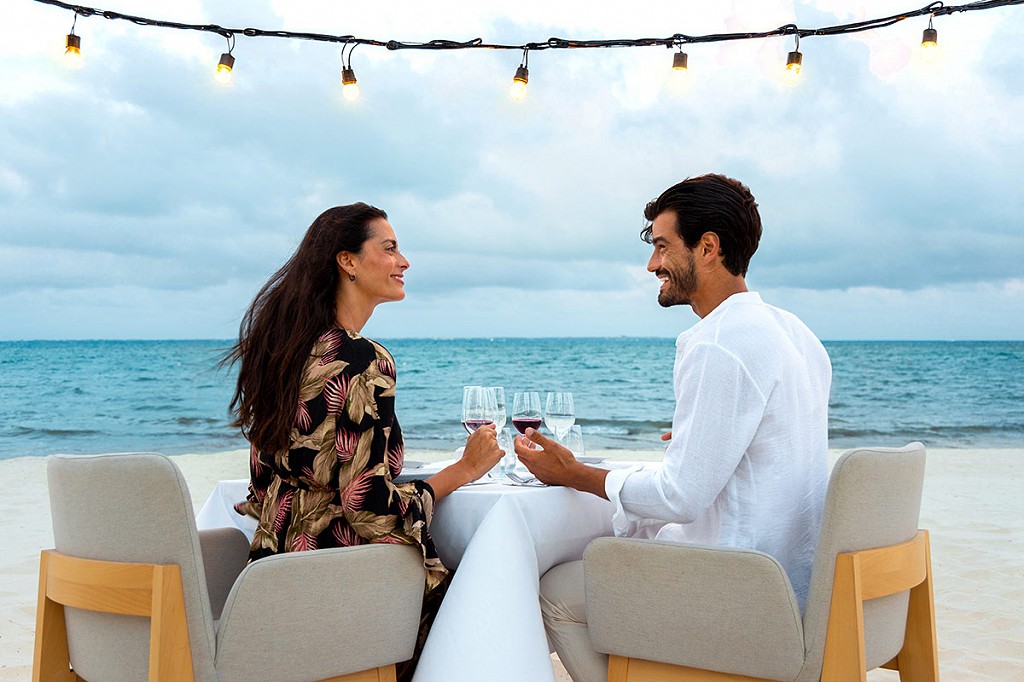 Villa del Palmar Cancun
Romantic Dinner Packages
On your next visit to Villa del Palmar Cancun, enjoy a private romantic dining experience with your special someone. Choose from a selection of romantic dinner packages.
Bronze Romantic Dinner
Enjoy a 4 Course dinner with a bottle of house wine in a private area on the terrace, including national branded drinks and spirits.
Cost: $150 USD
2. Platinum Romantic Dinner
Create intimate memories with a private 4 Course dinner on the beach with a centerpiece of fresh flowers, a bottle of Moët & Chandon Brut, and a selection of national branded drinks and spirits.
Cost: $250 USD
3. Platinum Romantic Dinner with Gazebo
Purchase a romantic 4 Course dinner to be shared on the beach under a gazebo with a bottle of Moët & Chandon Brut, a fresh flower centerpiece, and national drinks.
Cost: $300 USD
4. Gold Romantic Dinner
Indulge in an array of mouthwatering cuisine with a 4 Course dinner including fine cuts of meat or lobster with a bottle of a bottle of Moët & Chandon Brut. The dinner will be set under a gazebo on the beach area with a seasonal flower centerpiece and international premium drinks and wines served by a Sommelier.
$400 USD
5. Titanium Romantic Dinner
For a romantic Cancun waterfront dining experience, book the Titanium Romantic Dinner package with a private table for two with a floral centerpiece arrangement, set on the pier under the pergola. Enjoy a tasty 4 Course dinner including fine cuts of meat or lobster with a bottle of a bottle of Moët & Chandon Brut, international premium drinks and wines served by a Sommelier, and spectacular views of the Caribbean Sea.
$500 USD
Contact your concierge to purchase one of the above romantic dinner packages for two at Villa del Palmar Cancun´s exclusive private dining spots. Please reserve your dinner a minimum of 48 hours in advance.
If you would like to make your dinner reservation in advance of your arrival, email our prearrival concierge Tracy Rodriguez at personalconciergecancun@villagroup.com.
You can also call concierge at the following number if you are calling from the USA or Canada: 1 877 845 3795 or if you are in Mexico at 01 998 287 6770 Ext. 504 or 603.
TAFER´s Resorts are the Perfect Stage for Your Dream Wedding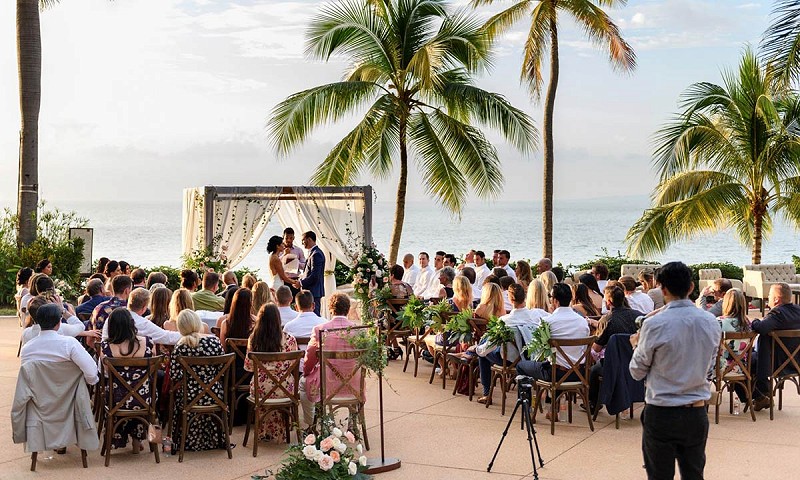 There are two ways to do weddings: You are either attending a wedding as a guest, or you are the one getting married.
If you are the one getting married, congratulations! And if you have chosen Mexico for your upcoming nuptials, double congratulations! It truly is a captivating country.
For you and for your guests, we are certainly all in need of something to look forward to, and there's no better time to get that date in the diary, so everyone has something to relish.
Planning a wedding is about you giving yourself permission to leap. It's about you unapologetically untangling your unresolved energy and opening your creative flow as to how your dream wedding should play out. It's also about having the best day of your life in total alignment with your truth and soul's purpose.
Yet at the same time weddings are serious business. Everything is about specifics with your vision, goals, and strategic plan in mind - budget, travel, theme, scale, numbers, legal aspects, permits, religious beliefs, and so much more.
Luckily for determined romantics, our award-winning team, with ideas aplenty, are experts at wedding planning. With laser clarity they know that the perfect wedding venue can have a major impact on the look and feel of your celebration.
Here is TAFER´s very own hotlist of venues, where dreams can come true, and you and all your guests become a part of a once-in-a-lifetime adventure!
Garza Blanca Resort & Spa Cancun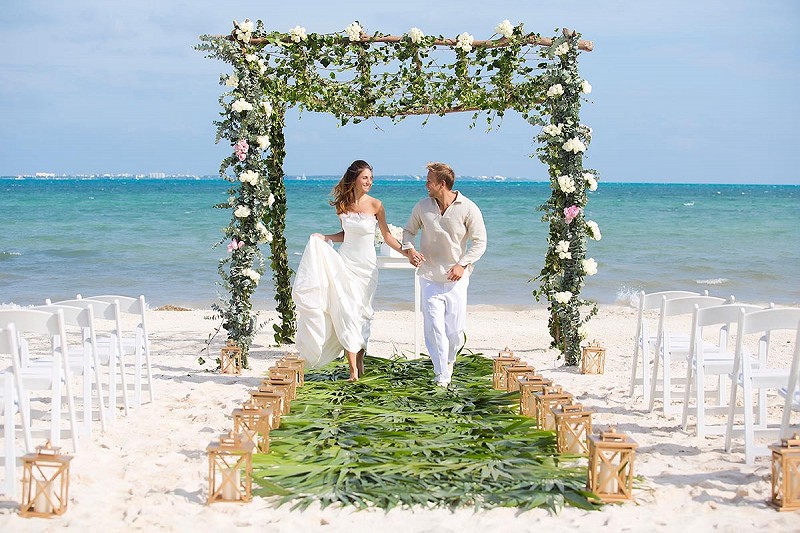 Garza Blanca Cancun is a beach wedding retreat that finds constant evolution of its romantic DNA in the crystal-clear turquoise ocean.
Also, by applying the 'Mexican time' concept, everything happens here on time, but in a more relaxed and chilled manner — perfect for stress-free nuptials!
You can choose from three ceremony packages: Gemstone, Sapphire, or Opal, making your special day the ultimate blend of sophistication and romance. These all include ceremonies conducted in English, a commemorative marriage certificate, beautiful bamboo huppahs with white fabric overlooking the ocean, and wedding on the beach with tiffany chairs. The Sapphire and Opal package include a bridal bouquet and groom's boutonniere.
Exquisite cuisine, magnificent venues, and open bar options make for a reception to remember. Here you can have mixologists serving craft cocktails, and waiters serving appetizers and oysters, all timed perfectly so you can watch the sun setting into the Caribbean Sea. There are 3 different reception packages to choose from including Gold, Platinum, and Diamond. The wedding coordinators have vendor lists where you can choose from your pick in bands, DJs, photographers, videographers, etc.
After the reception, you can head toward your Penthouse Suite.
Garza Blanca Puerto Vallarta & Hotel Mousai, Puerto Vallarta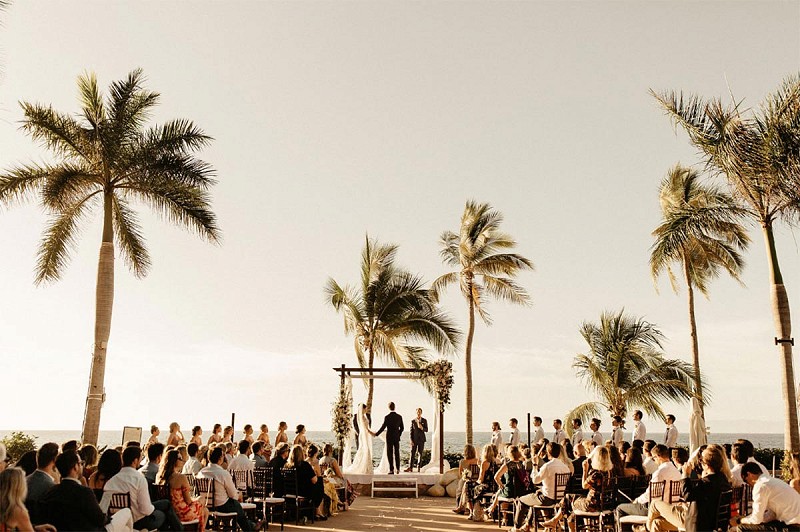 Can't decide between a beach venue, a jungle surrounding, or the allure of a contemporary adults-only hotel? Have all three — plus a getaway to a luxurious destination—at Garza Blanca and Hotel Mousai in Puerto Vallarta.
Garza Blanca Preserve Resort & Spa and Hotel Mousai are two venue options for weddings in Puerto Vallarta, and they are within the same grounds — which just happens to be 85 acres of lush tropical jungle and beach.
This means your guests can all have accommodations they enjoy. Garza Blanca for the little ones and teens, where they can be spoiled for choice, with the outdoor play area, a multi-use court for tennis, basketball, and squash, a Kids' Club program, and three heated outdoor swimming pools.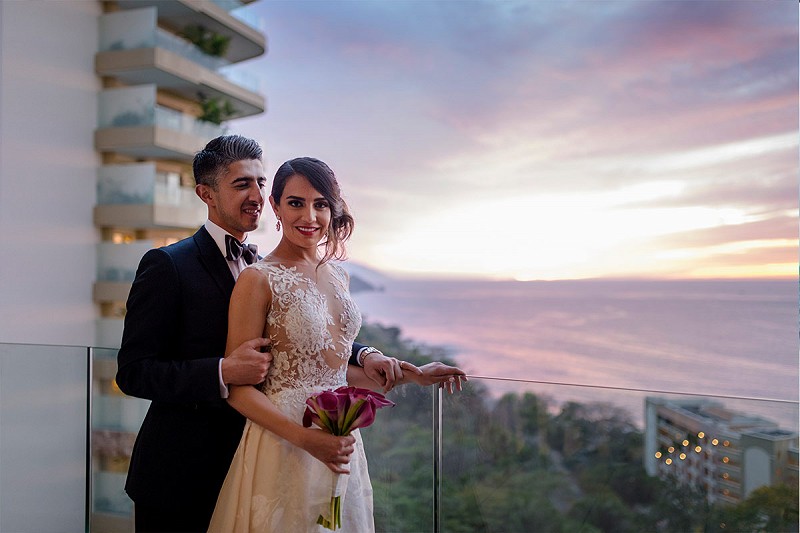 And Hotel Mousai, the adults-only hotel, with the title of being the only Five Diamond hotel in the entire state of Jalisco. Here the grownups have an opportunity to fully unwind, with guaranteed tranquility in the absence of stress.
Between them both, you can choose from tender wedding ceremonies on the beach, lavish cocktail receptions under the stars by the pool, or themed parties in chic, air-conditioned venues.
Visiting their world-class spa, Spa Imagine, is a couple's experience in itself, and the hydrotherapy circuit is a journey of relaxation that consists of a tour at your own pace through different waters, at different temperatures.
Here you can enjoy a unique moment of relaxation, with that special someone by your side.
Villa Del Palmar Cancun Luxury Beach Resort & Spa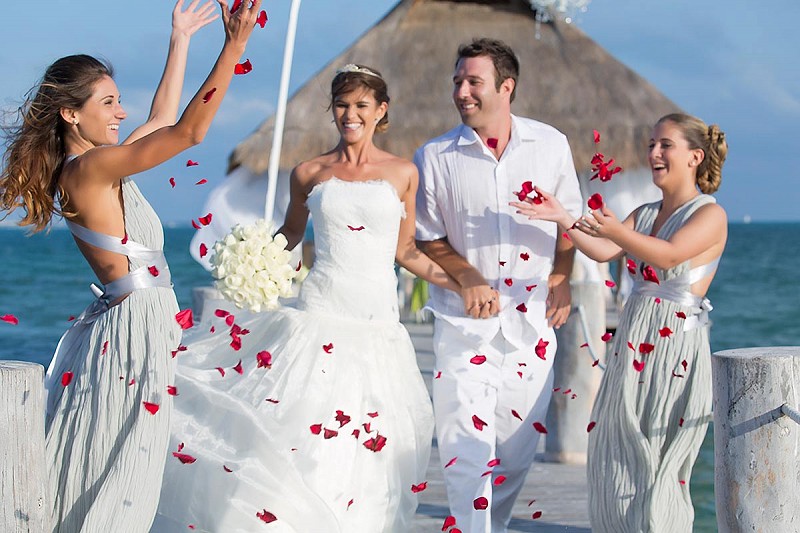 Villa del Palmar Cancun is situated in the heart of the Playa Mujeres district of Cancun, right in front of the ferry dock.
This perfect location means that while the groom is carrying his bride over the threshold of a new life, guests can discover Cancun's delights, or head over to Isla Mujeres.
Villa del Palmar is a matchless setting for a beach wedding celebration. The tropical gardens that run throughout and the impressive architecture, provide gorgeous backdrops for photoshoots. Our team will set up a ceremony site for you on the beach right in front of the ocean!
Looking for something a little different? Enter your beach ceremony by horse, or make the release of baby sea turtles part of your wedding program! Take the kids on the Jolly Roger Pirate Ship, or maybe visit a local Temazcal ceremony, and have your wedding vows blessed by a local Shaman. It's all easy to organize.
A visit to the luxurious Village Spa features couple's massage rooms, a relaxation area, showers and lockers for both men and women, as well as a hydrotherapy circuit with sauna and cold plunge pool. Bottles of sparkling wine and other treats can be provided.
Hair and make-up for the bride, and a trial a few days before, can also be booked as part of a package. As long as no one upstages the bride, all guests can enjoy the pampering of the onsite full-service beauty salon.
Sierra Lago Resort & Spa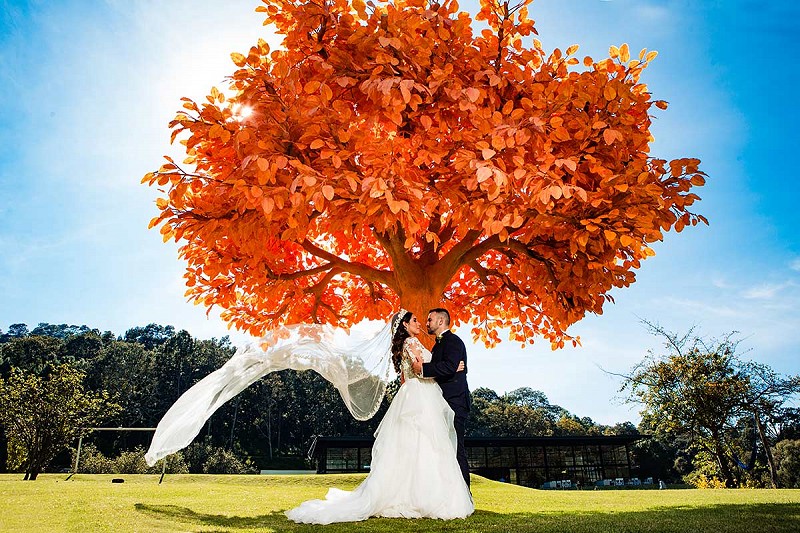 Dreaming of a remote setting that doesn't compromise on luxury?
Sierra Lago lakeside resort with luxurious cabins and first-class leisure facilities offers unparalleled interactions with both nature and comfort. Only 2.5 hours from Puerto Vallarta's International Airport, there is nothing more charming than exchanging'I-dos' here.
Encircled by the forest-covered Sierra Madre Mountains and once the crater of an ancient volcano, the crystal-clear lake in front is a mirror to the heavens, and a charming focal point of this idyllic retreat.
With 27 luxury cabins peppering the lakeside, this is the ultimate location for fairy tale weddings.
A heated infinity pool, outdoor jacuzzis, spa services, a games room, stables, soccer pitch, and a tennis/basketball court provide everything for outdoor enthusiasts. Spa treatments, bonfires, marshmallow nights, and stargazing can also be on the agenda.
The two on-site restaurants, La Terazza and La Capilla, enable your guests to order whatever they are in the mood for, and will easily satisfy even the pickiest of guests.
The icing on the wedding cake has to be the outdoor chapel and events space — an enchanting, yet elegant facility that celebrates simplicity, and the beauty of nature all around.
Garza Blanca Resort & Spa, Los Cabos
A spectacular Rooftop wedding with infinite ocean vistas awaits at Garza Blanca Los Cabos. The open-air environment is extensive, with plenty of space for a larger wedding. With a near-perfect, all-year-round climate, the Rooftop always beckons a party. Weddings can include:
An audio system for the ceremony (1 speaker and 1 microphone)
One hour of soloist live instrumental music
A hip bar with trained mixologists
Entertainers, DJs, and live music upon request, for an additional fee.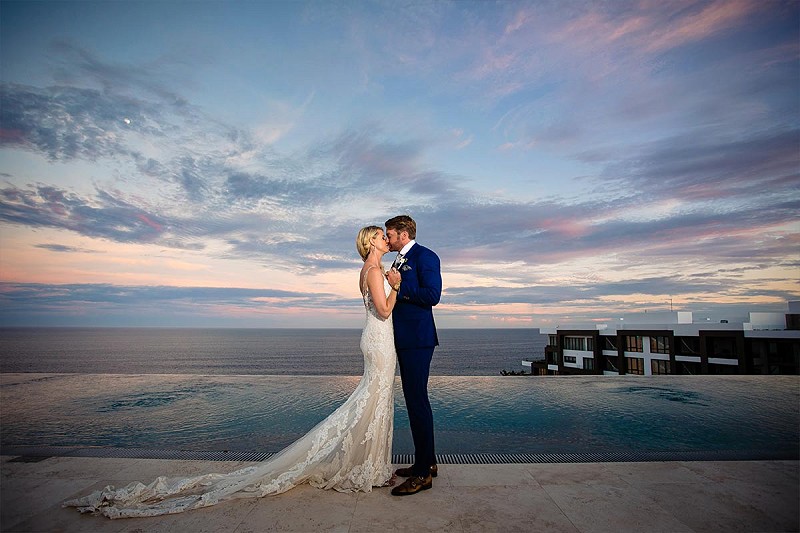 There is also an indoor events hall divided into three breakout rooms, ideal for mingling, socializing, and dancing.
Accommodations for your guests is always an important consideration for any destination wedding, and at Garza Blanca Los Cabos you'll find some of the best options in all of Mexico.
This resort is new and modern, featuring ultra-comfortable suites for any size of group. Suites have one king or two queen-size beds in each room, private terraces with views and hammocks, spacious en suite bathrooms, and appointed experienced hosts. Penthouses include gourmet kitchens, foyer entrances, and jacuzzis.
Guests can access six premium food and beverage outlets, including three signature gourmet restaurants.
They can go outdoors and relax in the sun or shade at one of the eight outdoor pools, or head to the spa for distinctive treatments like the Soul Connection couple´s massage, Ancestral Cacao Treatment, or the Shirodhara Experience.
A visit to El Arco, also known as Land's End, and the surrounding area is a must on your to-do honeymoon list. The best way to get close to the Arch, an impressive rock formation that has been widely photographed, is to take a boat tour.
For Your Hand in Marriage, Be in The Best Hands

Getting married in Mexico is a dream come true for most couples. But in order to make that dream come true, it is essential to understand the legal requirements, and know about the documentation required.
Celebration Ceremonies That Can Be Performed at Your Hotel
Commitment
Interfaith
Non-Religious
Same-Sex
Second Wedding
Vow Renewal
Civil Union*
These ceremonies can all be conducted by a minister or a spiritual leader on the beach, and you will receive a commemorative certificate.
However, a civil marriage* is the only legally recognized service in Mexico, and the rest above are symbolic ceremonies only. These are celebration options for those who choose to legally marry first in their home country, and then have their wedding day celebration abroad.
You will still need the following paperwork translated into Spanish, notarized by the nearest Mexican Consulate, and approved in your home country if you want to legally marry in Mexico:
Documentation Required to Marry in Mexico:
Marriage application forms
Passports
Tourist permits
Birth certificates
Divorce decree/death certificate (if applicable)
Medical results
Important Notes:
Once all the paperwork is in order, you will also need the marriage certificate fee, a small fee to have the service in a location other than the local Registry Office, and everything submitted a few days prior to the actual service for approval.
This will ensure a fully legal and internationally recognized marriage. Be sure to also pick up your Acta de Matrimonio, a certified copy of the marriage certificate, once the civil service is completed.
Blood tests are required from both you and your future spouse. These must be done locally for both legal and time requirements. The test results must be in Spanish and within a specific time frame of the actual marriage application form.
You will need your witnesses present during the ceremony with their valid passports or local identification. Once you have completed the proper forms, your wedding certificate will be recognized worldwide.
Enchanting Times
When everything is in order, marrying in Mexico is easy, and all of the paperwork can be checked with your onsite wedding planner beforehand if you choose option two, (doing the legalities in Mexico).
Knowing you are in the best hands for organizing smoothly the best day of your life means you can get hitched without a hitch. Members always expect the best, and the perfect stage for your dream wedding awaits, with much enchantment.
In fact, here is a review from a Tafer Residence Club member:
"All staff was exceptional we came for our daughter's wedding, Whittney Sperry and Troy bunting, it was the best resort and wedding experience! We are so grateful the way you treated us and all of our guests, we will be back next year and will recommend you to all of our clients!!!! Thank you"
You can read more reviews from members and guests on each resort's Reviews and Testimonials page.
Let TAFER Hotels & Resorts help you plan your dream wedding in paradise!