How to Manage Your ResortCom Digital Wallet
In our increasingly digital world, most of our transactions are conducted through digital means. When it comes to any purchase, using digital wallets is the easiest and fastest way to go. So why not apply the same logic to our dream vacations? We invite you to read this article to discover the simplicity and efficiency of using the ResortCom Digital Wallet.
What is the ResortCom Digital Wallet?
Facilitating the management of your finances, this innovative digital wallet, ResortCom, provides you with a user-friendly application to securely store your preferred payment options. You can easily manage your loan, maintenance fees, or reservation payments with convenience.
An additional atribute of this application allows you to customize your default credit cards for each type of payment, giving you the freedom to organize your finances according to your individual preferences.
Managing your membership becomes a breeze with the simplicity of setting up your online member account, managing your digital wallet, and enabling automatic payments. However, if you encounter any difficulties, this article should help you overcome them and provide answers to your questions.
Setting Up Your Member account
First and foremost, to use the ResortCom Digital Wallet, you need to create a member account. If you already have one, you can simply move on to the next step. The member account serves as a one-stop portal for all the essential information. Through this account, you can access all the essential information, manage your digital wallet, and explore special opportunities designed just for you.
To get started, visit the following page: https://member.resortcom.com/H... and then click on "set up my online account." Once you reach this page, you will be asked to enter all your information. Once you are done, you will have access to your Member Account.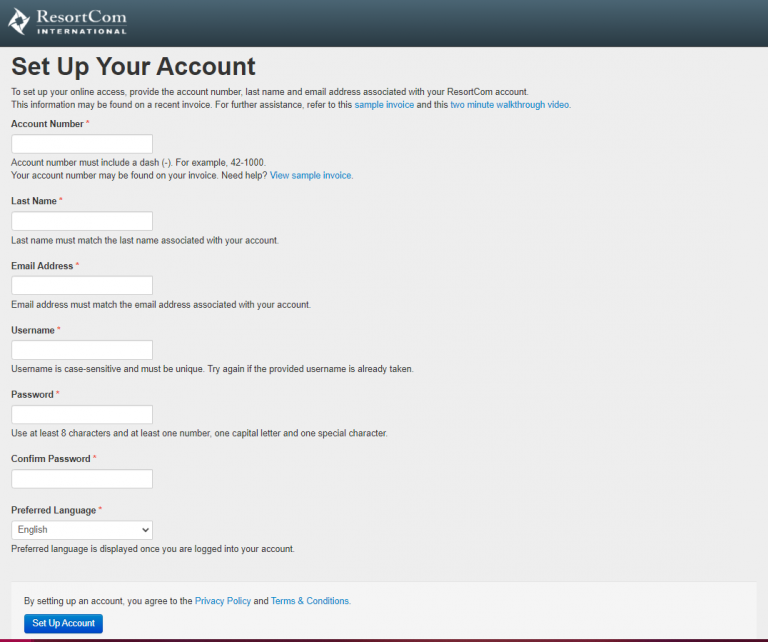 Managing your Member Account
Once you have successfully registered, navigating through your Member Account becomes seamless. On the left side, you'll find an option called "My Club Info", clicking on it will instantly redirect you to a page containing all the necessary information to manage your membership. In the dropdown menus, you'll discover links to access Club websites, social media platforms, Chubb Travel Insurance, points charts, member information, and other relevant resources.
Setting up your Member Wallet and Inputting your Payment Details
Now, let's set up your payment details for a smooth and secure digital wallet experience.
The first step is to enter your payment information. After logging in, go to the "wallet" section located on the left tab. Once you click on it, a menu will appear with various options. Here, you can update your payment methods and check or adjust the associated terms and conditions for your wallet. To do this, select the "terms and conditions" option in the left column, enabling you to stay informed and always have easy access. Before using your wallet, it is mandatory to read and sign the terms and conditions.

Next, you can access a page where it is easy to add, view, edit, and delete your payment information. This page allows you to manage all your payment preferences. You also have the option to customize your payment settings by designating specific cards as default for each category of payment. This will help tailor your financial transactions according to your desires and needs.

If you want to add a card, select "Add Card." However, before proceeding, make sure you have already signed the terms and conditions. When you choose the "Add Me" payment mode, you will encounter several fields requiring your personal information. Once the essential data is provided in these fields, you can easily "Add Card" to your wallet. This step allows you to securely store your card details, ensuring convenient and streamlined transactions within the wallet.

Managing your Cards and Payments
The digital wallet gives you full control over your digital transactions. You can easily integrate multiple credit cards into your wallet, allowing you to manage and choose from various payment options. Once the credit cards are added, they will appear on the payment modes page, along with their respective options. On this page, you have the freedom to review all your cards, adjust, or remove them if necessary.
An additional feature allows you to designate a card as your "Global Default," which will automatically be used for all transactions related to your account. If you prefer to assign different default cards for specific payment types, you can access the "Customized Payments" settings located at the bottom of the page. This option allows you to customize and adjust your payment preferences according to your specific needs, providing a personalized experience.
The "Customize Payment" feature gives you access to a dropdown menu where you can select your favorite cards and use them as the default payment method for each category. Simply click "OK" to save your preferences and ensure that the card you selected is set as the default payment method.
When default cards are defined in your wallet, the designated payment mode will be automatically used for your transactions. However, if you prefer to opt for a different card available in your wallet, you have the freedom to select and use it. It is essential to note that if a set of default cards is in place, they will also be used for automatic payments, adding further convenience to your transactions.
Another characteristic is the ability to allow your Member Service Agents to use the cards stored in your wallet when assisting you over the phone. This ensures a seamless and comfortable experience. Create your account today by clicking here to enjoy these features and streamline your payment processes.
The Advantages of Using Your Digital Wallet
The information in this article should allow you to access all the benefits of using your digital wallet. Seamlessly manage your payment options with unparalleled ease. From handling maintenance fees to repaying loans or selecting vacation options, all these tasks can now be effortlessly organized with just a few clicks using your digital wallet, ensuring a speedy path to your dream getaway like never before!