TierraLuna: The Most Magical Place in Puerto Vallarta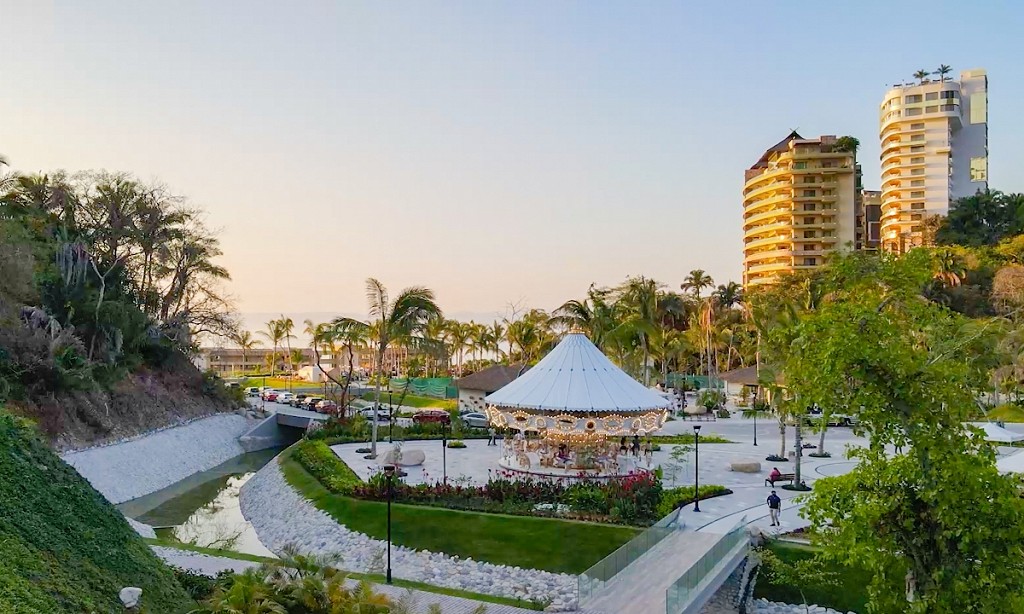 TierraLuna is a brand new open-air shopping and entertainment park in the heart of Garza Blanca Preserve in Puerto Vallarta. Guests of both Garza Blanca and Hotel Mousai will enjoy easy access with continuous trolley service to and from the resorts.
The moment you arrive at TierraLuna village you will feel like you have stepped into a dream world. The zen-like space is situated in an ideal location where all visitors can embrace the natural beauty that surrounds it. TierraLuna is ideally situated on the mountainside at an elevated level which gives it the advantage of offering unobstructed views of Banderas Bay, the Pacific Ocean, and the lush rainforest.

This brand-new village is currently open to guests and locals daily from 3:00 pm to 10:30 pm (weather permitting). During this time, guests can enjoy a bite to eat at Luna Deli where We Proudly Serve Starbucks™ along with fresh sandwiches and pastries, or go shopping at one of the 8 fabulous boutiques, which will be opening later this summer. Visitors will be able to enjoy this naturally beautiful space sitting in the outdoor ´living rooms, which offer incredible views, and be soothed by the sound of the natural pools that are fed by two rivers. This dreamlike space also features a magnificent cultural forum designed for weddings and special events, as well as an outdoor deck for yoga classes and meditation.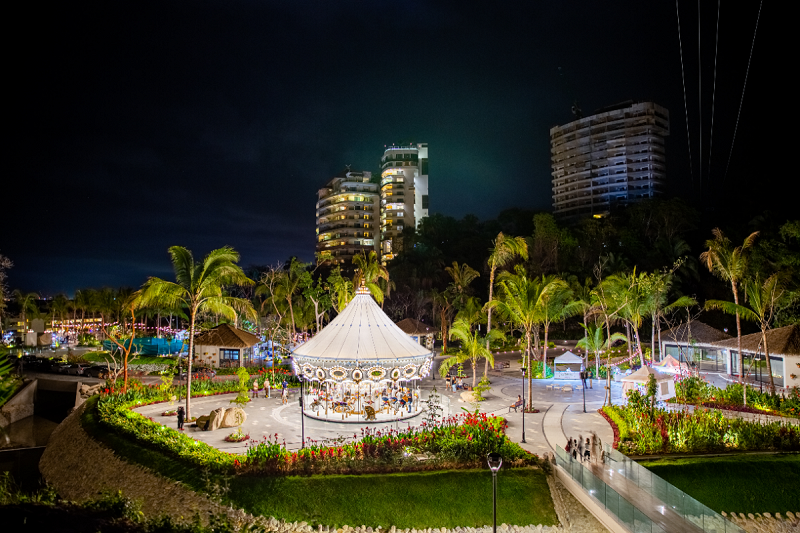 When you arrive at TierraLuna, one of the first things that you will notice is a magical family carousel, which is not just any carousel. This one takes a traditional carousel and glams it up with elegant details. The predominantly white color scheme is adorned with gold accents, mirrors, and twinkling lights. The details that make it really stand out are the unique animals that make up this stunning carousel. Of course, it features horses, as you would expect to find on a traditional carousel, but what makes this one extra special is the addition of the majestic white elephant with gold tusks, a reindeer, a giraffe, a white goose with a long neck, a lion, and a jaguar. The most striking thing about this carousel is that as it spins around you will enjoy 360º views of the cerulean ocean and verdant jungle.
Buffet Dinner, Farmers Market, and Art Walk
Every Friday night between 7:00 pm to 10:30 pm (weather permitting), the magical space comes to life as never before and features a buffet dinner, Art Walk, and Farmers Market. The Farmers Market showcases the best of Mexico's rich culture where you can browse and purchase quality products from local market vendors including typical Mexican handicrafts, blankets and embroidered pillows, handmade clothing, alebrijes, hand-blown glass ornaments, handcrafted jewelry, and much more.
Visitors can also enjoy an Art Walk where they will have the opportunity to meet local artists as they stroll along the esplanade to peruse the impressive paintings.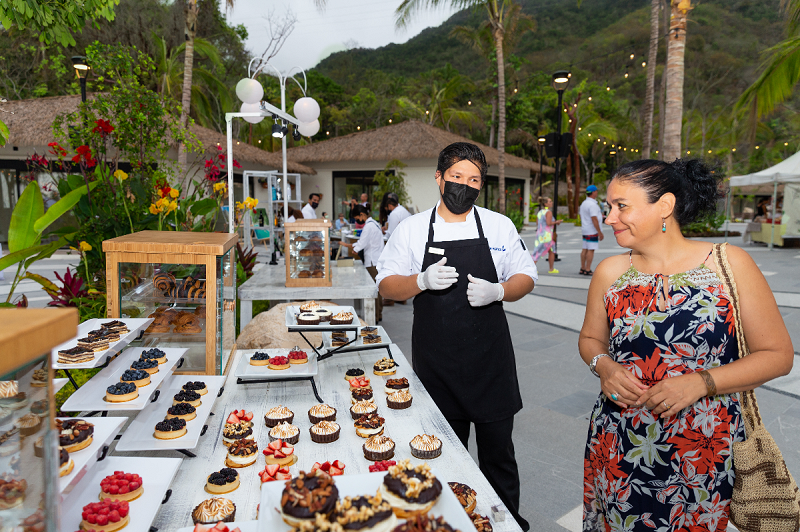 The highlight of the evening is, of course, al fresco dining overlooking the ocean sitting beneath the palm trees and twinkling lights with a selection of gourmet options from the BBQ buffet. The buffet includes a selection of salads, handmade tortillas, chorizo, arrachera (grilled skirt steak), carne al pastor (pork meat ¨pastor¨ style), grilled chicken, slow-cooked pork, roast beef, grilled vegetables, and, of course, decadent desserts and a fully-stocked bar.
The dinner also features live music and there is a stage set up opposite the buffet. The cost of the buffet dinner is included in the Gourmet Culinary All-Inclusive plan for guests of both Hotel Mousai and Garza Blanca Preserve. For Room Only guests, the cost of the buffet is $950 MXN pesos for adults and $475 MXN pesos for children. Reservations for the buffet dinner must be made in advance.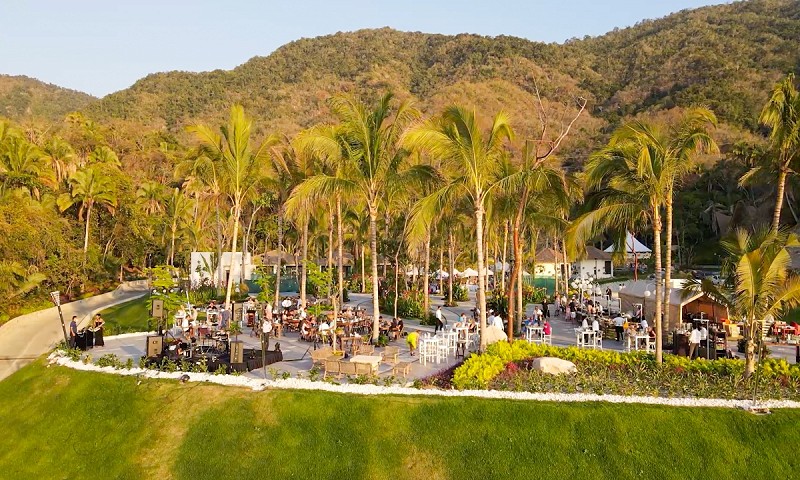 For members who prefer to dine at the resort restaurants and go to TierraLuna afterwards, entry to the park is free; only the buffet has an additional cost. For your convenience, you can purchase a selection of non-alcoholic and alcoholic drinks from the bar and if you crave a sweet treat, next to the bar you will find a divine selection of desserts for purchase including churros, pastries, brownies, and custard tarts topped with fruit.
An Exciting New Place to Shop
Discover one of the most picturesque locations for shopping in the world set to open later this summer. You will have a wonderful opportunity to purchase unique items including locally sourced clothing, jewelry, Mexican handicrafts, swimwear, and beachwear. Your purchases will remind you for years to come about the first time you visited this magical shopping village.
The boutiques include the following:
Piedra de Río (Handicrafts– Local No. 1)
Piedra de Río showcases the best of Mexico's rich culture by going back to its native roots. Here you will find traditional clothing unique to Mexican indigenous tribes, high-quality Mexican handicrafts, and folk art. This form of art, known as ¨artesanía¨, demonstrates the rich heritage of Mexico. We have carefully selected the handicrafts made with love by local residents, from clothing and ceramics to textiles and trinkets. The items for sale will help support local indigenous people and promote their work. Piedra de Río invites you to discover the history and culture of the land through this unique selection of handicrafts.
Palma (Resort Wear Boutique – Local No.2)
Palma is the boutique where elegance meets style with its offering of luxe resort wear. If you are looking for that perfect resort wardrobe from formal floor-length evening gowns, high heels, and purses to seductive tops and mini dresses, we have put together a collection of chic and sophisticated fashion for the modern-day traveler looking to stand out as being equal parts sexy, beautiful, and classy. Palma sets itself apart by mixing high-quality fabrics with original designs.
Zol (Beachwear Boutique – Local No. 3)
Zol is TierraLuna's beachwear boutique where you can expect to find everything necessary to hit the beach in style. From bikinis, one-pieces, and cover-ups to hats, beach accessories, and sunscreen, Zol will perfectly prepare you for never-ending days of fun at the beach. Our hand-picked selection of local brands offers you the best of quintessential style and top-quality design to effortlessly complete your beachy vibe. Zol simply brings you the finest beachwear Puerto Vallarta has to offer. Now you can stroll around the pool and beach with the confidence that you are wearing the most stylish beach clothes out there.
AMA (A Minimalist Atelier – Local 4)
AMA offers locally sourced clothing, jewelry, and shoes in earth tones that were carefully curated and crafted with you in mind. In keeping with its minimalist vibe and being one with nature, AMA is the acronym for ¨A Minimalist Atelier¨ it is also the Japanese word for ¨sea women¨ who dive for pearls. The boutique concept was born out of a desire to share the magnetic aura of Banderas Bay and the beauty of Puerto Vallarta. From local jewelry to natural linen clothing, AMA will have you feeling and dressing like a local. 
Cosmos (Home & Living – Local 5)
Cosmos strives to offer the finest lifestyle products with a stunning array of statement pieces for your home from woven Mexican hammocks to plant pots, pottery, and knick-knacks, to travel mugs, lotions, and soaps, where each product features a harmonious blend of high-quality and artistic design.
Musa (Jewelry & Art – Local 6)
Musa offers the best selection of fine jewelry and art with one-of-a-kind pieces from Tahitian black pearls to chiseled silver. At Musa, jewelry is art and every piece of jewelry selected is precious and elegant. From the craftsmanship to the selection of gemstones and their stunning shininess, here you will find superior Mexican treasures with textures that are unique to Banderas Bay. Whether you're looking for beautiful gemstone necklaces, exquisite earrings, or rustic rings, you are assured of well-made products designed to sparkle, dazzle, and delight.
Aura (Beauty & Wellness / Activewear – Local 7)
Aura is a unique boutique dedicated to your health, where beauty, wellness, and fitness converge. Whether you seek facial creams and moisturizers, a fashionable yoga outfit, gym leggings, or a new pair of running sneakers, Aura is a trend-setter of activewear stock offering breathable and comfortable fabrics that are lightweight and provide rapid moisture-absorption. You will be able to carry on with your fitness routine whether that is cross-training, running, or breaking a sweat in the gym. The selection of beauty and wellness products on offer will restore your vivacious glow, so you can continue your vacation in wellness, peace, and harmony.
Stella Kids (Kids Boutique – Local 8)
Stella Kids is the place where small sizes meet big style. Create cute little outfits for your little one(s) from the fantastic selection of tees, jeans, and sneakers available. For parents traveling with infants, you will find cutesy baby outfits perfect for beach weather. The Kids Boutique also features traditional Mexican handcrafted toys and soft plush toys that are sure to put a smile on your child´s adorable little face. You'll find an array of everything you need to kit your kid out in style at Stella Kids.
Luna Deli (Deli – Local 9)
To ensure you stay energized during your shopping spree, grab a quick coffee or bite to eat at Luna Deli. We provide delicious snacks and refreshing beverages along with quick service to allow you a convenient refueling stop before continuing to explore everything else that TierraLuna has to offer.
Signature Restaurants
TierraLuna's four signature haute cuisine restaurants are set to open in December 2021. The restaurants were built with an organic and natural design to blend in with the surrounding landscape. Wood is a prevalent feature throughout all the restaurants with elegant touches as well as an open concept design adorned with plants, and flowers, so that the spaces flawlessly merge the indoors with the out.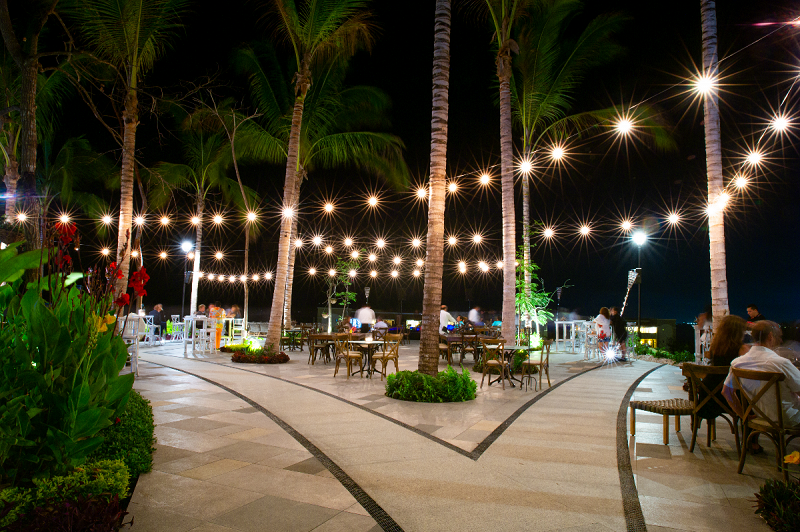 The restaurant menus will showcase a mixture of world traditions and customs reconstructed by top chefs featuring grill traditions, fresh local ingredients, fine cuts of meat, locally caught seafood, a selection of premium wines, and specialist mixology.
Karuma Grill (Restaurant 1)
Karuma will serve an upscale variety of chops featuring top-quality cuts of well-marbled beef that are guaranteed to be cooked to perfection and delight your taste buds. While Karuma specializes in serving up the perfect steak, there are several other mouthwatering items on the menu designed to please every type of palate. Giving you a sneak peak of the menu, guests can look forward to Tomahawk steaks, Porterhouse steaks, dry-aged brisket, BBQ Ribs, duck magret, and more. Complete your meal with a side of grilled asparagus or mashed potatoes.
Canú Seafood (Restaurant 2)
Canú restaurant is a celebration of seafood taking advantage of the abundant choices within the region. Diners can expect the freshest locally caught seafood prepared with novel cooking techniques and love, for you to enjoy a one-of-a-kind seafood experience. The menu will feature shrimp ceviche, octopus carpaccio, seafood lasagna, yellowfin tuna, and Alaskan king crab.
Kuali Food and Cocktails (Restaurant 3)
Kuali is the perfect spot to kick back and relax with more casual fare and serves gourmet bites such as empanadas, cheeses and cured meats, and escalopes of salmon as well as pizzas made from scratch and topped with farm-fresh ingredients and burgers seared to perfection from classic beef burgers to fantastic seafood burgers made with tuna or crab. Polish off your meal with a glass of fine wine or an innovative cocktail concoction.
Don´t miss out on Garza Blanca's newest shining star, TierraLuna at Garza Blanca Preserve where you are invited to connect with nature and let us captivate your senses.