Hotel Mousai's New South Tower Now Open! And Karuma Coming Soon!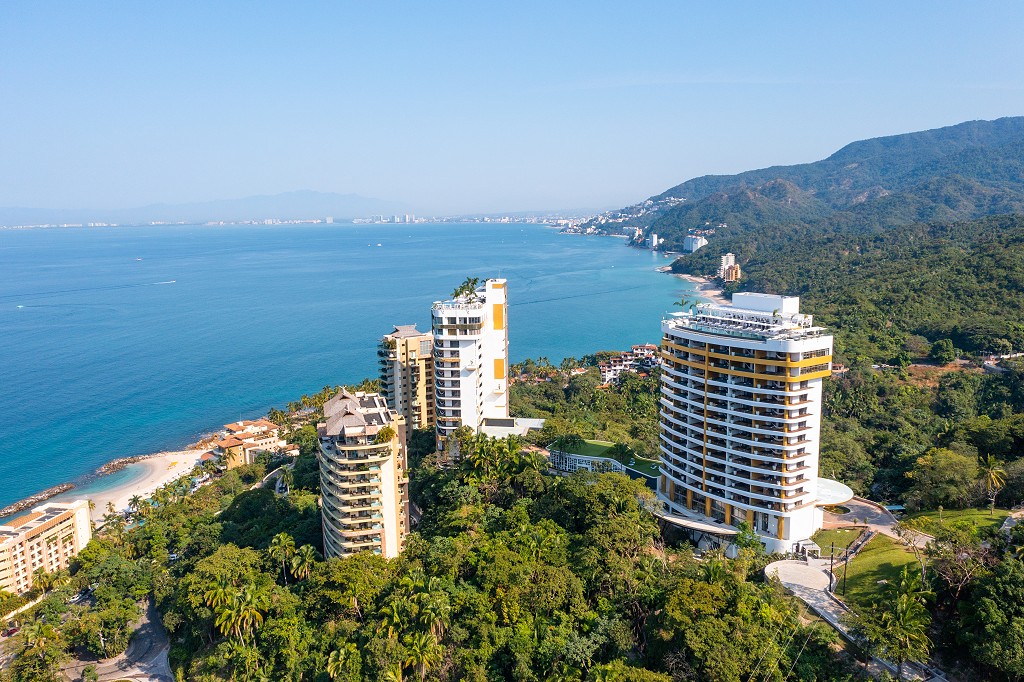 Winter marks the start of an exciting time for TAFER Hotels and Resorts. The holiday season is a fabulous time to launch the opening of TAFER's proudest new gem, Hotel Mousai's second tower, for a Christmas experience of a lifetime. Winter 2022 will also see the official grand opening of Garza Blanca Resort & Spa Cancun as well of the addition of four specialty boutiques and three gourmet restaurants at TierraLuna Gardens on the Garza Blanca Preserve in Puerto Vallarta.
Hotel Mousai's South Tower
Hotel Mousai's much-anticipated new South Tower celebrated its official grand opening on December 2nd, 2021 and is now open for reservations. The new South Tower sits adjacent to the Hotel Mousai North Tower and the two towers are connected by a bridge.
"I am very excited to lead the further expansion of the company's award-winning luxury portfolio,'' TAFER Resorts COO Sasa Milojevic said. "This is an extremely exciting time to be part of a growing hospitality brand that will ultimately provide more options to elevate guest vacation experiences."
The North Tower opened in 2015 with 73 suites. The new South Tower will double the inventory at the luxury adults-only Hotel Mousai from 73 to 145, so that even more members can enjoy the exceptional facilities with new additions that will enhance the overall guest experience.
The ultra-chic design concept of the new tower is similar to the original tower, and exudes the same signature Mousai style, but with its own fresh and unique personality.

Located only 15 minutes from the Romantic Zone in Puerto Vallarta's Old Town, Hotel Mousai offers cutting-edge luxury in the heart of the Garza Blanca Preserve, which is surrounded by 85 acres of lush tropical jungle and overlooks the endless blue horizon of the Pacific Ocean. While the two Hotel Mousai towers sit proudly on the mountainside, there is continuous trolley service that takes guests to its neighboring sister resort's blue flag beach in front of Garza Blanca.
The new tower features a collection of ultra-stylish suites and penthouses with the same suite categories as the original tower including the Mousai Suite, Mousai Corner Suite, Ultra Mousai Suite, Ultra Mousai Corner Suite, and the Penthouse.
The suite sizes are similar to the North Tower and the Mousai Suite is the smallest measuring 1,061 square feet. The Mousai Corner Suite is 1,300 square feet and features an expansive wraparound terrace. The difference between the regular suites and the Ultra Mousai Suites and Corner Suites is that the suites are located on the highest floors, starting on the 7th floor and upwards. They also include exclusive privileges such as free access to the hydrotherapy circuit at the spa, a pillow and aromatherapy menu, a dedicated butler, extra amenities including a straw hat and sarong, and the best guaranteed views.
One thing that differentiates the South Tower from the North Tower is that the new tower now offers connecting rooms for groups traveling together, which is not a feature in the original tower. The Mousai Suites can now connect with another Mousai Suite to make the Two Bedroom Mousai Suite and the Penthouses can also connect with a Mousai Suite to make the Two Bedroom Penthouse, which can accommodate up to 5 guests. There are four Penthouses in total, which measure 1,537 square feet and include a large living room and private bar. The master bedroom features an oversized en suite bathroom with a steam shower and a spacious private terrace with a jacuzzi and hammock.
Similar to the original tower, all the suites in the South Tower feature TAFER's signature plush, comfy beds, a private balcony with a hammock and jacuzzi, and are fitted with iPad technology, which controls the lighting, curtains, and music. The layout of the rooms is similar, but the South Tower rooms now feature a sliding door between the bedroom and the bathroom to divide the spaces and add additional privacy.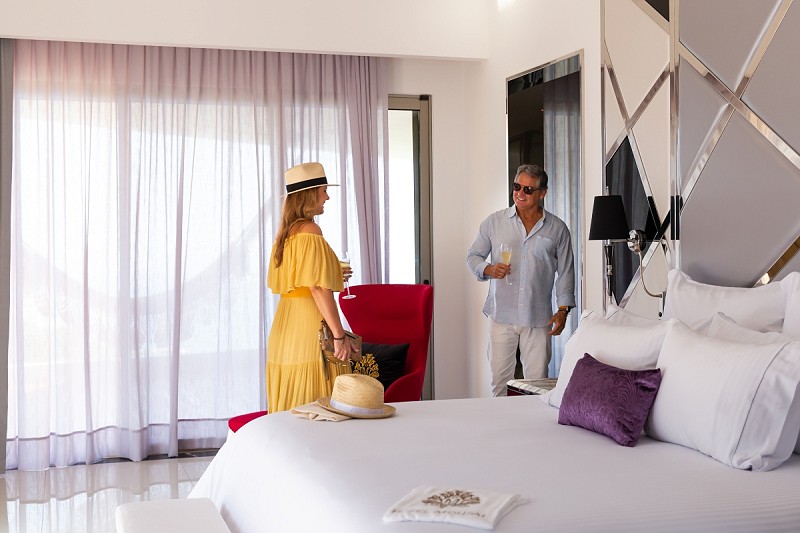 The décor of the suite is a mix bright and neutral colors and features uniquely designed items that invite guests into a sensual dream such as the bright red chair sculpted in the form of the lower half of a nude model and a purple tantra divan.
Another difference between the South and North tower suites, is the minibar. In the North Tower, the minibar looks like a trunk, but in the new tower it is designed to be on display, and it has shelves with the Nespresso maker and glasses, and the 6 bottles of alcohol included with the all-inclusive plan including a bottle of Belvedere vodka, Chivas Regal Scotch Whisky, Cazadores Tequila Reposado, Cabernet Sauvignon, Jack Daniel Tennessee Whiskey, and Matusalem Clasico Golden Rum.
In the Motor Lobby, there is an impressive 8-meter-high glass viewpoint, which overlooks the lush green jungle, and is worth checking out.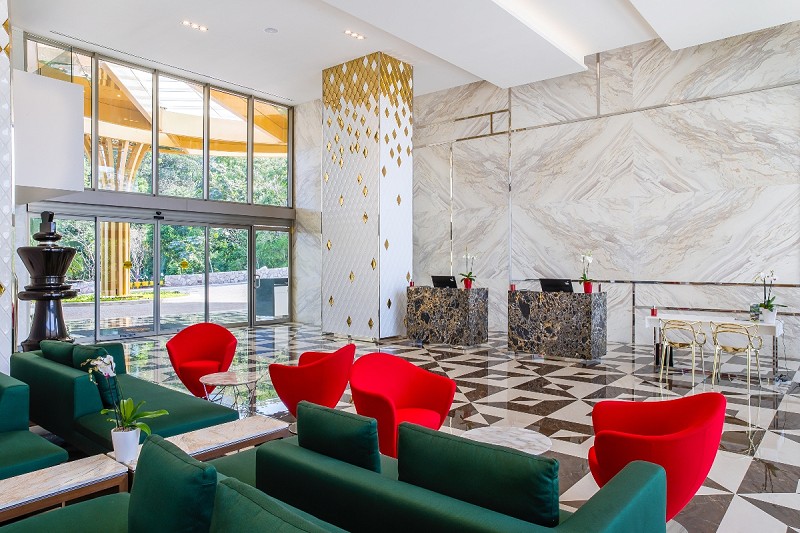 For members on the Gourmet Culinary All-Inclusive plan, you will be spoiled for choice. Not only will you have access to the brand-new dining options at the South Tower, which are sure to dazzle and delight, you will also have the option to dine at all of the North Tower's restaurants including Hiroshi for Japanese and Bocados Steak House and the restaurants at Garza Blanca including Blanca Blue for Mexican cuisine and Aquazul for poolside snacks.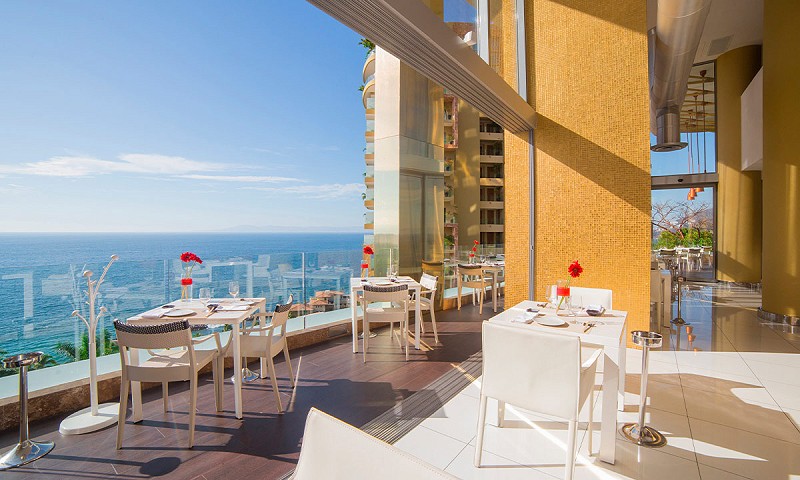 The 3 new haute cuisine restaurants at the South Tower include DAO Contemporary Chinese Cuisine, NOI for Italian cuisine, and the Rooftop for cocktails, bites, and world cuisine.
DAO's Hong Kong born chef, Ivan Yuen, will take diners on a journey across China with high-end Chinese cuisine featuring Crispy Peking Duck, Dim Sum, and Dumplings. DAO is only open for dinner.
NOI is an Italian restaurant with the vibe of a contemporary art gallery with a colorful 3-meter-high wall mural. NOI is open for breakfast (exclusive to Mousai guests) and for dinner (open to guests of Hotel Mousai and Garza Blanca Preserve). For dinner, NOI will serve delicious pizzas cooked in its wood-fired pizza oven and pastas that are prepared in front of diners in the fabulous open show kitchen, along with a selection of other tantalizing gourmet eats.
The Rooftop bar at the new South Tower is a chic place up in the clouds serving all-day snacks and cocktails with an international lunch and dinner menu. It is the perfect spot to lounge and shameless glam with a signature cocktail in your hand while soaking up the sunshine. During whale watching season (December thru March), the likelihood of spotting whales from up here is very high.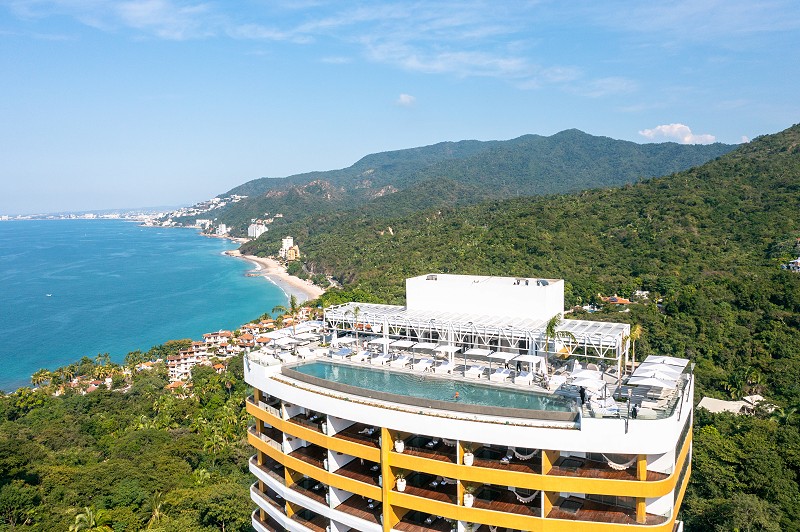 Guests of the South Tower can still visit the lavish Spa Imagine located in the North Tower to be fully pampered during their stay.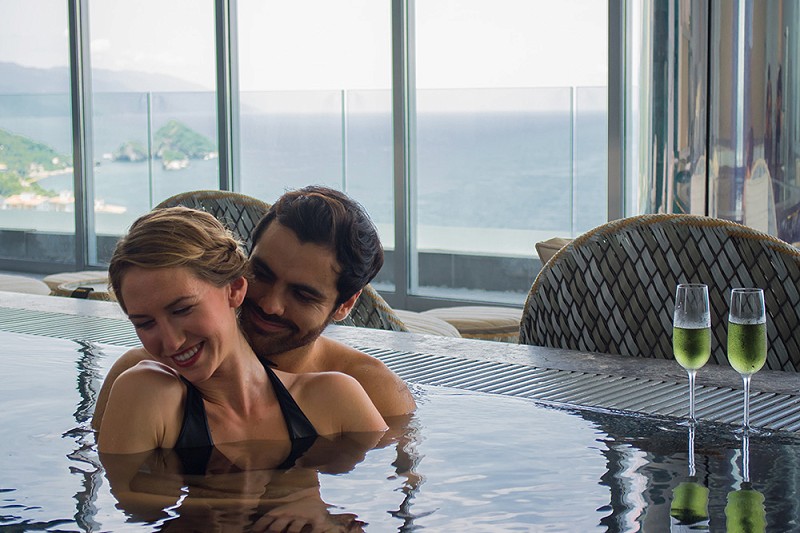 The North Tower has its own brand-new gym with all of the latest fitness machines, free weights, showers, and lockers. The gym is not on a high floor like at the South Tower, but it still offers beautiful ocean and juggle views. Guests can choose which gym they want to work out in, whether in the North or South Tower.
We are excited to welcome our first members to Hotel Mousai's South Tower, where chic and blissful relaxation is the order of the day.
TierraLuna Gardens
TierraLuna Gardens, TAFER's exceptional outdoor shopping village and event space, is already open.
The nine boutiques include: Zol for dazzling beachwear; Palma for Elegant Resort Wear; AMA for locally made jewelry and clothing; Piedra de Río for Mexican handicrafts, Luna Deli for coffee, sandwiches, and snacks; Cosmos for Home & Living; Musa for Jewelry & Art, Aura for Activewear; and Stella Kids for kids' clothing and toys. The boutiques are open daily from 9:00 am to 10:30 pm.
TierraLuna Gardens is preparing for the opening of its first restaurant, Karuma Grill, in January 2022. Karuma is a name taken from two náhuatl words, which means "fire in the night". The restaurant has an international grill concept and will serve up delicious grilled meats with flavors from around the world such as Tomahawk steak and suckling pig. Karuma will also serve a selection of tasty appetizers, salads, and sides.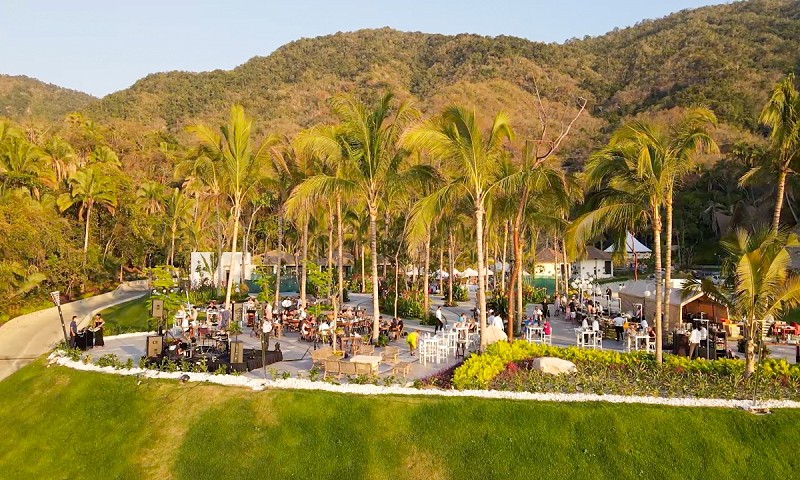 Winter 2022 will see the opening of two additional restaurants Canú Seafood and Kuali Food and Cocktails. Canú will specialize in serving fresh seafood with menu items such as ceviche, tuna, and Alaskan King Crab. Kuali will offer a relaxed atmosphere with causal fare and innovative libations. The menu will feature burgers, pizzas, and gourmet bites.
TierraLuna Gardens has commenced its daily Sunset Cocktail, held daily from 6:00 pm to 8:00 pm and members can enjoy a breathtaking sunset experience with delicious cocktails and live music.
In addition to that, TierraLuna hosts a weekly Farmers Market on Friday night and an Art Walk every Sunday from 7:00 pm to 10:30 pm (weather permitting). The magical space comes to life and visitors can enjoy taking a whimsical ride on the family carousel while it spins around offering gorgeous 360° views of Banderas Bay. The Farmers Market features quality products and artisanal goods from local market vendors and the Art Walk showcases paintings from local and regional artists. Visitors can peruse the impressive artworks and have the chance to meet and talk with the artists about their work.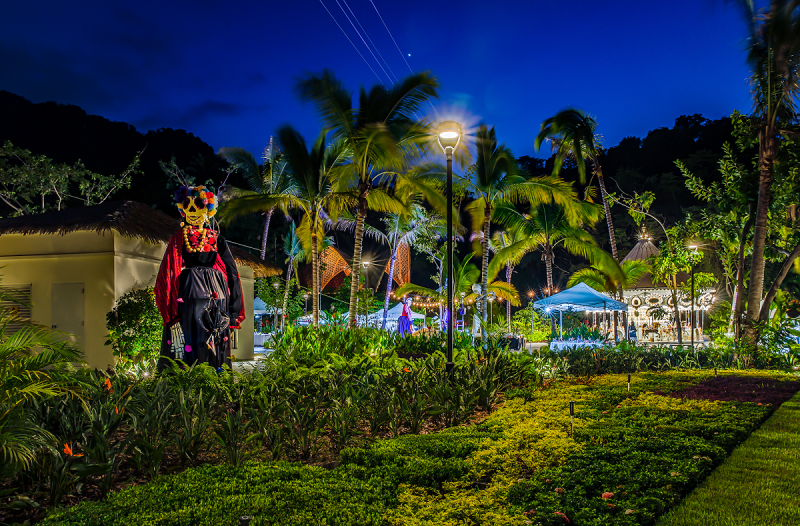 TierraLuna has already held two very successful events including the opening ceremony of the 26th International Gourmet Festival on November 12th and Garza Blanca Preserve's traditional Thanksgiving and Football event on November 25th.
TierraLuna dressed up for the gala evening of the International Gourmet Festival called "The Grand Gourmet Village", which welcomed 27 of the best restaurants in Puerto Vallarta and the Riviera Nayarit along with their renowned international chefs and their guest chefs, who prepared samples of their unique gastronomic creations. TAFER's signature gourmet restaurants, Hiroshi, Blanca Blue, and Bocados Steak House all participated in the event.
Andrés García, the new chef Patron of Karuma, was the guest chef of our Chef Patron, Alfredo Bázan, from Bocados Steak House. They served beef with bearnaise sauce and pork with mole sauce. The meat was melt-in-your-mouth tender and the flavors were enhanced by the sauces.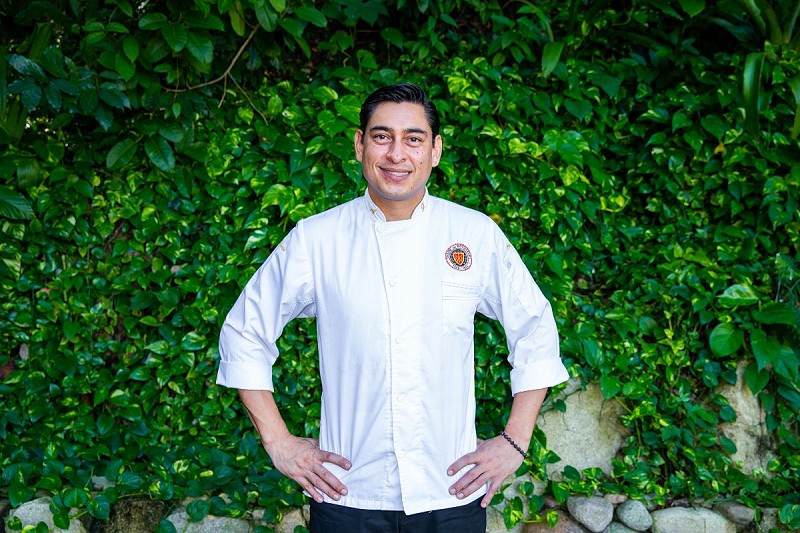 Mexican Chef José Manuel Baños was invited to be the guest chef of Blanca Blue's Chef Patron, Antonio Martinez. The two chefs served Mexican appetizers like Tostadas with Crab and Smoked Tiradito (raw fish).
And last, but not least, Chef Patron Ernesto Olvera Flores from Hiroshi restaurant teamed up with his invited guest chef, Ivan Yuen, from DAO Contemporary Oriental Cuisine, the much-anticipated Chinese restaurant coming soon to the Hotel Mousai South Tower. Visitors got to try DAO's specialty duck and beef gyoza.
We expect that those are the first of many successful events to be held in this fantastical outdoor space where magic and mystery come alive. If you haven't visited TierraLuna yet, you will definitely want to put it on your bucket list.
What's Coming
Winter 2022 will also see the grand opening of Garza Blanca Resort & Spa Cancun. Over the next five years, TAFER will continue expanding with the addition of Lemuria Residences and Echoes on Puerto Vallarta's south shore. Expansion plans further include Garza Blanca Resort in the Riviera Maya, Hotel Mousai in the Riviera Maya and Cancun, and Lemuria Residences in Cancun. There's a lot for our members to look forward to!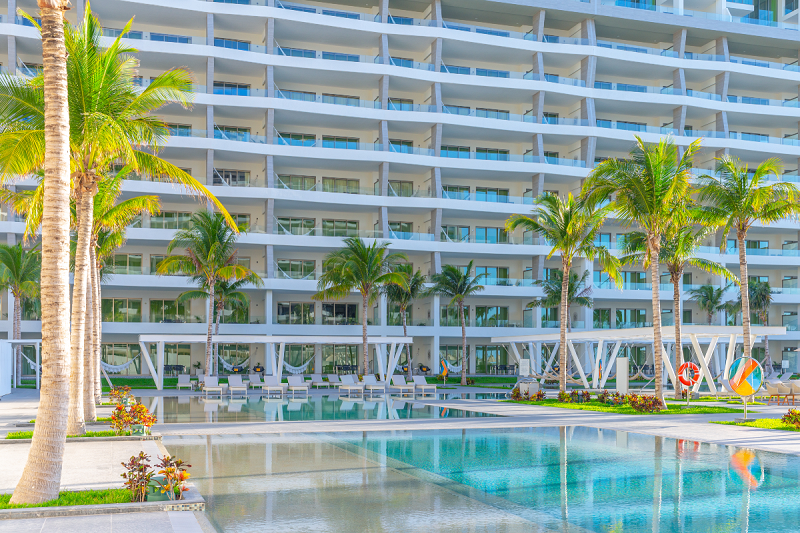 We wish all our members a safe and happy holiday season and hope to see you soon!