Garza Blanca Los Cabos Offers A Luxurious Escape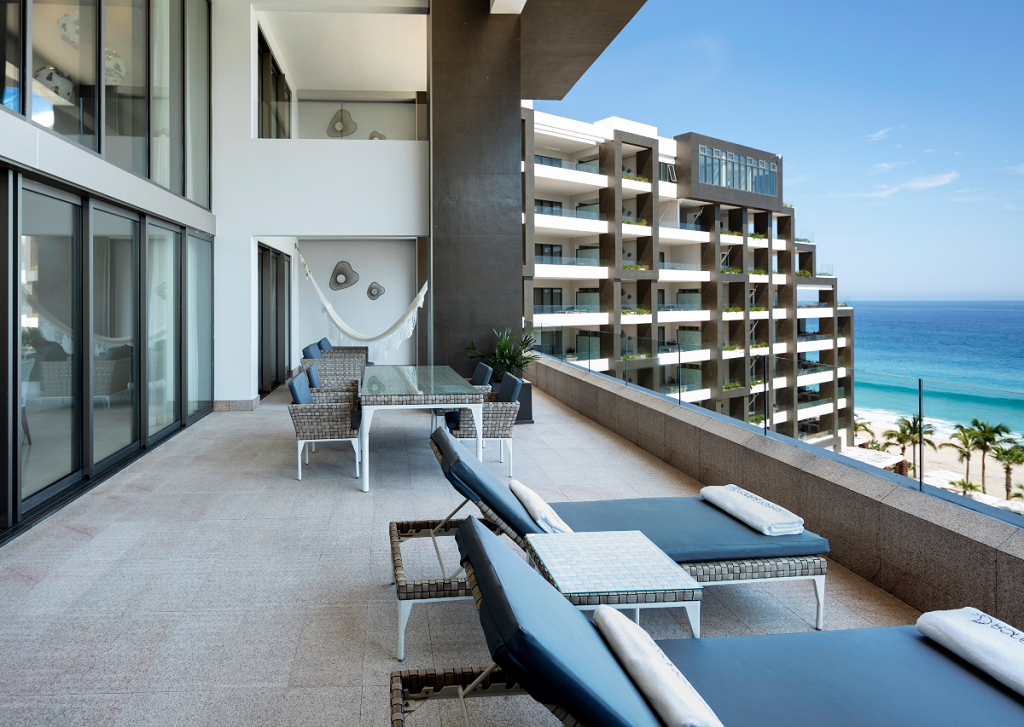 Getting ready to plan your vacation to Baja California? Garza Blanca Resort & Spa Los Cabos is a leader among our group of luxury Mexico Resorts and one of the newest, having been recently completed in October 2019. A stay with us guarantees luxury accommodation, gastronomic delights, top-notch service, and an array of amenities to cater to the entire family.
The resort was strategically constructed on an undisturbed beachfront property that sits between Cabo San Lucas and San Jose del Cabo. From Highway 1, 20-minutes in either direction will get you downtown and the resort itself is only 30-minutes away from the Los Cabos International Airport. We have designed this place from the ground up with our members' experience in mind. Without further ado, let's dive into the details.
Well-Appointed Luxury Suites
Our Los Cabos location offers an abundance of suite sizes and styles to best cater to your vacation. You'll find everything from one, two, and three bedroom options, to penthouse and family-style residences to host larger groups. Upon arrival, you'll be welcomed into the lobby, where tall windows and elegant lighting perfectly highlight the breathtaking views of the Sea of Cortez. From the lobby terrace, you can look out over the pool area and courtyard and let the fresh, seaside breeze sweep over you as you begin your vacation.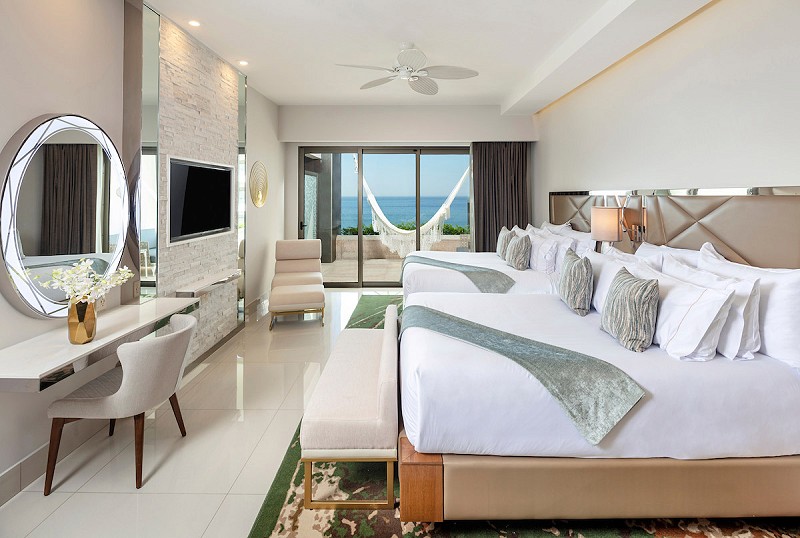 Following a quick check-in process, you'll make your way to your residence or suite, which all come outfitted in chic, clean colors, modern decor, and upscale amenities. Your comfort is our utmost priority and we've arranged every detail, from the linens to your own private hammock, to make you feel at home. But don't just take our word for it, our website features high-quality virtual tours. Explore our lobby and various room styles for yourself to get a better idea of what life is like here at Garza Blanca Los Cabos. Here is a quick summary of our accommodation options:
Junior Suite - one king or two queen-size beds with an en suite bathroom and private terrace. Hosts a maximum of 3 guests.
1 or 2 Bedroom Suite - king or queen-size bed options plus a sofa bed to comfortably host up to 6 guests. Includes spacious living area, terrace, and gourmet cooking and dining facilities.
3 Bedroom Oceanfront - 3 bedroom, 3.5 bath space with ocean views that hosts a maximum of 8 guests. Enjoy a full kitchen, breakfast bar, indoor and outdoor dining, and your own private jacuzzi.
3 Bedroom Loft - 3 bedroom, 3.5 bath split level design. The space expands over two floors and hosts a maximum of 8 guests. Features include floor-to-ceiling windows, gourmet kitchen, living and dining room, and a private terrace.
4 Bedroom Loft - 4 bedroom, 4.5 bath split level design. The space expands over two floors and hosts a maximum of 12 guests. Features include double-height ceilings with window walls, gourmet chef's kitchen, an ultra-modern living room, indoor and outdoor dining, and a private terrace with a jacuzzi.
4 Bedroom Penthouse - a 6501 sq. ft. space with 4 bedrooms and 4.5 baths over 2 floors to host a maximum of 12 guests. You'll have ocean views, a foyer entrance, full gourmet kitchen, en suite bathrooms with bathtubs, and of course, a spacious terrace with a private jacuzzi.
Where To Spend Your Time
The Sparkling Swimming Pools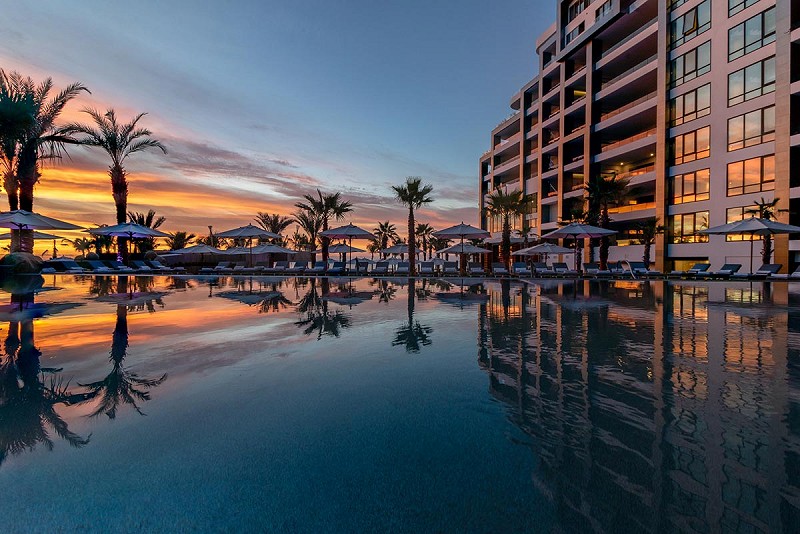 From the moment you enter the resort and look out over the lobby terrace, you'll immediately notice the blue mosaic that is our swimming area. Garza Blanca Los Cabos features 8 different swimming pools, all outdoor, heated, and each beaming with luxurious personality. Whether you have plans to lap swim, enjoy a fresh cocktail, or look out over the Baja views from high above, we've got you covered. Take a dip in the central pool, adults-only rooftop infinity pool, or the kids' pool, and be sure to explore these options after dark, so you can take in the views from the night sky above.
Get Pampered at Our World-Class Spa
After spending some time in the pool, join us for a completely rejuvenating experience at Spa Imagine. Our certified beauty experts will be available to answer any questions you may have about our products and services. Revitalize yourself in our 6-station vitality pool, book a massage, or make an appointment for other specialty treatments. It is our pleasure to accommodate you.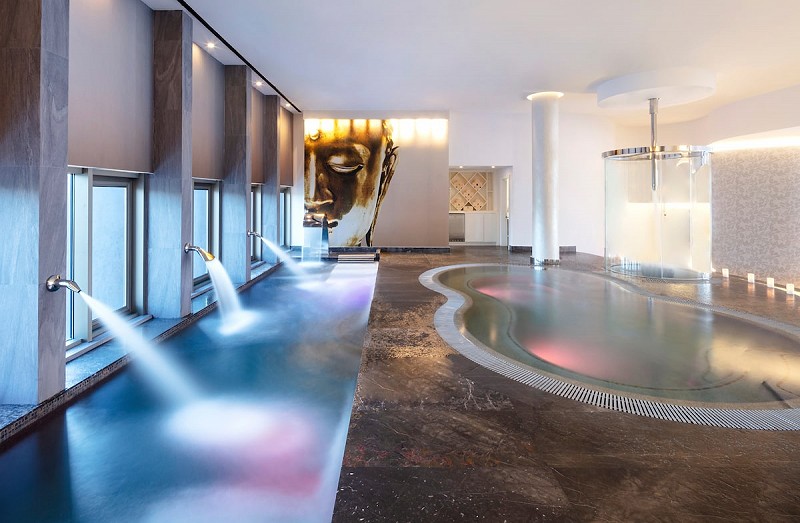 Additionally, we offer one of the most complete hydrotherapy circuits in all of Los Cabos! Hydrotherapy is an immersive, therapeutic experience that guides your body back to a natural state of balance, tranquility, and relaxation. Leave your stress behind as you progress through our effective rotation of hot and cold stations involving steam, heat, and bubbles. It's the ultimate spa experience to complement your stay at Garza Blanca Resort.
Hit the Gym
For those wishing to stay active, we present our state-of-the-art Fitness Center. This dynamic space offers a balance of strength training and cardio equipment including treadmills, ellipticals, rowing machines, cables, and free weights to guarantee that you don't miss a workout. Between the bright, energizing colors and ocean views, you'll find yourself eager to spend time in our wellness center. You'll have access to locker and changing rooms, and if the gym isn't your thing, check out our yoga room for additional equipment and exercise options.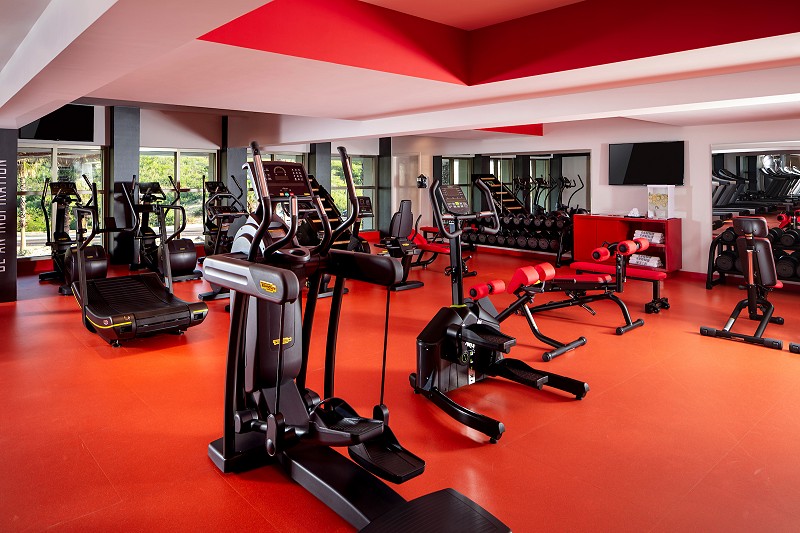 Outdoors, you'll find our full-size tennis court (inquire with a staff member about where to find tennis equipment), as well as a multitude of other terraces, jacuzzis, outdoor lounges, and fire pits, around which to make cherished memories. As you look around, pay special attention to the various art pieces and statues that adorn the courtyard and hallways. You'll get the sense that you are weaving your way through a modern art gallery, as every piece in our Los Cabos location has been hand-picked for your pleasure and inspiration. You're bound to find a "new favorite spot" each day and we encourage you to explore the resort in its entirety if you can.
Also, stay on the lookout for our program of activities including: cooking classes, electric bike tours, tequila tastings, and more. Upon arrival, ask the front desk what activities we have scheduled during your stay, so you don't miss out on any of the fun. There is never a dull moment at Garza Blanca Los Cabos.
Fun For the Whole Family
Don't forget to bring your little ones as they're bound to have just as much fun as the adults! With targeted activities and a custom-built family fun zone, we take the role of engaging with our younger guests seriously. When you want some solo time, the kids are welcome to join us at our dynamic Kids' Club for games, video games, crafts, and outdoor activities daily between 9:00 am and 5:00 pm. After hours babysitting services are available for an additional cost.
Culinary Excellence At Its Best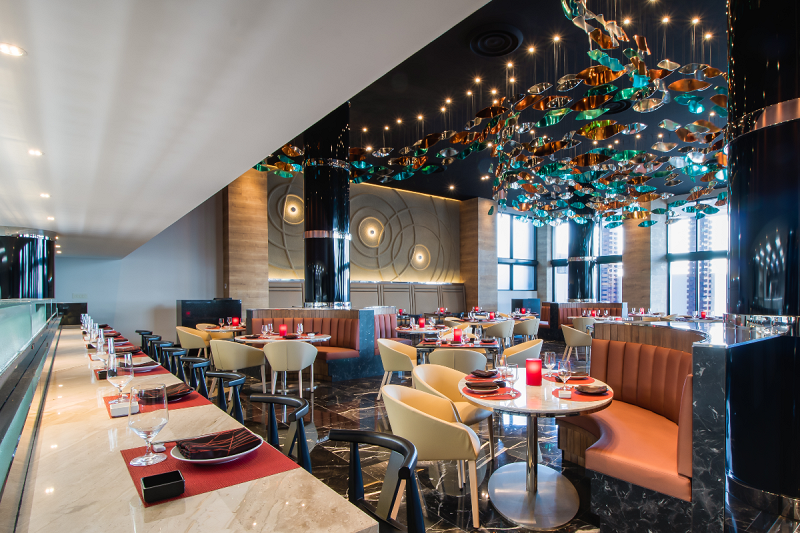 The Garza Blanca Los Cabos resort offers 6 premium food and drink locations, 3 of which are award-winning restaurants. In each, you'll find foodie-approved flavors, ocean views, and a relaxing atmosphere fit for your five-star vacation. The lineup includes everything from formal dining experiences to casual poolside bars, and a trendy Food Truck on the beach. Explore all of these diverse flavors for yourself and let us know which is your favorite. Upon booking, you'll have the option to "opt-in" to our Gourmet Culinary All-inclusive plan, which grants you unlimited access to all 6 dining locations plus 24-hour room service. Join us in Blanca Blue for contemporary Mexican cuisine, Hiroshi for unique Japanese/Mexican fusion cuisine, or Bocados Steak House for dry-aged steaks and reinvented classics. We guarantee that you'll enjoy the delicious food and attentive service.
Plan a Day Trip
Just a short drive from our resort, you'll find yourself in either San Jose del Cabo or Cabo San Lucas. Both of these locations offer an infinite number of activities to get you acquainted with Baja California's cultural and adventurous nature. Go snorkeling in the Sea of Cortez or explore the desert on an ATV tour. Whether you are a thrill-seeker or not, you'll become quickly enamored by the colorful streets, authentic flavors and "small-town" feel of Los Cabos. Be sure to get out and explore for a day!
The Ultimate Wedding Destination
Whether you join us for a Mexico vacation or for a different special occasion, you'll find that the Garza Blanca Los Cabos Resort is a place inspired by romance. The elegant aesthetics and warm ambiance creates the perfect destination for any couple looking to celebrate their commitment to love. Make your nuptials a day to remember with the help of our expert wedding coordinators and enjoy exquisite venues, gourmet food, and an elevated commitment to quality service.
Check out our website to read more about ceremony and reception packages, as well as browse through our wedding blog for more ideas about how to celebrate your big day.
We can't wait to welcome you to Garza Blanca Los Cabos, the romantic, family-friendly getaway that you deserve.