Garza Blanca is Set for Grand Opening in Cancun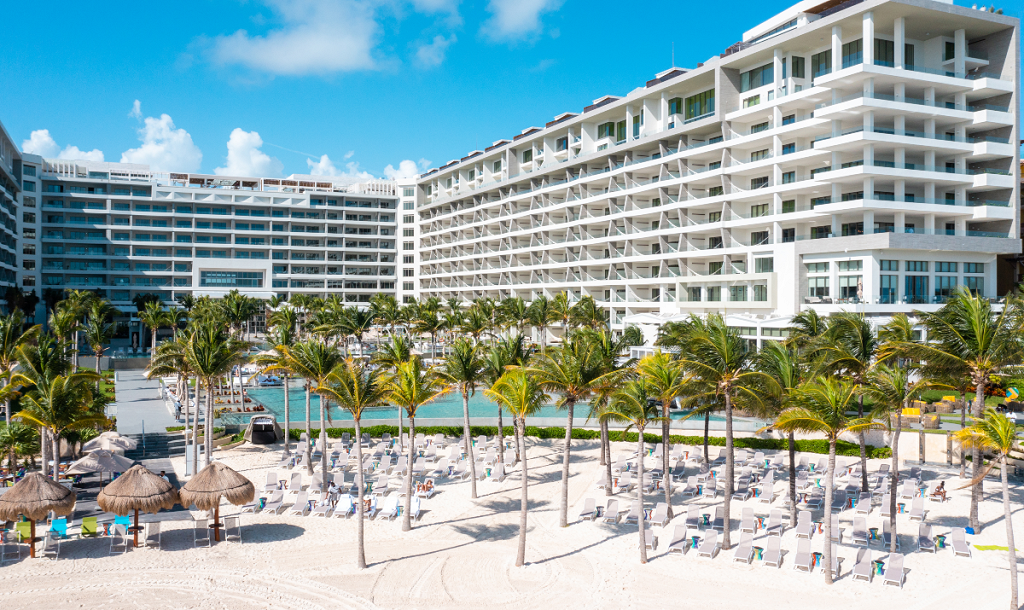 The much-anticipated grand opening of Garza Blanca Resort & Spa Cancun is nearly here! While the resort has been on a soft open since December 2020, construction crews are frantically putting the finishing touches on the final phase, phase 4, of the luxe horseshoe-shaped resort.
TAFER Hotels & Resorts is preparing for the official inauguration of Garza Blanca Cancun in the second quarter of 2022. This will be the third location of the Garza Blanca Resort brand, which is famous for its sophistication and contemporary design. The luxurious beachfront resort is located on the oceanfront's north side of Cancun, in a tranquil area away from the hustle and bustle of the Hotel Zone.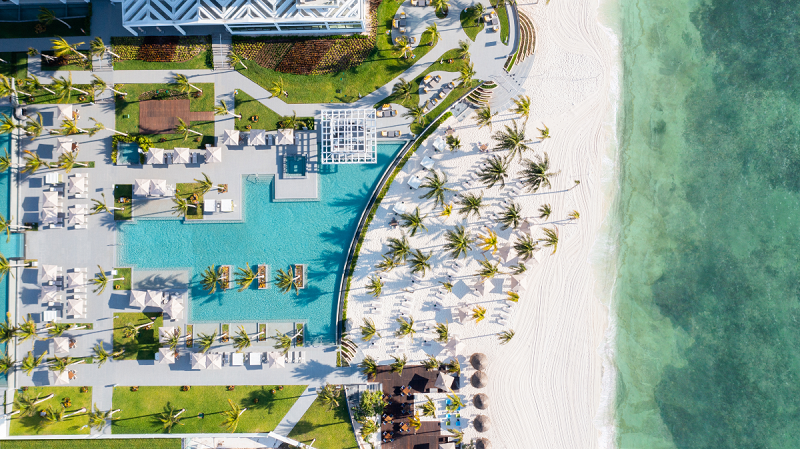 Otto Pareto, the General Manager of Garza Blanca Cancun, states, "I could not be prouder to belong to such a prestigious brand and to be leading our talented team of staff as we prepare for the grand opening. This high-end resort will set a new standard for the luxury hospitality industry, not only with regards to the innovative hotel design both inside and out, which is something to behold, but also because of the stellar amenities and facilities, which elevate the very concept of luxury."
The Suites

In May 2022, members can look forward to booking a stay in one of Garza Blanca Cancun's 452 elegant and contemporary suites. The suites are comprised of the junior, one- and two-bedroom suites and Residential Retreats, which include the 3 Bedroom Oceanfront and 3 Bedroom Penthouse Loft, which can accommodate up to 8 guests as well as the 4 Bedroom Penthouse Loft, which can sleep up to 12. The suites will overlook the Caribbean Sea or the Nichupté Lagoon.

The Restaurants

Garza Blanca Cancun focuses on creating a luxurious culinary experience for food connoisseurs and offers a range of exceptional dining options.

While during the soft opening, Blanca Blue, The Food Truck, and the Snack were open, the phase 3 opening in December 2021 saw the addition of two of TAFER's signature restaurants: BocaDos Steak House and Hiroshi.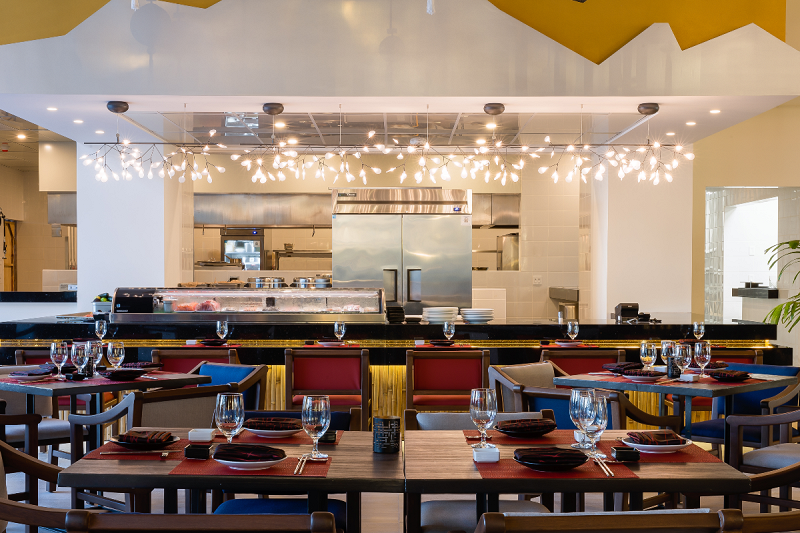 The menus of each of our signature restaurants have been standardized across all Garza Blanca Resorts, so you can look forward to the same mouthwatering flavors whether you vacation in Los Cabos, Puerto Vallarta, or Cancun.

Hiroshi features a sushi bar and signature dishes such as sashimi and Wasabi Rib Eye Steaks and BocaDos Steak House offers succulent dry-aged steaks, a variety of seafood dishes and several options for vegetarians and vegans.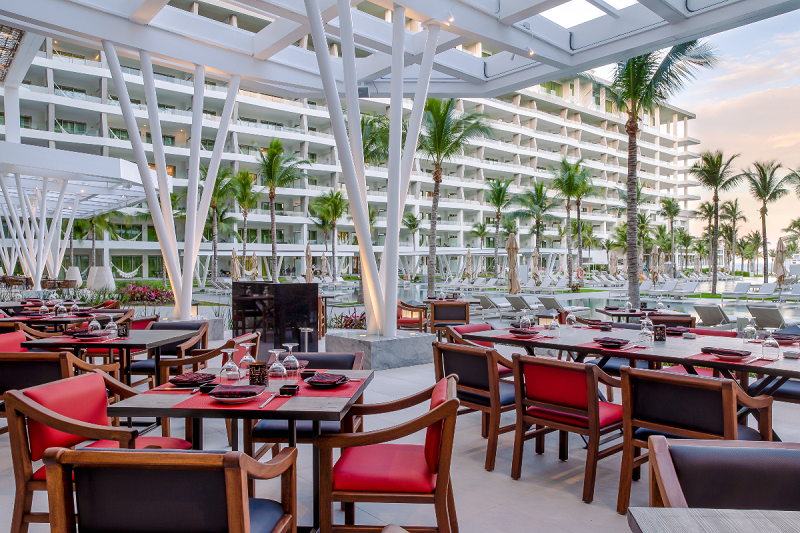 In time for the grand opening, those that favor a more exotic cuisine can opt for DAO Contemporary Chinese Cuisine located on the Rooftop. The design of the restaurant is absolutely stunning with window walls that reveal breathtaking views. Open during dinner hours, DAO will serve quality dishes such as Crispy Peking Duck, Dim Sum, and Fried Rice.

Members can also look forward to the opening of the Rooftop bar and a Gourmet Hall with 5 restaurants in one plus a coffee shop.

Our all-inclusive Gourmet Culinary experience opens the doorway to the best Cancun has to offer. The all-inclusive plan includes the option to dine at all of the restaurants at neighboring sister resort, Villa del Palmar Cancun Luxury Beach Resort & Spa, as an additional benefit. So, whether you are craving Mexican, Chinese, Japanese, Italian, International food or anything in between, the sky is the limit when it comes to dining at Garza Blanca Cancun, and guests and members will be spoiled for choice throughout their stay.

All-inclusive packages allow you to budget more easily for your trip beforehand, so go all in and vacation gourmet-style! Unlimited dining and 24-hour room service are included.

Resort Facilities

From the moment you step into the resort, the lobby immerses you in a wave of elegance with its remarkable double-height ceilings and vibrant glitzy and gold atmosphere with striking color accents and plush sofas with floor-to-ceiling windows that reveal picturesque views of the Caribbean Sea.

The all-new Spa Imagine is based on the concept of nirvana with cabins designed for purification and treatments that will bring you to a higher state of consciousness. Choose from massages, body wraps, facials, and beauty salon services. The spa also features a Hydrotherapy Circuit and a relaxation area to ensure you are in your zen-zone before your treatment commences.

Garza Blanca Cancun boasts 7 outdoor swimming pools including the rooftop bar with a heated infinity swimming pool, a pool with over water hammocks, Kids' Pool, pool with an acrylic front wall, pool with a swim up bar, and three Jacuzzis. Members also enjoy direct beach access with lounge chairs, day beds, and pool concierge service.
The Kids' Club features an incredible interactive design with a sea life and nature theme. The kid-friendly space offers an interactive floor, cinema, arcade, reading and games station, and arts workshop. The décor is a mix of wintergreen and sky blue with wallcoverings that depict nature scenes with artistic design and a great level of realism. These serene forest and underwater scenes will transport your little ones to the hideaway of their dreams, and they will love the comfy puff armchairs and mushroom forest. Dynamic all-day programming will ensure that they continue learning, discovering, and creating even while on vacation. After-hours babysitting services are available at an additional cost.

The state-of-the-art gym will feature the latest circuit machines and cardio equipment to entice you to keep up with your workout routine and the new opulent Ballroom will offer 5,353 square feet of event space, ideal for weddings and large events.

Activities

If it is adventure or entertainment you seek, our newest luxury addition in Cancun will not disappoint. Thanks to the many activities offered both on and off the resort, you will never get bored. Members and guests will enjoy complimentary yoga classes and water sports including paddle boarding, kayaking, or splashing around at the Wibit brand Aqua Park. All the activities offered at Villa del Palmar Cancun are also fully accessible to guests staying at Garza Blanca Cancun. These include Spanish classes, dance classes, aqua fitness, pool volleyball, and a wonderful lineup of weekly entertainment including Cuban Night, Casino Night, and a Magic Show.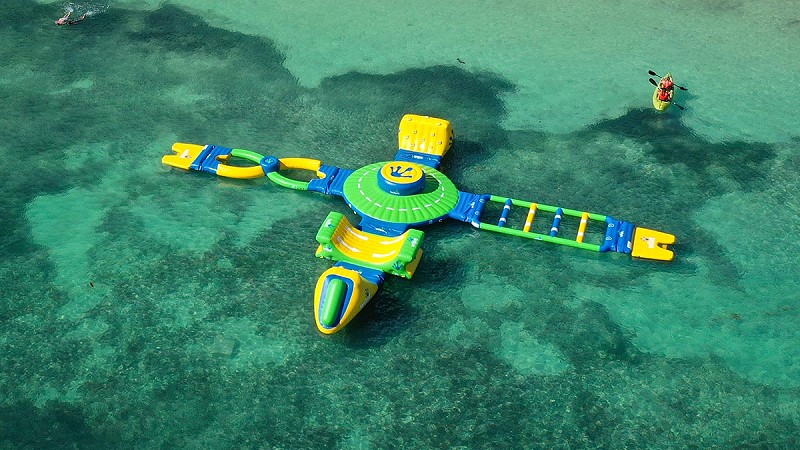 Upon check-in, members will be assigned a personal butler who will act as your concierge throughout your stay. Your butler is there to help you with everything from booking tours and activities to restaurant reservations and transportation. They will be on hand to provide local advice, while also helping you with any special requests.

Here, you will be treated to luxurious accommodation, amazing facilities, gourmet cuisine, and exemplary service all for your enjoyment. Be one of the first to experience the newest luxury lifestyle resort. Your paradise awaits at Garza Blanca Cancun!

For reservations call Member Services at Toll Free USA/CAN: 1 877 722 4592 or Toll-Free MEXICO: 1 844 488 1723 or email memberservices@resortcom.com.