Garza Blanca Elevated to a Whole New Level in Cancun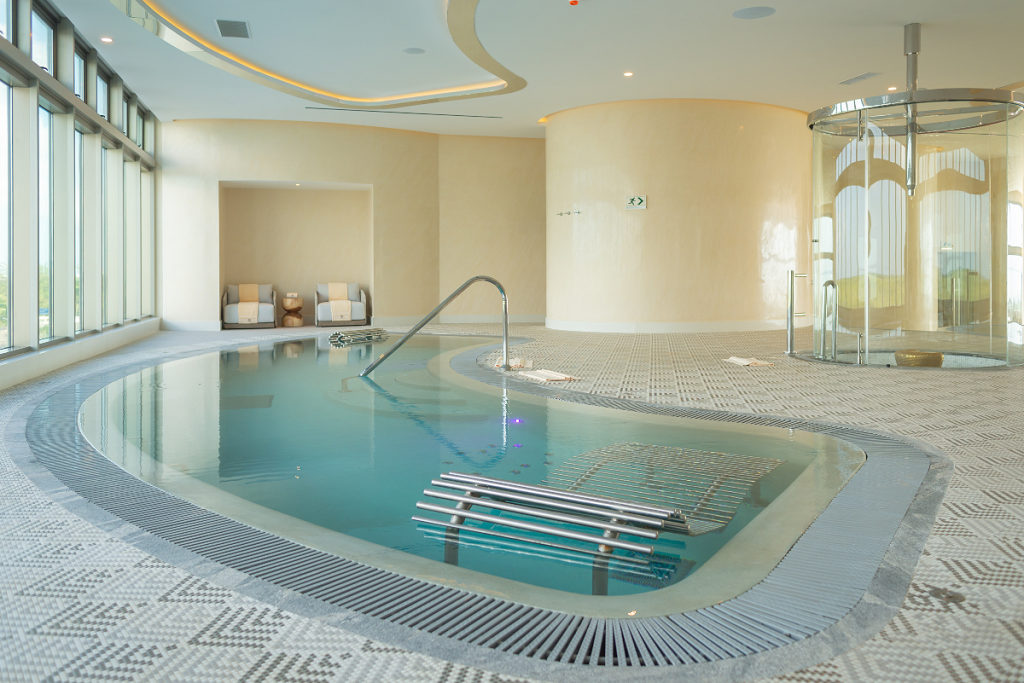 The Garza Blanca brand is growing and stronger than ever. While Garza Blanca Resort & Spa Cancun has been on a soft open since December 2020 with various phases being completed at different times, the much-anticipated completion of the entire resort is finally drawing near.
Reminiscent of Garza Blanca Puerto Vallarta and Garza Blanca Los Cabos, Garza Blanca Cancun brings its own chic vibe to the Mexican Caribbean and is a truly high-end resort. As the project has moved from conceptualization to realization no detail was spared, resulting in one of TAFER's finest resorts that is sure to redefine the meaning of luxury.
Nearing its completion, the resort is already brimming with life. Full of both enthusiastic guests and hardworking crews, details are being finalized and construction is coming to an end. 382 rooms are currently complete with the resort planning to open to its full capacity of 452 rooms over the next several weeks. March has been a "milestone" month for the project. Both our state-of-the-art Spa Imagine and fantastic new Kids' Club with a nature and sea life theme opened.
What's Currently Open at Garza Blanca Cancun?
382 Suites, Lofts, and Penthouses: Every suite at Garza Blanca Resort & Spa Cancun is the perfect fusion of design and comfortability, delivering lavish yet practical accommodation. Our line-up ranges in size from One- or Two-bedroom suites to Three Bedroom Oceanfront and Penthouse Lofts, to our Four Bedroom Penthouse Lofts which accommodate as many as 12 guests. You can expect chic decor, stunning Caribbean views, and private terraces. Every kitchen comes fully equipped with all the tools needed to cook or entertain and one bedroom suites and above have a washer and dryer. Our premium Penthouse Lofts were built to impress, featuring a spacious, two-story design with an expansive rooftop terrace and even a private jacuzzi. No matter which option you decide on for accommodation, all of your stress will be swept away by the suite's calming aesthetics and Caribbean ocean breezes.
Spa Imagine - Come experience peace and rejuvenation like never before at Spa Imagine, our nirvana-inspired wellness center that will restore your mind and body to a place of total balance and purification. Treat yourself to our Hydrotherapy Circuit, or inquire with one of our specialists in regards to massages, facials, body wraps, and other beauty services.
Swimming Pools - Explore the resort's several outdoor swimming pools, which include a pool with a swim-up bar, a pool with overwater hammocks, a pool with an acrylic front wall, and an adults-only Rooftop infinity pool. Wandering through the resort's immaculate grounds is part of the experience.
Beach Area with Lounge Chairs - Enjoy direct beach access only to be spoiled by lounge chairs, day beds, and, of course, pool butler service.
Gym - Make a stop at our state-of-the-art gym and keep up with your fitness routine while on vacation.
Kids' Club - This colorful space offers an interactive floor, arcade, cinema, reading and games station, and art workshop station to keep your young ones surprised, learning, and engaged. Ask the front desk upon arrival for the schedule of activities so that your kids don't miss out on any of the fun.
Outstanding Restaurants: A surreal gastronomic experience is an essential component to a stay at Garza Blanca and Garza Blanca Cancun is no exception. Here you'll find a plethora of food and beverage options for every occasion. For lazy, more casual days at the beach or by the pool, enjoy our on-site Food Truck Raw Bar, or the Snack, and follow it up with a delicious cocktail from either of our two pool bars. Or head up to the Rooftop exclusively for guests aged 18 and over and enjoy snacks by the pool served from 10:00 am to 6:00 pm. Then, as the evening sets in, treat yourself to one of our three signature restaurants: Blanca Blue, Hiroshi, and BocaDos Steak House. Head to Hiroshi for a fine-dining experience highlighting fresh sashimi and delicious sushi rolls. Treat yourself to BocaDos Steak House, where you'll be deciding between the "surf and turf" options. Succulent dry-aged steaks, fresh seafood and more fill the menu. Or for a taste of authentic Mexico with a contemporary twist, head to Blanca Blue.
Coming Soon
Additional Restaurants
Still to be completed are DAO Contemporary Chinese Restaurant and the Gourmet Hall, which are expected to open by Q3 of this year. DAO will be located on the Rooftop, which is home to some of the resort's most stunning views. DAO's menu will feature delicious Chinese cuisine specialties such as Crispy Peking Duck, Dim Sum, and Fried Rice, which you can savor while gazing out over the stunning ocean waters below. Our Gourmet Hall will be located next to the Lobby with 5 additional restaurants as well as a quaint coffee shop.
TierraLuna Village
The fourth quarter of the year will bring a very exciting new addition to the Garza Blanca Cancun and Villa del Palmar Cancun properties: TierraLuna Village. The premier TierraLuna Village has already opened to great acclaim on the Garza Blanca Preserve in Puerto Vallarta and the buzz around this spectacular outdoor space has inspired the addition of the second TierraLuna Village in Cancun. This outdoor shopping village will be home to 12 unique boutiques whose mission is to continue the fight for sustainable fashion. Expect weekly events, such as art walks, and a whimsical family carousel that will crown the plaza center. It will be a home for many exciting activities to come.
What Can You Expect When you Book a Stay at Garza Blanca Cancun?
The complete experience waiting for you at Garza Blanca Resort & Spa Cancun has been well worth the wait. While Garza Blanca feels as chic and contemporary as Hotel Mousai, it maintains its kid-friendly reputation. What's great about it is that whether you are traveling with your family or a group of adults, Garza Blanca Cancun has managed to separate the spaces well enough to cater to both kids and adults with spaces designed just for kids, spaces designed just for adults, and spaces that cater to both. Following in the footsteps of Garza Blanca Los Cabos, Garza Blanca Cancun's Rooftop bar and infinity pool will be exclusively for adults aged 18 and over.
If you are a member who has frequently stayed at Villa del Palmar Cancun but want to try out its neighboring sister resort, Garza Blanca Cancun, you actually can have the best of both worlds. With the Gourmet Culinary All-Inclusive Plan, you can decide whether you want to try the new restaurants at Garza Blanca Cancun or go for tried and tested favorites at any of Villa del Palmar Cancun's restaurants (Please note that seating preference will be given to members staying at the resort and is subject to availability).The same applies to guests staying at Villa del Palmar Cancun; the all-inclusive plan also gives them the option to dine at any of Garza Blanca Cancun's restaurants.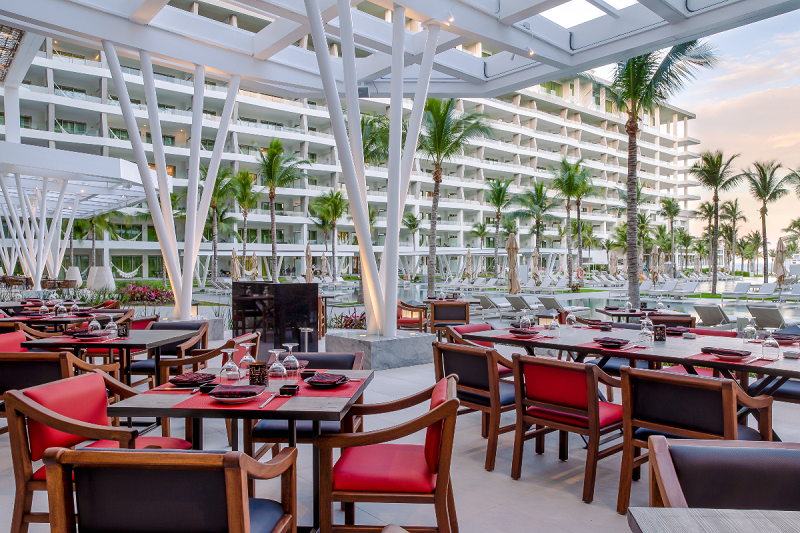 Guests of Garza Blanca Cancun also have access to all the complimentary resort activities offered at Villa del Palmar Cancun as well as the Wibit brand Aqua Park. Please note that the pools are only available to members staying at the actual resort, for example, guests staying at Garza Blanca can only use the pools at Garza Blanca and not the pools at Villa del Palmar Cancun and vice versa.
Come join us for modern accommodation, an exciting culinary program, and delightful facilities and activities. Be one of the first to experience this paradise in its totality and make yourself at home on Mexico's Caribbean coast.