Covid -19 Test for Tafer Residence Club Members
Dear Member,
Considering the recent COVID19 testing requirements imposed by various countries, including the United States and Canada, we are committed to ensuring your vacations can continue worry-free. You are part of our family, and here at Tafer Hotels and Resorts, there is nothing more important.
Delivering extraordinary vacation experiences is our business. To make your vacation experience seamless, we are proud to offer complimentary antigen testing at each of our resorts for visitors whose home countries require a negative testing result. For members who cannot use antigen testing, each resort will have PCR testing available at a discounted rate. All testing will be conveniently administered on-property by a testing professional from a certified and approved 3rd party laboratory so you can continue to enjoy your vacation with peace of mind.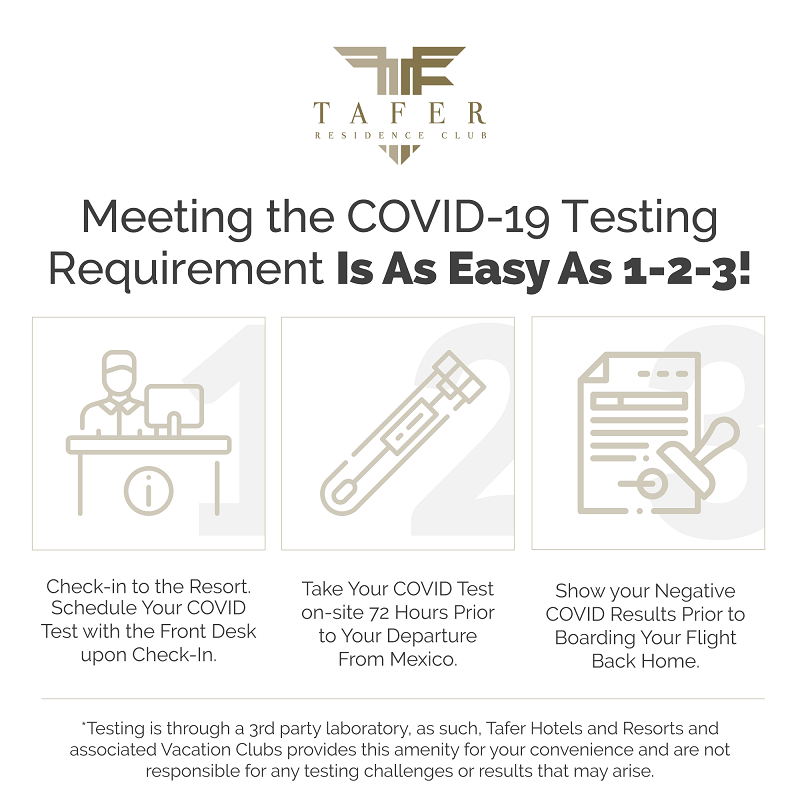 Leading the way for member safety and comfort while traveling during this time, Tafer Hotels and Resorts is raising the standard, being one of the first hospitality companies to offer members who test positive while visiting the resort, up to 14 nights complimentary lodging accommodations through March 31, 2021. Members are responsible for their incidentals while quarantined in the comforts of their luxury suite. Terms and conditions apply, subject to change without any prior notice.
We realize that our 'new normal' is continually changing, and we want you to know we are here for you! Stay safe, stay well, and stay healthy. For information, please contact the Airline you booked with for up to date testing requirements needed before boarding. Should you have any questions about your reservations, contact us at 1-855-310-9634 or memberservices@resortcom.com.
Best Regards,
The Club