Countdown to the Grand Opening of Garza Blanca Cancun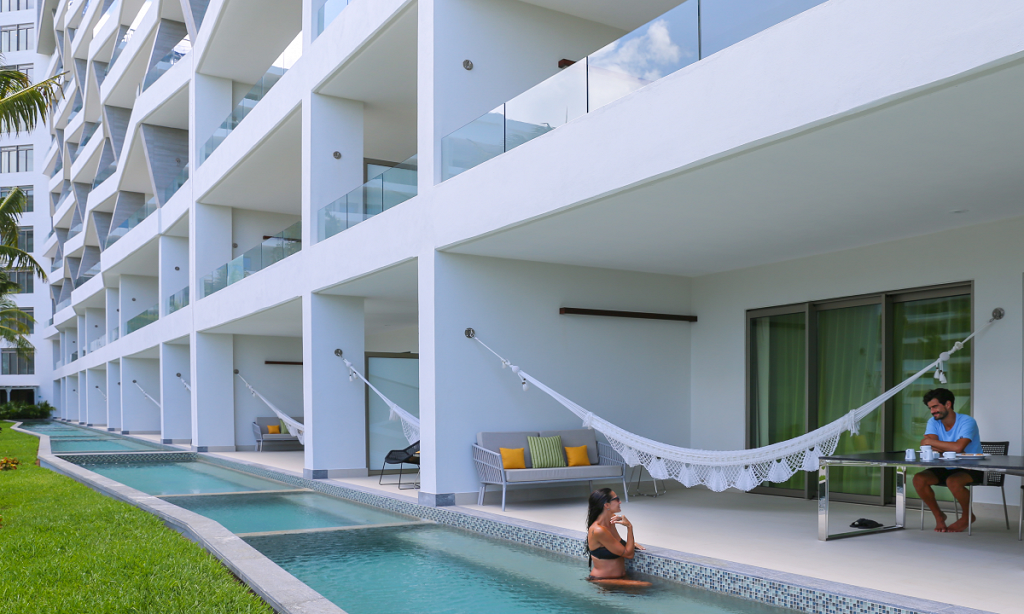 Cancun is buzzing with excitement, as TAFER Hotels & Resorts prepares for the Grand Opening of Garza Blanca Resort & Spa Cancun in the last days of 2021. The much-anticipated addition to the oceanfront on the north side of Cancun, in a quiet area away from the Hotel Zone, is dazzling luxury travelers, celebrities, and the hospitality industry as a whole.
Garza Blanca Resort & Spa Cancun is TAFER´s third Garza Blanca Resort with plans for a fourth one to open in the Riviera Maya. All Garza Blanca Resorts bring the signature sophistication, contemporary design, and gourmet dining that the luxury brand is known for each with a unique design perfectly suited to the landscapes around where they are situated.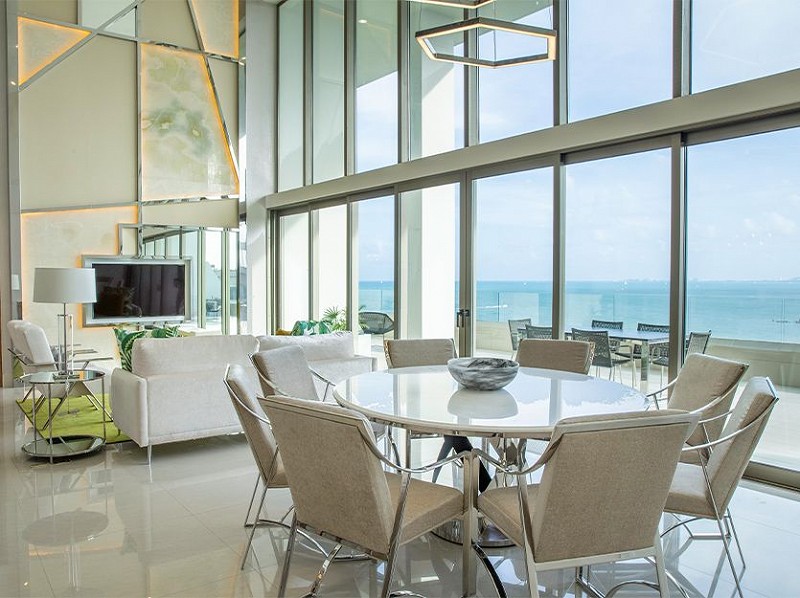 Garza Blanca Cancun has been on a soft open since December 2020 with 162 contemporary suites. Upon completion in Q4 of this year, Garza Blanca Cancun will offer a total of 452 suites and penthouses from the Junior Suites to the ultra-luxurious 3-and 4-Bedroom Penthouse Lofts. All the suites from the One Bedroom category and higher, include a full-size kitchen, and spacious dining and living areas, so you can enjoy every comfort of home. The resort's brilliant horseshoe design offers guests unparalleled ocean views from most suites, which also feature expansive terraces with hammocks. Once you check-in, you will have a dedicated butler assigned to your room who will act as your personal concierge throughout your stay to book tours and activities, restaurant reservations, and give you advice on things to do in the destination, as well as help you with any special requests.
Otto Pareto, the General Manager of Garza Blanca Cancun, said, "I am anticipating the Grand Opening of our brand-new Garza Blanca Resort as much as anyone. I could not be prouder to belong to such a prestigious brand and to be leading our talented team of staff as we prepare for the Grand Opening of this high-end resort, which will set a new standard for the luxury hospitality industry, not only with regards to the innovative hotel design both inside and out, which is something to behold, but also because of the stellar amenities and facilities, which elevate the very concept of luxury. ¨
The Lobby
The lobby immerses you in a wave of elegance. As soon as you step into the lobby to check-in, you will notice its remarkable double-height interior, with an opulent, cascading gold ceiling with twinkling lights and a glitzy chandelier. Floor-to-ceiling sliding glass doors reveal picturesque views of the stunning Caribbean Sea. The walls and flooring feature clean white lines with striking color accents. The elegant decor makes a statement with plush velvet sofas and mismatched armchairs in neutral hues with key pieces in bolder tones accentuated by colorful throw pillows and decorative pieces, that work to pull the mixed furniture pieces together. But more important than the elegant design, is the level of service you will receive from the welcoming team of staff. Just beyond the lobby, there is a Lobby Bar, which is the perfect place to chat and relax while enjoying a refreshing beverage.
There is also a Hospitality Suite for your convenience where you can sit and comfortably relax if your room is not ready or if you are waiting to be picked up. The Hospitality Suite has a TV, pool table, and computers.
Restaurants: Coming Soon!
Currently Garza Blanca Cancun offers 3 dining options at Blanca Blue, the Food Truck, and the Snack Bar. In time for the Grand Opening, the resort will offer an additional four full-service restaurants and a Gourmet Hall, including: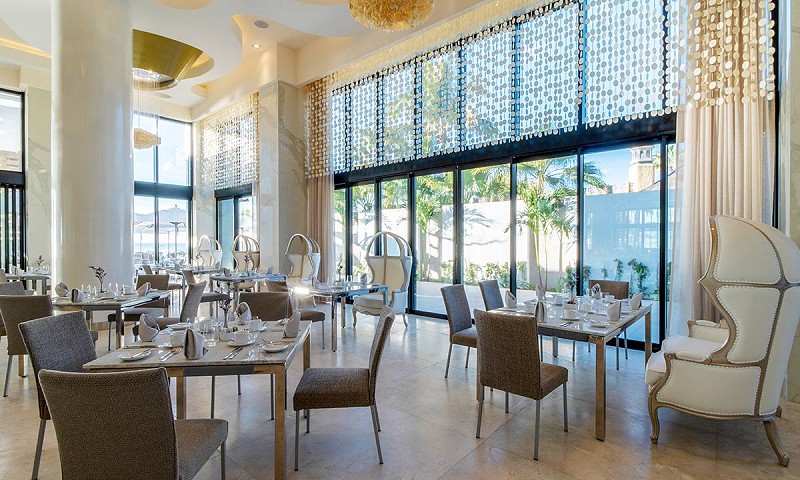 Hiroshi
The design of this Hiroshi restaurant is completely unique and different from Hiroshi at Garza Blanca Puerto Vallarta and Garza Blanca Los Cabos. Taking elegance and sophistication one step further, Hiroshi at Garza Blanca Cancun features white wood, galaxy granite, bamboo, and stainless steel. The furniture is in sapphire blue, silver, ivory, and black. The high ceilings feature a cluster of floating pendants made from hand blown glass, which serve to both capture attention and light up the room. Hiroshi also features a sushi bar lit up from above by branches of interconnected lighting in geometric shapes. All that is topped off by an impressive mural of Mount Fuji, the highest Japanese mountain, reminding diners that there is little limit on how high you can climb. All that is complemented by decorative wall art with modern pieces with black and fine gold lines and Japanese silk folding fans. Hiroshi also offers an expansive terrace with ocean views. The menu at Hiroshi will feature Hiroshi's signature dishes including sushi, sashimi, and Wasabi Rib- Eye Steaks.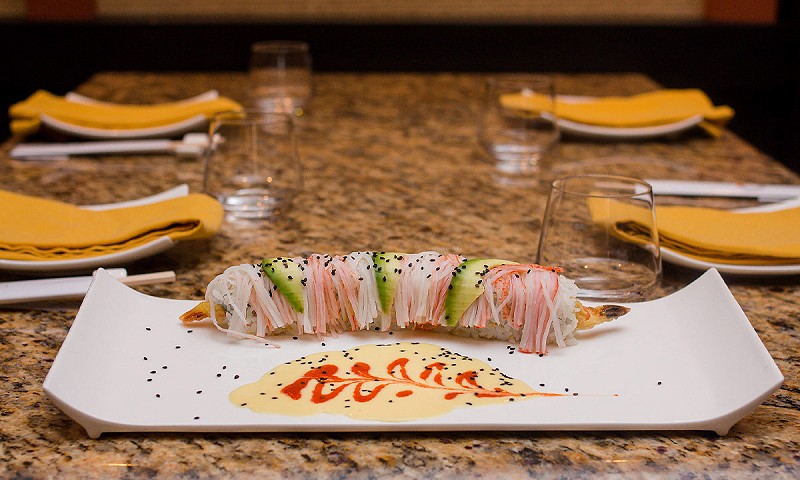 Bocados Steak House
The design of Bocados Steak House is based around the concept of fire and smoke. Bocados specializes in dry-aged steaks and as soon as you enter the space, you will feel part of an energetic atmosphere. Bocados is a portion of lava on your table. The design is a mix of black gradients, wood textures, porcelain, and gold. Clusters of metallized gold suspension lights hang from the ceiling giving off a warm and comfortable glow. The impressive pillars represent lava fountains, while the Bocados logo that greets you behind the hostess stand, represents a river of fiery lava. The menu promises melt-in-your mouth steaks, seafood dishes, and a variety of vegetarian dishes including grilled veggies and pasta. There is also a sizeable terrace where you can enjoy al fresco dining and fresh ocean breezes.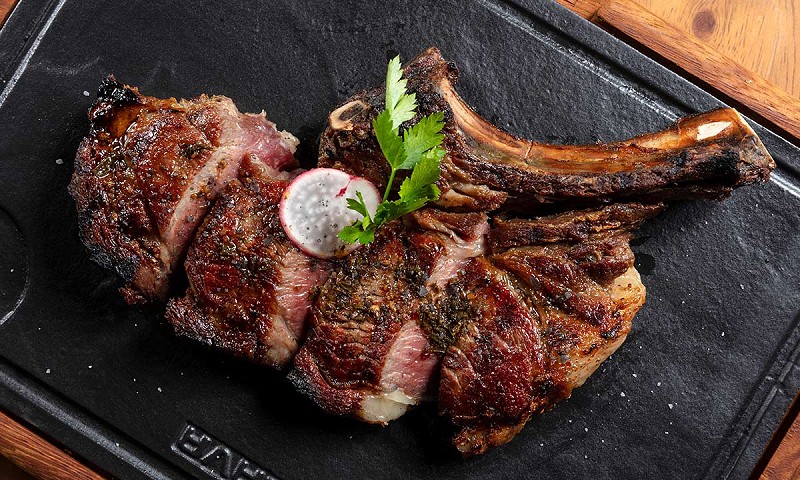 DAO
Located on the Rooftop, DAO is TAFER's newest restaurant concept featuring high-end Oriental cuisine that will take you on a culinary journey through Asia led by its Hong Kong-born chef. DAO will feature Oriental specialties such as Crispy Peking Duck, Dim Sum, Fried Rice, and Chicken Satay. The contemporary oriental interior features marble, red woods, ceramics, and tapestries with red and black the predominant colors, inviting diners to enjoy exquisite cuisine in an exotic and luxurious space while overlooking jaw-dropping views of the Caribbean Sea.
The Rooftop
The Rooftop is the place to be by day for glamorous lounging by its stunning infinity pool on an outdoor sun lounger with a sumptuous mattress and pillow in pure white, while the waiters cater to your every whim. At night, The Rooftop is the perfect spot for a romantic rendezvous. Enjoy sunset cocktails and light gourmet snacks while overlooking the dramatically-lit infinity pool and feeling on top of the world.
The design of The Rooftop is completely organic with wooden decking, vines and plants, Dubai stone tiles and colorful mosaic tiles around the bar and restaurant with a predominantly natural color scheme in green, white, and brown. This will definitely be the coolest chill spot at Garza Blanca Cancun.
Gourmet Hall
With 6 restaurants in one, the Gourmet Hall blends convenience with enticing world cuisine including: Asian, Italian, BBQ, Mexican, and Seafood, plus a coffee shop and ice cream and sweet shop.
Bars
There will be two bars around the swimming pools, including a bar next to the Orange Tree and a 360 Bar.
The 360 Bar offers a pool swim-up option as well as a bar at walkway level. There are 9 seats in the pool at bar level and 12 bar stools in the dry part. The 360 Bar provides a spectacular setting for making connections while enjoying a specialty cocktail and relaxing. Make sure to ask our highly trained mixologists what they recommend, from regional tequila and mezcal to flavorful blends to entice the palette. There is also a lounge set-up with a capacity of 36.
Garza Blanca Cancun's gourmet dining options all create unique culinary experiences offering a diverse away of cuisine where guests will enjoy first-rate dining, complemented by tropical libations made by expert mixologists. Both Room Only and Gourmet Culinary All-Inclusive plans are available. Decide to spoil yourself and opt for the all-inclusive package, so that you can enjoy unlimited fine dining. The all-inclusive plan includes 24-hour room service.
And that's not all. Guests and members have access to all the restaurants at Garza Blanca's neighboring sister resort, Villa del Palmar Cancun. The two resorts are connected via the beach and an indoor passageway. Garza Blanca guests can also enjoy access to Villa del Palmar's complimentary resort activities and facilities, including a Wibit brand Aqua Park.
Pools and Beach
Garza Blanca Cancun features 5 outdoor heated swimming pools including a Kids' Pool, a pool with over water hammocks, a stunning Rooftop adults-only infinity pool, and a pool with an acrylic wall perfect for taking photos to post on Instagram, as well as three Jacuzzis. There is also direct beach access where the Caribbean turquoise waters welcome playful splashes and lounge chairs and day beds that draw you into sun-drenched daydreaming, with full service available.
Spa Imagine
Spa Imagine at Garza Blanca Cancun is based on the concept of nirvana, defined as a space that is free from suffering. Spa Imagine recreates the experience of nirvana bringing guests to a higher state of consciousness, where body and soul move to the height of heaven.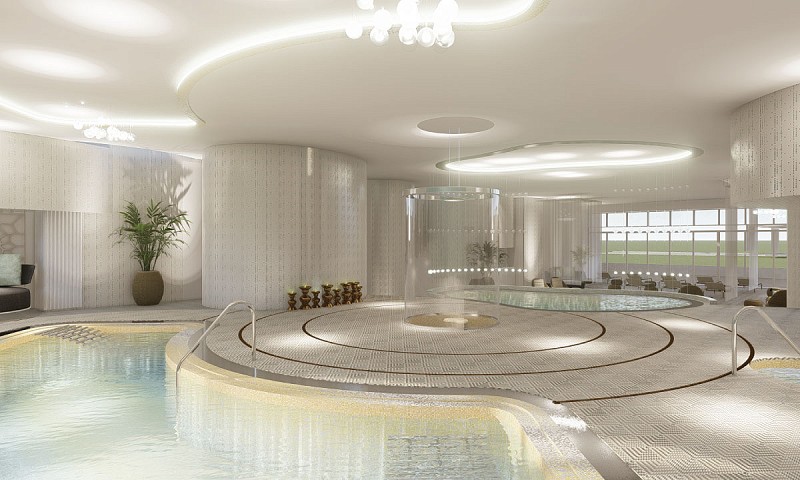 Before your treatment begins, you are invited to use the hydrotherapy circuit to experience healing through water, with hot and cold stations and a relaxation area with a window to the sky allowing you to connect with the infinite horizon.
The cabins are designed for purification, and will embrace you with warmth and comfort. The service provided in the cabins brings you into a divine state of relaxation. You can choose from signature experiences tailored to your individual needs. The full spa menu offers a variety of bespoke treatments including massages, facials, body wraps, and beauty treatments. Spa Imagine also offers cutting-edge treatments with innovative technologies including the HydraFacial and Binary Premium by RÖS'S.
Kids' Club
The Kids' Club at Garza Blanca Cancun offers the same incredible dynamic programming for kids as the other Garza Blanca resorts, with even more amazing features. The designers created a kid-friendly concept, which features a sea life and nature theme with vibrant colors and unique decorative pieces including handmade jellyfish lamps, puff armchairs, and a mushroom forest. The Kids' Club has a cinema, arcade, interactive floor, reading and games station, and arts workshop. After hours babysitting services are available for an extra cost.
A Brand-New Gym
Garza Blanca's state-of-the-art gym is the perfect place to break a sweat while staying on top of your health and fitness routine. The new gym features the latest cardio equipment, circuit machines, and free weights that are sure to inspire you to take a break from vacation and enjoy a great workout.
Banquet Hall for Weddings and Events
The Banquet Hall is a lavish new venue that is perfectly designed to host a range of events, from wedding receptions to corporate meetings and incentive programs.
Mexico, and Cancun in particular, has become a favorite location for destination weddings. The white sand beach in front of Garza Blanca Cancun is one of the dreamiest locations to say "I do". After that you can enjoy cocktails at the Orange Tree, and a reception dinner at the Banquet Hall, which has a maximum capacity of 200 guests for a banquet dinner. Our in-house Groups and Weddings Coordinators are there to assist you in mapping out all the details of your wedding or special event, making sure that everything is perfect.
Complimentary Resort Activities
You will never get bored at Garza Blanca Cancun, thanks to the many activities offered. At the resort you can participate in wellness activities, water sports, and yoga. You also have access to all the activities at Villa del Palmar Cancun including aqua fitness, pool volleyball, horseshoes, beach cinema, magic show, and more. Every day you spend at the resort, will be full of fun and exciting things to do!
The Orange Tree – A Unique Part of all TAFER's Resorts
While staying at Garza Blanca Cancun, a vibrant Orange Tree in the courtyard is sure to catch your attention. This extraordinary tree is a place to collect your thoughts, inspire you towards success, and meet with others for a casual cocktail and good conversation.
Isla Mujeres –Just a Short Ferry Ride Away
One of the first things you should do while on vacation in Cancun, is visit Isla Mujeres. Isla Mujeres is just a short ferry ride away from the resort and you can catch the ferry from the pier next to Villa del Palmar Cancun's pier.
If you like exploring underwater, you will not want to miss a visit to the Underwater Museum of Art (MUSA) where you can snorkel or dive to a depth of 30 feet and check out the unique underwater gallery with incredible sculptures.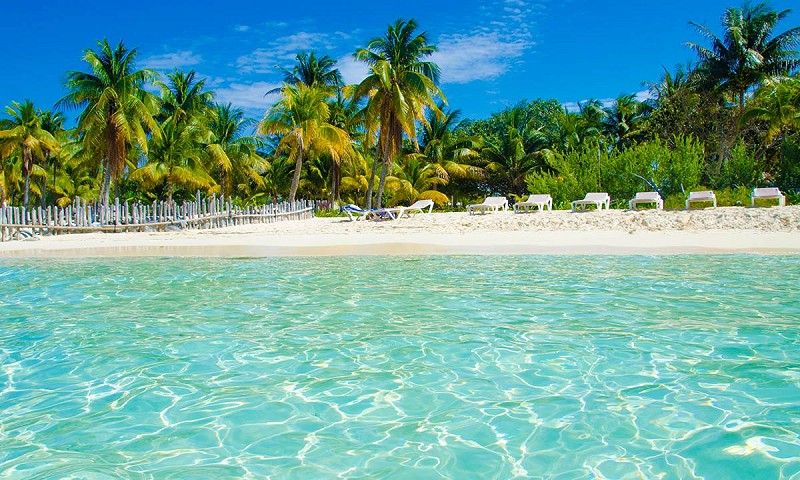 Playa Norte is a beautiful beach with crystal-clear waters that offers all types of services including restaurants, beach clubs, hammocks, and water activities.
Between the months of May and August, you will have an opportunity to swim with whale sharks. Other things you can do on the island, are rent a golf cart and explore on your own, visit the Turtle Farm, join a guided bike tour that will take you around the island, go parasailing, or rent some jet skis. Whatever you choose to do, there is no doubt you will enjoy a fantastic day trip to Isla Mujeres!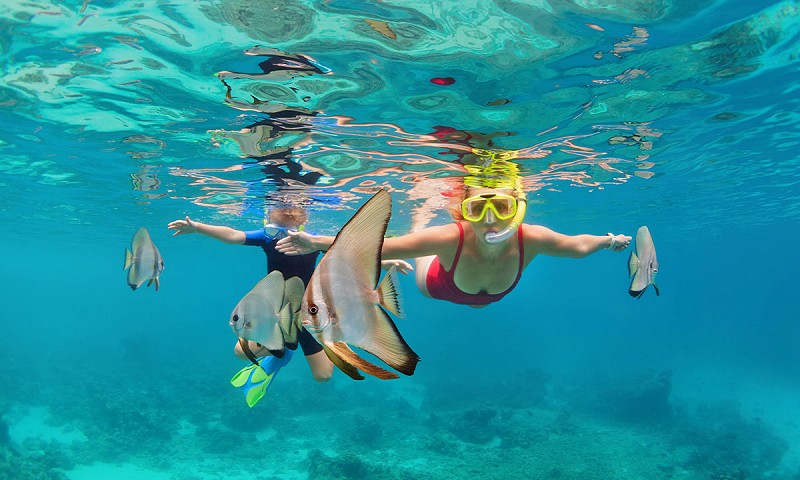 Luxury meets function at Garza Blanca Cancun and here you will enjoy lavish accommodation, luxe facilities, gourmet dining, and impeccable service all designed to enhance your stay in paradise. Come to experience the magic for yourself!