Stunning Rooftop Bars & Hydrotherapy Circuits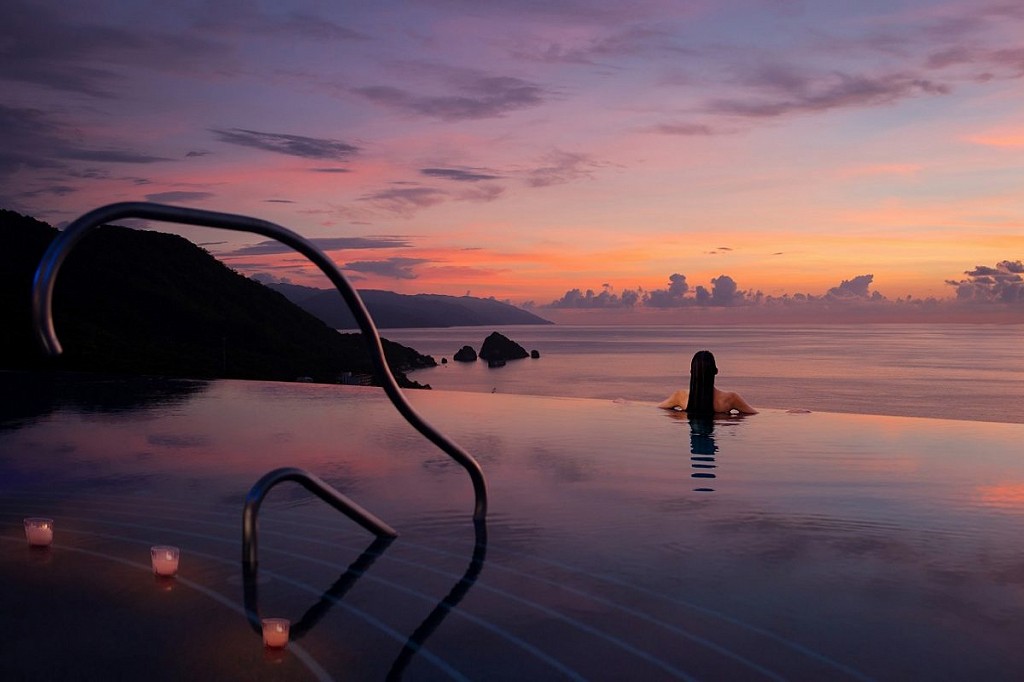 Hotel Mousai
Stylish Rooftop Bar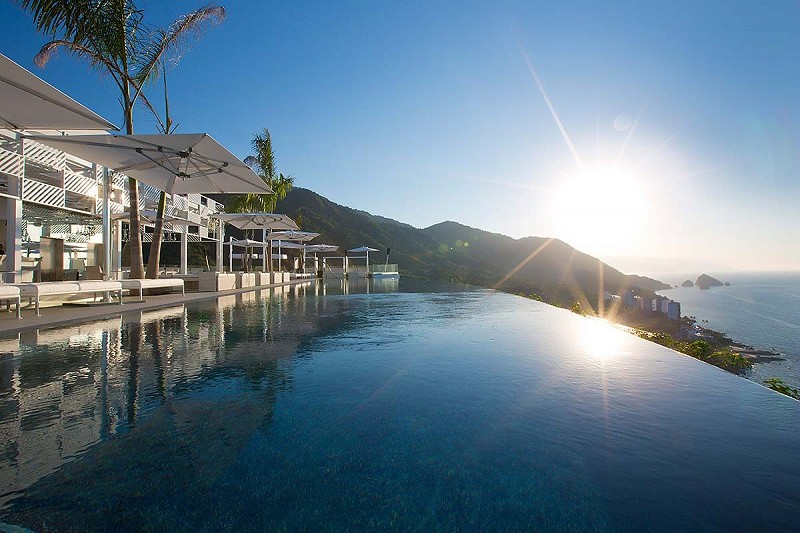 The Rooftop bar is the idyllic atmosphere to relax during the day while on vacation at Hotel Mousai. Located 367 feet above sea level on the 18th floor of the resort, the minute you step out of the elevator you cannot help but be amazed by the infinite blue view where the sky merges with the ocean. The most impressive part of the Rooftop apart from chic ambiance is the 2,227 square foot pool, with more than 111 feet of infinity edge, which offers unobstructed views of Banderas Bay. This is the place to take Insta-worthy selfies with the jaw-dropping backdrops of the mesmerizing ocean and palm-peppered mountains.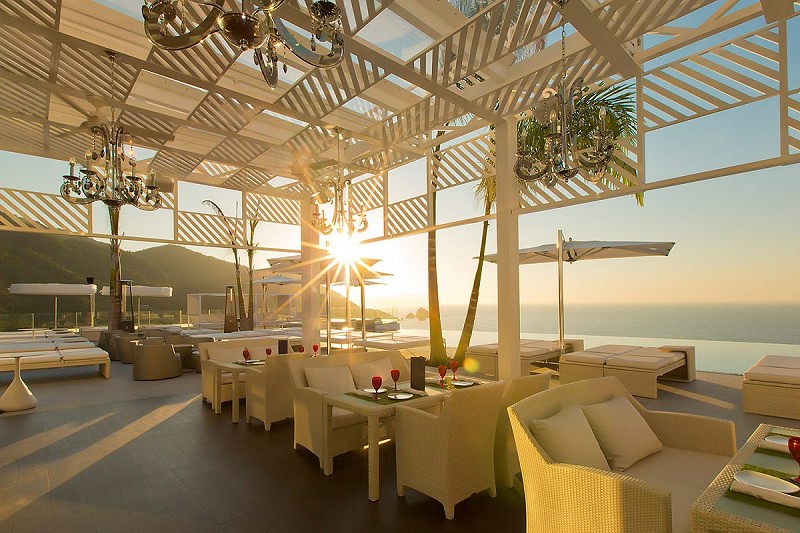 The Rooftop´s WOW factor, stunning views aside, is the way the cocktails are prepared and presented and also the service that is beyond impeccable. The stars of the cocktail menu are the Mezcal Tini with mezcal and passion fruit and the Mezcal Teca with mezcal and fresh strawberries. Another hit is the Margarita Cadillac made with tequila, Grand Marnier, lime & orange juice. Although every cocktail on the menu is pretty much worth trying.
The bartenders are very experienced in making delicious cocktails and also in making new creations. A very nice thing is that they can make special cocktails just for you, depending on your favorite ingredients. Ask them to surprise you, and for sure they will nail the flavor you are looking for while making it look appetizing too.
The Rooftop is open for lunch from 11:00 am to 7:00 pm and offers plenty of options for whatever you are craving from light fare to fresh salads, tacos, burgers, sandwiches, or catch of the day.
For dinner, the Rooftop is open from 8:00 pm to 11:00 pm. There's a great a la carte menu with many international favorites. How about the delicious Rooftop Gift as an appetizer with crispy crab rolls, purple cabbage, and creamy sauce or the Pear Salad with Spinach, walnuts, figs, grilled mozzarella, and blue cheese dressing. For the main course, Duck Magret is very popular served with mashed sweet potatoes, purple cabbage, carrots, and prune sauce. There´s also the Beef Filet with risotto, grilled corn, and roasted vegetables. For all the gluten-free vegetarians out there, our Vegetarian Spaghetti will be perfect for you with gluten free pasta, vegetables, and a poblano pepper sauce.
The bar offers a good variety of top-shelf spirits. If you like wine, there's a good wine list to choose from too.
Hotel Mousai is home to one of the best Rooftops, if not the best, in Puerto Vallarta. For a memorable Rooftop experience on top of the world, Mousai is well worth a visit.
*Note: If you book your stay at Garza Blanca Resort & Spa Los Cabos, they also have a stunning Rooftop with an infinity pool, bar, and restaurant where the experience is comparable. The Rooftop in Los Cabos is open daily from 10:00 am and 6:00 pm and is not open for dinner.
Garza Blanca Los Cabos

Hydrotherapy Circuit for Indulgent Relaxation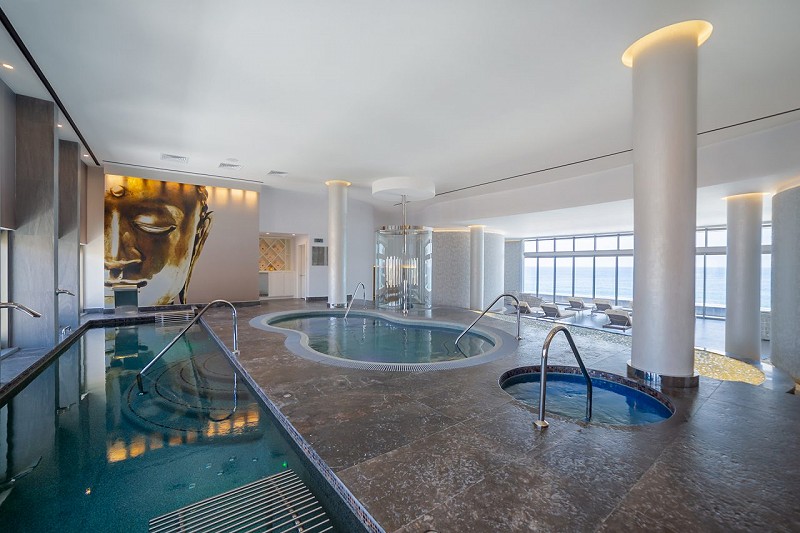 Spa Imagine at Garza Blanca Los Cabos is the perfect spot for indulgent relaxation. Up here on the 9th floor, along with pampering treatments, you'll also find a hydrotherapy circuit and several lounge chairs where you can relax and soak in the ocean views in between using the circuit. For a "one of a kind" experience, make sure to arrive one hour before your scheduled spa treatment to make full use of the circuit.
Below we guide you through each of the steps to use the circuit in preparation for your next visit.
The spa´s wet areas are for men and women, so the use of bathing suits is required. The circuit blends three of nature's most powerful restorative agents: heat, water, and air to stimulate and gently massage the body easing aches and pains.
1.Dry Sauna
The first step to using the hydrotherapy circuit is going into the dry sauna for between 5 and 15 minutes, depending on your preference, to open up the pores of your skin and eliminate toxins.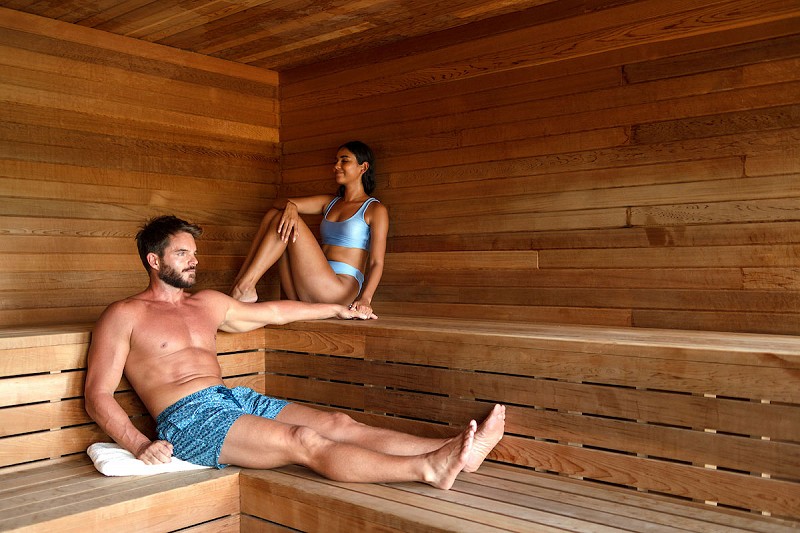 2. Cold Water Plunge
After using the sauna, jump into the cold water plunge pool. This step is very fast and you will get out of the water immediately after submersion. This helps to close the now clean pores and stimulate blood flow.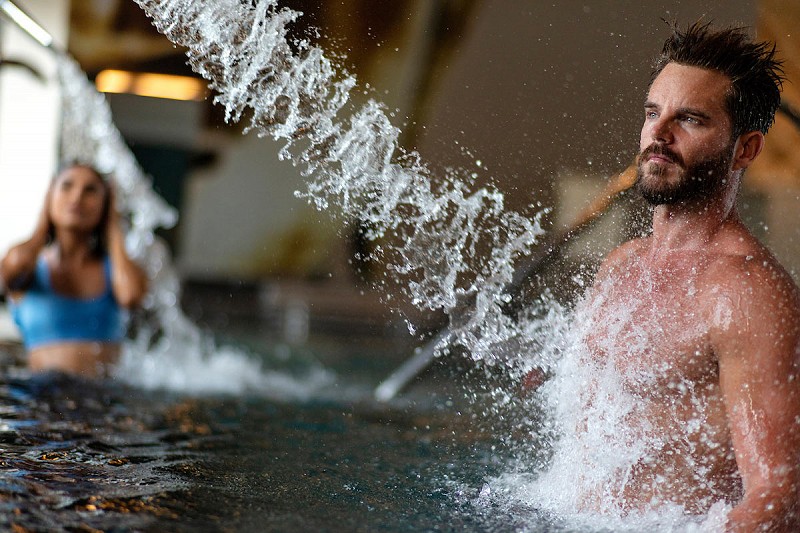 3. Six-Cycle Vitality Pool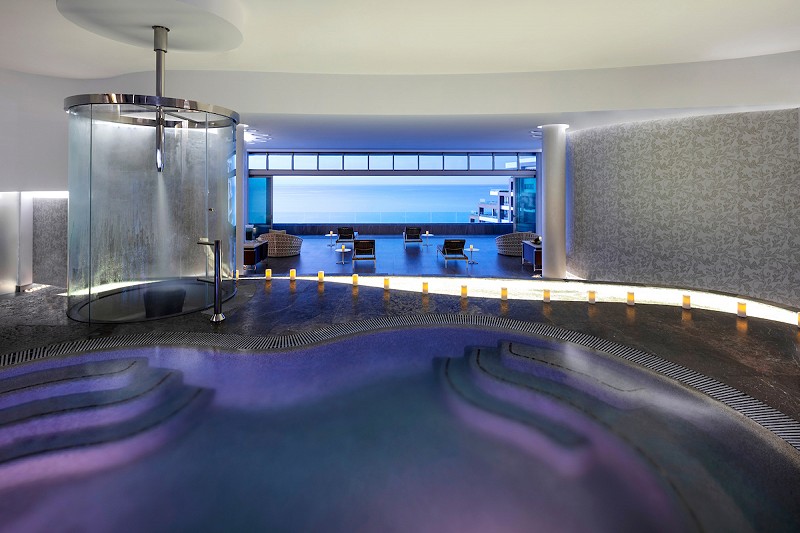 Next you will move to the heated vitality pool. The pool has six different massage stations that target different areas of your body. Start with the foot massage jets, and then move around the circuit in order next moving to the shoulder, lower back, and upper back massage stations and finish with the full body. There are two sets of massage stations in the vitality pool, so you can use the circuit in tandem with your partner. You are recommended to use the pool for 15 – 20 minutes.
4. Relaxation Area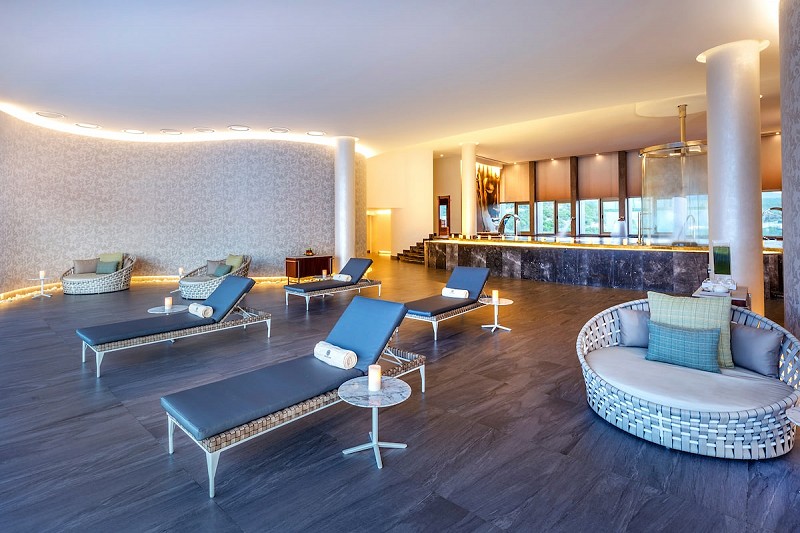 After you have finished using the vitality pool, your spa host will take you to the relaxation area, where you can continue your relaxation on a comfortable lounge chair. Your spa host will provide you with a heated towel to place around your neck to wrap you in warmth while you enjoy some downtime. Your host will also bring you a nice warm cup of tea and a snack of cookies. You can also rehydrate with VitaJuwel water, which offers several health benefits, or try the chlorophyll water, full of antioxidants. You will rest here for ten minutes while you take a break and rehydrate.
5. Steam Room
The next step after your rest break is to use the steam room for between 5 and 15 minutes. The longer you can stay in, the better because the steam room helps with the detoxification process eliminating toxins, stimulating blood flow, and getting rid of dead skin cells.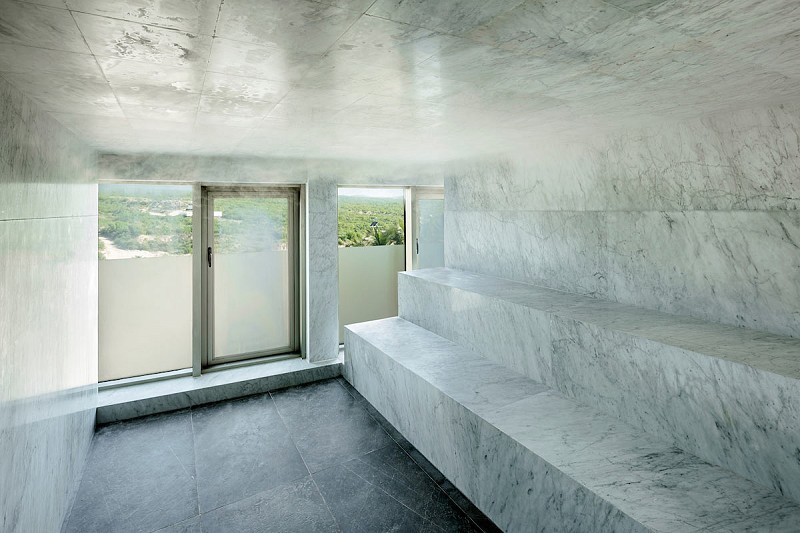 6. Hot Jacuzzi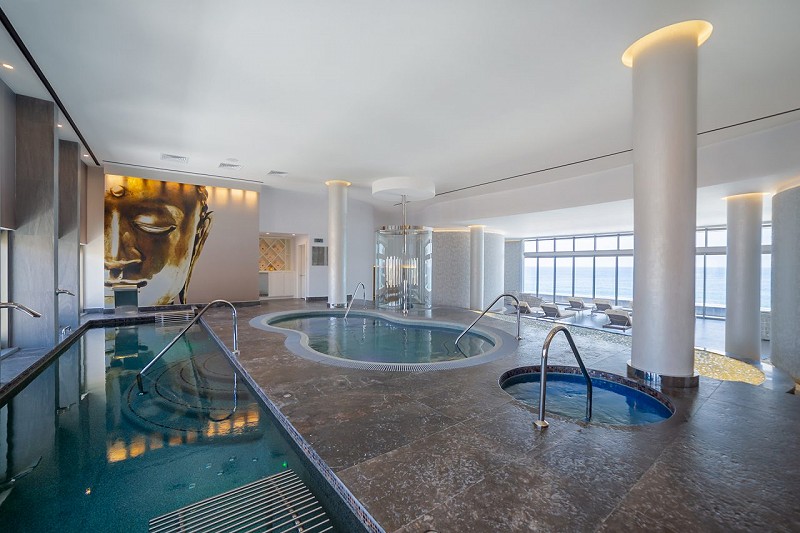 After using the steam room, you are recommended to use the hot Jacuzzi for between 10 and 15 minutes to raise your body temperature, which helps to improve circulation throughout your body by opening the blood vessels and encouraging blood flow, which in turn lowers your blood pressure.
7. High Pressure Shower
And the last part of the circuit is the high pressure shower, which will cool your body and relax the muscles of your upper back.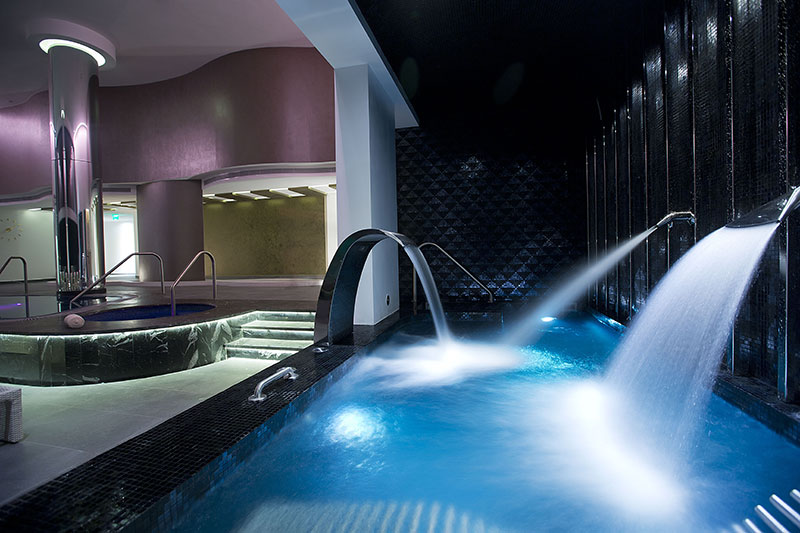 8. Relax Again
After you have moved through all the steps of the circuit, if you still have time before your treatment, you can take a few minutes to relax again on the lounge chairs. Your spa host will provide you with a heated neck towel and a snack of mixed nuts, and you can rehydrate with more water or ask the host to bring you another cup of tea.
Once you have finished all these steps, you will feel completely relaxed and ready for your treatment.
*Note: If you book your stay at Garza Blanca Resort & Spa Puerto Vallarta or Hotel Mousai, Spa Imagine Puerto Vallarta also offers a hydrotherapy circuit that is very similar to the one at Spa Imagine Los Cabos.
Come to experience a dynamic wellness experience at Spa Imagine in Los Cabos or Puerto Vallarta and soothe away all your stress and cares.