From Ancient Landmarks to Extraordinary Beaches: Cancun's Top 9 Sites to Explore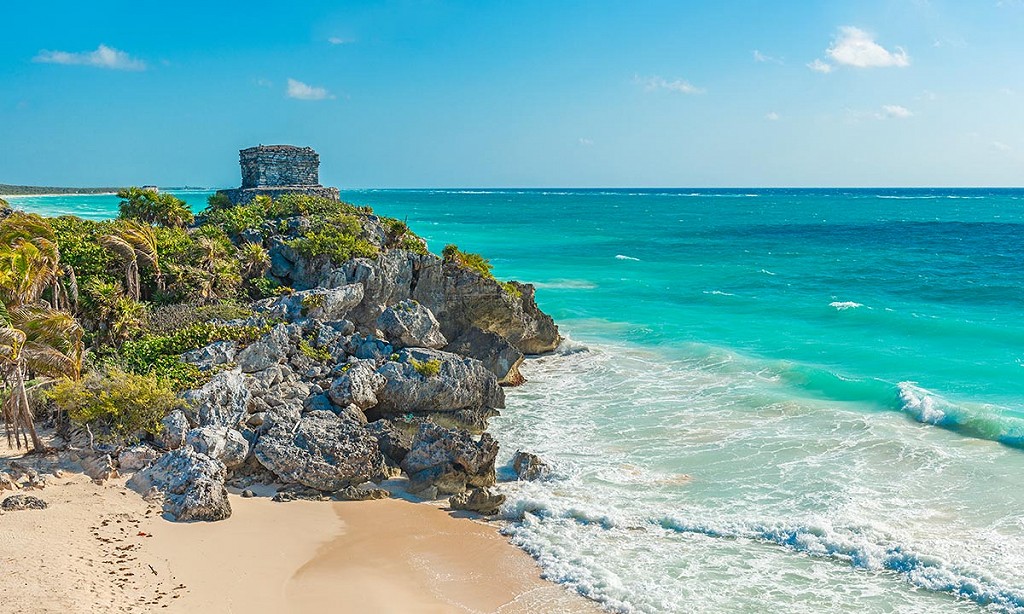 Among Mexico's incredible beach destinations, Cancun continues to top the list. It is a paradise with both natural and ancient wonders. From splendid beaches to magical cenotes and Maya archeological sites, there is truly something for everyone here in the heart of the Yucatan Peninsula. Whether you will be staying with us at Villa del Palmar Cancun or Garza Blanca Cancun, here is a list of the top 9 sites to explore in the area so that you can make the most of your time in paradise.
The Museo Subacuático de Arte (MUSA)
Just a 30-minute drive from either resort will bring you to one of Cancun's most unique attractions. El Museo Subacuático de Arte (Underwater Museum of Art) is a museum dedicated to the beauty below the water's surface. Having opened in 2009, this underwater museum quickly gained popularity across the area, and for good reason, as its creation has greatly contributed to the preservation of Cancun's natural coral reefs.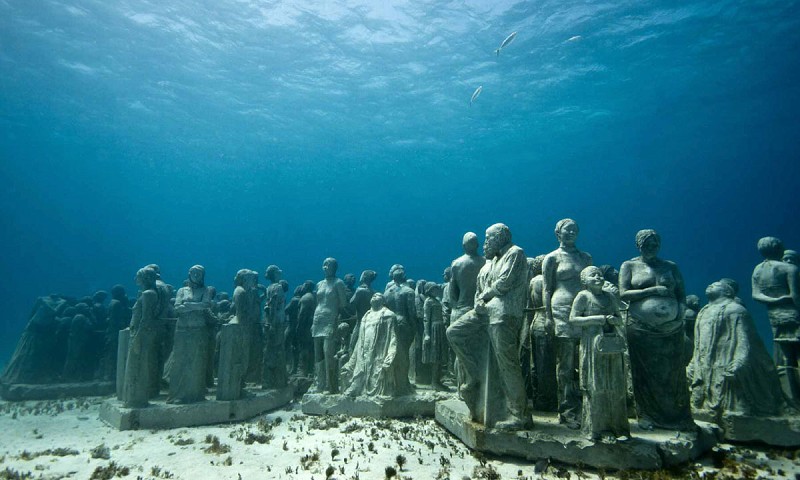 Environmentalists and artists came together to scatter 500 stunning sculptures across a 400 square meter area of water, creating a new habitat for fish, coral, and other marine life. During your visit, you will have the opportunity to explore the area either above or below the water's surface. For visitors wishing to stay dry, tours consisting of glass-bottomed boats will allow you to explore this beautiful and bustling habitat. Alternatively, you can opt to explore via snorkeling or scuba diving.
Whether you have experience in the water or are just beginning, certified guides and instructors will be on-site at all times to ensure your safety and that you are well taken care of. If this experience sounds like one for you, you can either make a reservation online in advance or book through us, at the resort upon your arrival.
Playa Delfines
While you enjoy access to a beautiful white-sand beach directly from both Villa del Palmar and Garza Blanca resorts, it is also worthwhile to explore some of the surrounding beaches. With so many famed beaches in Quintana Roo, it may be difficult to decide which one to spend the day at. If you are seeking a beautiful option that's not too crowded, Playa Delfines is a long and uncrowded stretch of beach, just a 30-minute drive from the resorts
Here you'll become acquainted with the local surf scene, the famous Cancun letters, and the ancient archeological site "El Rey" just across a 2 minute walk across the street. Enjoy the ambience, rent a surf or boogie board for the day, and take a walk around the ancient ruins, all while remaining conveniently close to Cancun's best eateries and restaurants. This is a spot you don't want to miss.
Xel-Ha Park
Feel like going on an adventure for the day? Bring the kids and take a short road trip down South to Xel-Ha Park for a day you won't forget. The famous eco-park is just under a 2-hour drive from either Garza Blanca Cancun or Villa del Palmar Cancun, giving you the chance to see more of Mexico from the scenic coastal highway.
Once at the park, start by ascending the scenic lighthouse. From 30 meters high you'll see incredible 360-degree views of the park and afterward, enjoy the ride down in the built-in waterslide. Other attractions include the "Cliff of Courage" cliff-jumping spot, various caves, zip-lines, and snorkeling zones all waiting to be explored. A buffet and open bar are part of this all-inclusive adventure park.
Chichen Itza - One of the 7 Wonders of the World
Since being named a UNESCO World Heritage Site in 1998 and furthermore voted one of the "New 7 Wonders of the World" in 2007, the ancient Maya ruins of Chichen Itza have gained the popularity that they deserve. Dating all the way back to the early 400s AD, these extraordinary ruins once made up the most populous city in all of the Yucatan Peninsula. Even though the relics have not been preserved in totality, you still should spend a day exploring these ruins for yourself.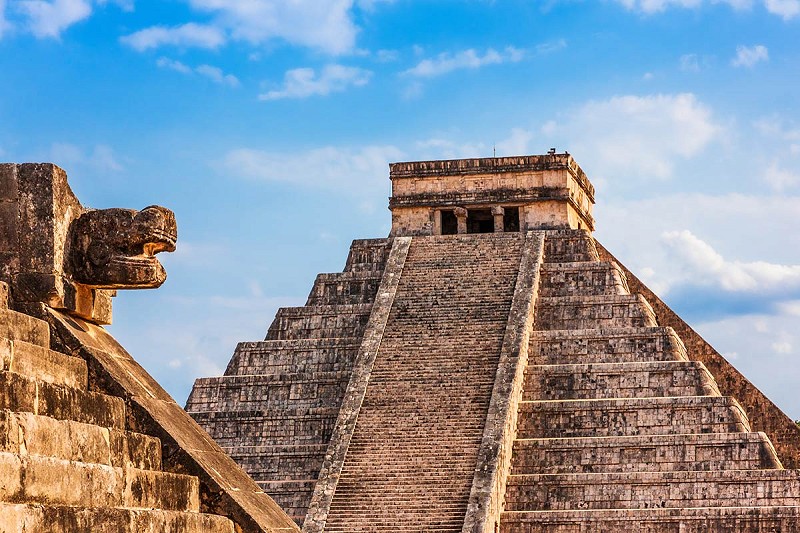 At the heart of the ruins is the famous Temple of Kukulkan (El Castillo). This 23-meter pyramid was built in honor of the feathered serpent god Kukulkan. Here the ancient Maya would perform various rituals, ceremonies, and seek further knowledge in their astrological studies.
There is so much to see and dynamic history to uncover in this incredible wonder of the world. If you drive yourself, plan 3 hours if coming from the resort, alternatively you can book various tours from Cancun where transportation may be included.
Cobá Ruins - City of the White Roads
As you continue to explore the Maya archeological sites, be sure to add the Cobá Ruins, (a two-and-a-half-hour drive from the resorts) to your list. Also located inland, the name translates to "waters stirred by the wind", or "ruffled waters" as the city was built along two lagoons. You will get a chance to see the waters for yourself as you explore the city along its distinct white-stone roads.
While these ruins are to be handled with care, Cobá does allow visitors to touch and climb various structures. Pay a visit and continue to learn about the ancient cities scattered around this region.
Isla Mujeres
For those wishing to explore closer to home, Isla Mujeres is the site for you. To get to this island on your own, you can take the Ultramar ferry from Punta Sam dock located next to Villa del Palmar and Garza Blanca Cancun, and it will take approx. 40 minutes. Alternatively, you can book a guided tour at the on-site travel agency and they can arrange for your pick up from the resort's dock.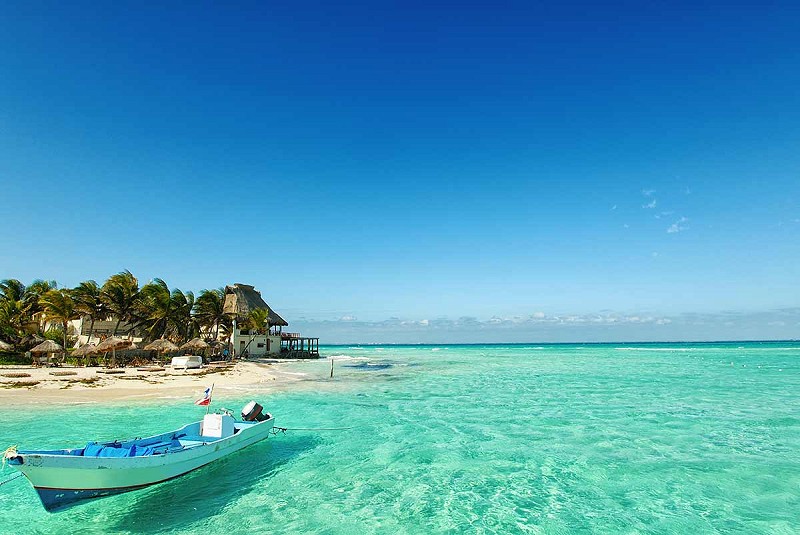 Directly translated, Isla Mujeres means "Women Island" and traditionally served as a sanctuary dedicated to the goddess Ixchel. In Maya theology, she represented the moon, fertility, and happiness. A temple built in her honor is located on the southside of the island.
Because of the jaw-dropping views and stunning beaches, Isla Mujeres has quickly developed as a tourist destination, now featuring restaurants, bars, beach clubs, and the famous MUSA underwater museum. Come spend a day in this tropical paradise, recognizing both its historic significance and natural beauty.
Sian Ka'an Biosphere Reserve
Named as the most spectacular and ecologically diverse region in all of the Mexican Caribbean, the Sian Ka'an Biosphere Reserve is definitely a "must-see". Just south of Tulum (a three-hour drive from Villa del Palmar and Garza Blanca), this 3,000 square kilometer protected reserve is home to thousands of species of both plants and animals and has even been named a UNESCO World Heritage Site.
Book a wildlife tour, sunrise bird-watching trip, or even go fly fishing. You'll have the opportunity to see everything from spider monkeys, manatees, and possums, to large cats such as pumas, jaguars, and ocelots. All the mammals roam free giving you a realistic idea of what this environment was like long ago. Don't miss this chance to experience Mexico's wildlife.
The Scenic Tower
La Torre Escénica or, the Scenic Tower, is an 80-meter tall landmark that gives you the best 360-degree view of Cancun and the Mexican Caribbean. Just a short 22-minute drive from either Villa del Palmar Cancun or Garza Blanca Cancun, you can even choose to make a stop while on your way to visit Playa Delfines. You have the option to either take the stairs or an elevator to the top, just be sure to bring your camera. The tower is open daily from 9:00 am to 9:00 pm.
Dos Ojos Cenote
You can't take a trip to the Yucatan Peninsula without visiting one of the famous cenotes. A cenote is a natural pit or sinkhole that forms when limestone collapses to reveal an enchanting, groundwater pool below. While there are thousands of cenotes across the Mexican peninsula, one of the most famous is Dos Ojos.
A 2-hour drive south of the resort, this specific cenote features crystal-clear waters and an impressive underwater cave system, making it the perfect place to snorkel or scuba dive. Between the incredible water, rock formations, and natural lighting, you will feel as though you have just stepped onto a movie set.
If you have been desiring to connect with your adventurous spirit, then choose to spend your vacation with us in Cancun. Between incredible ancient relics, natural cenotes, and scenic towers, you'll spend your days in complete awe and wonder at what Mexico has to offer.