Santa Maria Beach: The Cabo Spot for Locals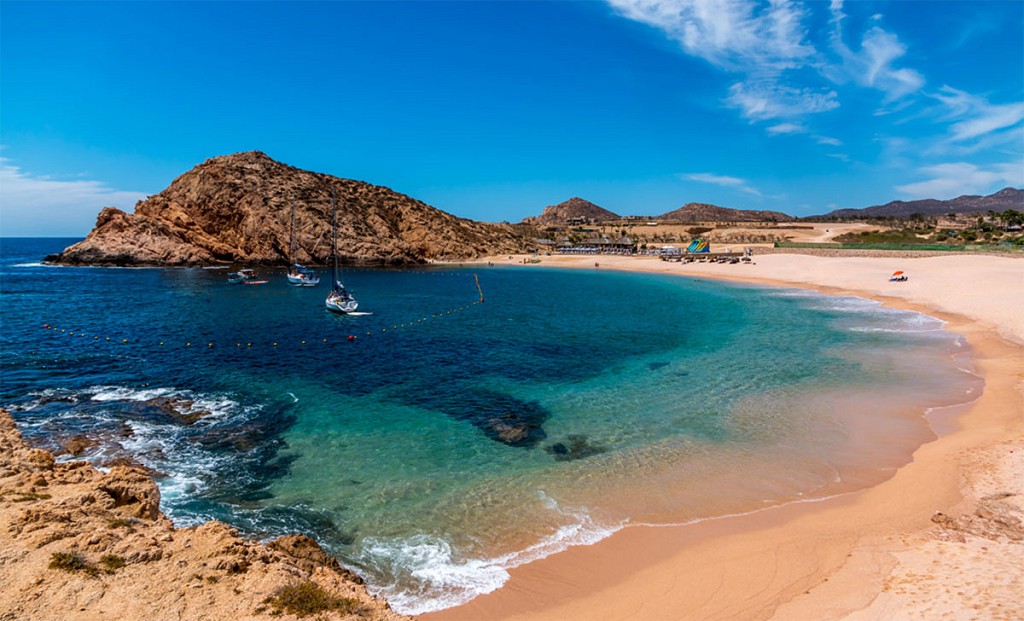 Over the years, stunning beaches and diverse recreational activities have brought Cabo San Lucas to fame. This hot spot for tourists and travelers sits on the very southern tip of Baja California and is just a short 20 minute drive from Garza Blanca Resort & Spa Los Cabos. While Cabo truly deserves its grand reputation, you may find yourself yearning to break away from the crowds and the noise of the central beaches. Santa Maria Beach, often described as "the beach for locals", touts crystal-clear waters and a wide variety of water sports making it the perfect destination for any day trip. Here's our guide for how to best use the time.
Where is Santa Maria beach located?
Santa Maria Beach is a mere 20-minute drive from Cabo San Lucas center. It is easily accessible by car, but you can also find various tour groups to experience Santa Maria's magic by boat. It is an easy drive north on the highway in the direction of San Jose del Cabo. Once you get to kilometer 12 of the highway, look for the marker. There is a beach access sign that will direct you to the right, straight to the parking area. From there, it's just a short walk to this enclosed oasis. There aren't many amenities, buildings or restaurants at the beach itself (which is part of its charm), so be sure to pack enough food and supplies for the day. Now that you have arrived, how will you choose to spend the day?
Visit the Marine Sanctuary
From the second you reach the water, you'll realize why this has become the beach of choice for many Cabo locals. The crystal-clear waters are nothing but alluring and upon a closer look, you'll notice the diverse array of wildlife. Did you know that the Bahia Santa Maria (Santa Maria Bay) is actually a protected marine sanctuary? This is the best place in the region to experience a wide diversity of colors, fish, and other types of marine wildlife. Visitors have been known to spot whales, damselfish and dozens of other species all within this rather small shoreline. Who knows, you may even spot your favorite character from Pixar's Finding Nemo. Get your stuff settled and then get to the water!
Go Snorkeling
There are a few ways in which you will be able to explore this underwater world, one of the best being snorkeling. While the water is absolutely enjoyable year round, we recommend planning your trip in October, when the water is especially warm. You can either pack your own gear or sign up for a guided tour that will take care of the logistics for you.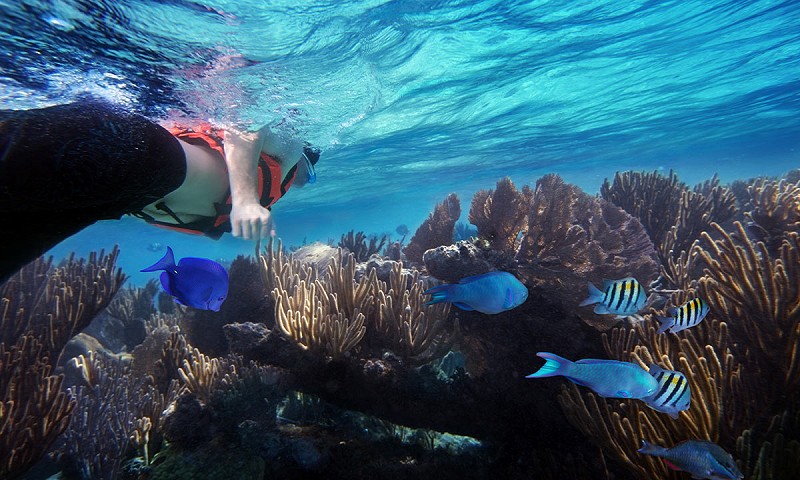 Aries Water Sports is a local guide company that offers fantastic tours to Santa Maria Bay. You have the option to join a snorkeling tour, or, if you are eager to spend a day with the experts, you can book a boat tour or guided tour. This way you can learn to identify all the incredible wildlife that you will be experiencing. There is nothing better than spending the day gliding across the Sea of Cortez! Packages usually include drinks and food. Nevertheless, if you choose to fly solo, be sure to spend the majority of your time towards the south end of the beach. That's where you'll find the best snorkeling spots.
As the fish have become more accustomed to visitors, it is usually easy to get within a close proximity. However, don't forget to pack some bread or tortillas with you. As long as you are willing to share, you are bound to see more species that the bay has to offer. Feeding the fish can be especially a fun activity for the kids. Be sure to give it a try!
Take a Swim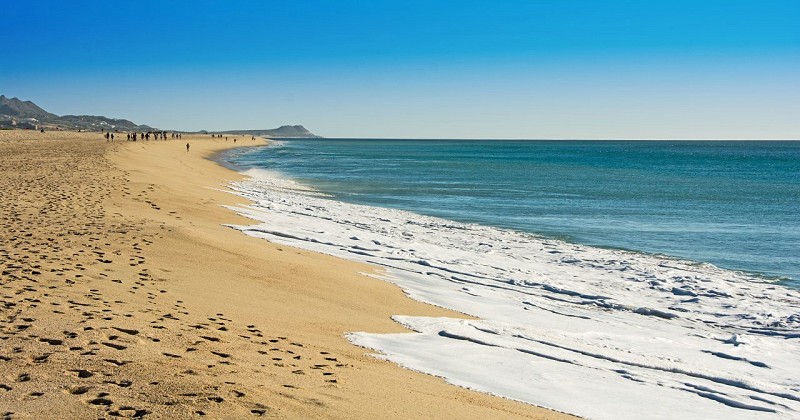 Since Santa Maria Beach is perfectly nestled in a private cove, it is well protected from the waves and strong Baja currents. Upon arrival, you'll probably notice how calm the water is. This makes it the perfect beach destination for children and families. The water is relatively shallow and perfectly complements the soft, sandy beaches. There is also a lifeguard tower and guards on duty during the daytime hours to ensure that everyone is protected.
Especially during the weekends, you may find several vendors selling various snacks and handicrafts. It is always fun to see what they have to offer, especially after a refreshing dip in the water.
Up For a Dive?
After you give snorkeling a try, you may be ready for something a little more extreme. Scuba diving is an experience unlike any other, completely immersing you in the colorful, underwater world. This is the absolute best way to experience the incredible marine life up close and you can book a number of tours that leave directly from the Cabo San Lucas harbor. All tours are led by certified SCUBA diving instructors and gear is included in the pricing and packaging. Just be sure to plan to go in the morning as the water visibility is often much better at this time of day.
Before signing up, be sure to take some precautions. It is recommended that first time divers get a medical examination beforehand just to ensure that there are no health surprises while under the water. Any person with conditions related to heart trouble, congestion, epilepsy or other types of respiratory and circulatory problems are recommended not to dive.
Make It a Road Trip
Since you have already taken the time to get outside of the Cabo San Lucas city, you might as well explore some more of what the area has to offer. While Santa Maria Beach is a little more underdeveloped, the neighboring Chileno Beach has a few additional amenities to make the trip a little more comfortable. Bathrooms and showers are available and the beach is similar to Santa Maria's in its gentle and crystal-clear nature. Take a dive and see how the marine wildlife in Chileno differs from that of Santa Maria. You may be actually quite surprised by the differences!
While Santa Maria Beach may not be as developed as some of its neighboring beaches, it's clear water and marine life puts the beauty of Cabo on full display. It's sure to be a place that you'll want to visit again and again. Don't miss this amazing opportunity to get outside of town for a day.