Jardín Mágico: a Butterfly Sanctuary in Puerto Vallarta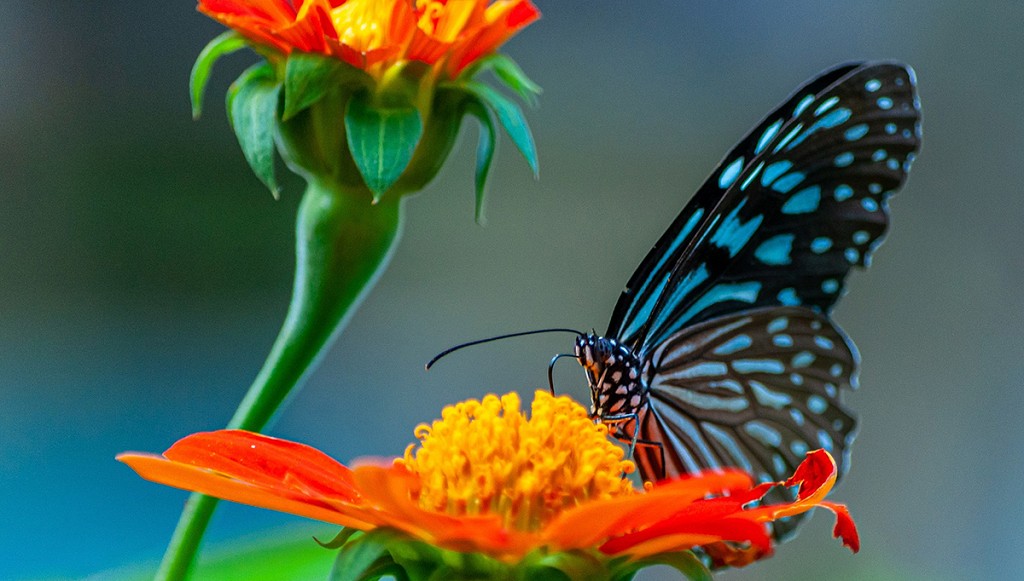 Puerto Vallarta truly is a paradise for nature lovers. Not only are there plenty of water activities to enjoy with family and hiking trails to challenge yourself while discovering endemic flora and fauna, but remarkable experiences in connection with mother nature that allow you to learn more about local and international plants and creatures. Such is the case of Jardín Mágico, the first butterfly sanctuary in Puerto Vallarta. Since its foundation, it has become a must-visit spot for those butterfly enthusiasts visiting the area. If you want a different activity to surprise your companions while on vacation, you must schedule a visit to Mariposario Jardín Mágico, as it is an activity that kids and adults will enjoy alike.
Read on to learn more about this experience.
Where is Puerto Vallarta's Butterfly Sanctuary located?
The Butterfly Sanctuary, Jardín Mágico, is inside Rancho Madre Tierra, ideally situated in the limits of Puerto Vallarta. The ranch has over 3 acres of lush, natural terrain protected by a forest that turtles, great egrets, wild ducks, and butterflies call home.
The focus of the butterfly sanctuary is to preserve and protect the natural heritage of Banderas Bay through conservation projects. However, other activities are available for visitors at Rancho Madre Tierra, including walking trails, disc golf, paintball, camping, go-karting, and even traditional Temazcal ceremonies.
Rancho Madre and the butterfly sanctuary are located 50 minutes by car from Hotel Mousai and Garza Blanca Preserve.
About Jardín Mágico in Puerto Vallarta
The butterfly sanctuary was founded in 2019 and is the first and only of its kind in Banderas Bay. What makes Jardín Mágico such a magical place for nature activists is its focus on sustainability and the aim of improving the population of butterflies through educating the people and doing continuous research to understand butterflies' behaviors and conservation needs in a better way. The program aims to raise awareness and protect these important pollinators and their ecosystems.
Jardín Mágico is home to over 3,000 butterflies representing 20 species endemic to the area. A large, tropical garden is the natural habitat in which the butterflies live and where they can find the protection and means they need to survive. Visitors to the sanctuary can walk down its paths and enjoy the magical display of butterflies, flowers, and plants that live freely in the garden.
The main attraction at Puerto Vallarta's Butterfly Sanctuary is its guided tour, which is led by a tour guide with vast knowledge of the subjects. Extra points to the guide for being extra friendly with all visitors and speaking both English and Spanish. The tour is an hour long and includes learning about the life cycle of butterflies up close. It is also an interactive tour, as visitors can release a butterfly at the end of the experience.
When you visit the sanctuary, you contribute to the preservation of local biodiversity and conversation efforts, and, at the same time, you have tons of fun while learning and exploring.
If you wish to visit the butterfly sanctuary, you can book your tour directly on their website. Here you will find guided group tours and private tours. The guided tours are limited to only ten guests to ensure a personal and interactive experience.
Follow these tips!
Enhance your experience at Jardín Mágico in Puerto Vallarta with these tips!
Reserve your tour in the morning. It's the time of the day when the butterflies are most active.
Wear bright or floral prints. Butterflies tend to feel attracted to these clothes. If you wear any of these, you might be entirely covered by butterflies!
Make sure to bring a good zoom lens to get up-close shots of the butterflies. You can also use your phone to take excellent pics!
Walk slowly! Or you will disturb the butterflies, and they will fly away.
Arrange your transportation in advance. You can do so directly from the sanctuary's website.
Bring cash with you if you plan to pay on-site, as only cash is accepted.
Wear comfortable, airy clothes, as it can get hot, especially if visiting in the afternoon.
Keep your energy levels high! Bring water bottles and snacks.
Types of Butterflies that live at Jardín Mágico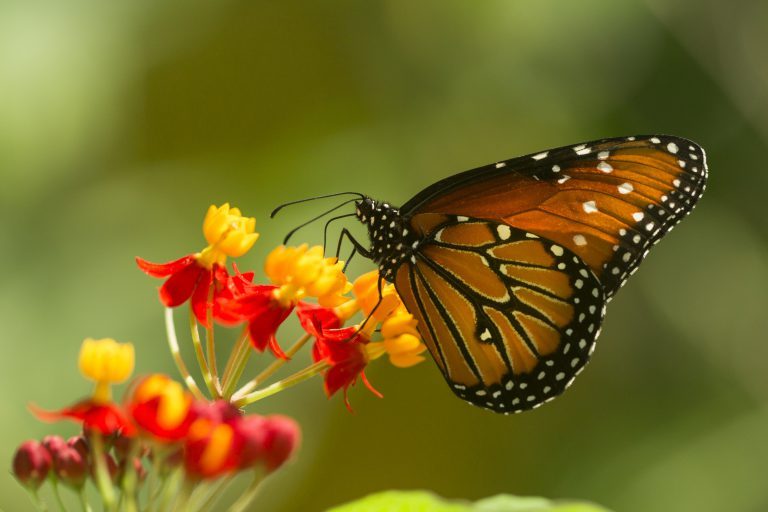 Tropical and subtropical species of butterflies live at Jardín Mágico. But the most common breeds to be seen at Puerto Vallarta's butterfly sanctuary include:
Blue Morpho: You have probably seen it as it has bright blue wings and an iridescent sheen.
Mexican Fritillary: They have orange and black wing patterns, and one of their favorite flowers is... Sunflowers!
Zebra Longwing: They display distinctive black and white striped wings, resembling a zebra's stripes.
Red Postman: They have red and black wing patterns.
Ruddy Daggerwing: Featuring striking red and black wings. They fly slowly in graceful flights that delight all visitors.
Elf Butterfly: Known for its dark brown wings with large pale-yellow spots. This large butterfly is native to Puerto Vallarta.
*Please remember that the population and species can vary depending on the time of your visit and that you can find different or new breeds on every visit.
The Importance of the Butterflies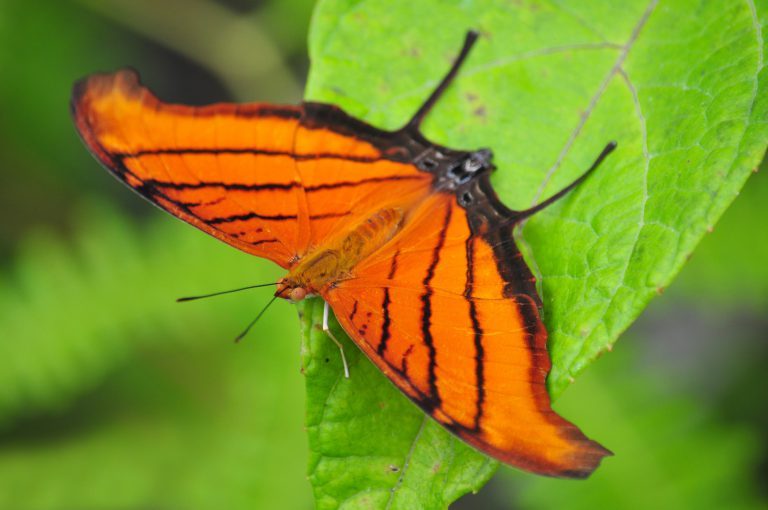 Besides being extremely beautiful, these little insects have an essential role in our world. They are indicator species, meaning that their presence, absence, or population trends can reveal the health of an ecosystem. Climate, moisture, and food availability affect them and their habitats.
Keeping an eye on butterflies is vital as the decline in the population of one of the species may indicate that something is wrong either with the source of the food or the habitat; a clear example is the destruction of the last one, which also is an early warning of something that can become a significant environmental crisis. If the scenario is the other way around, their environment is healthy and can support other animals and plants.
They are also essential pollinators, meaning their decline impacts plants and other animals that depend on them for pollination. They are a food source for birds, bats, and other animals.
The Butterfly Sanctuary is still a hidden gem in Bahía de Banderas' heart. If you are a nature activist who wants to raise awareness, pay a visit to Jardín Mágico and share your experience with friends and family. You can also leave a review on their website and help spread the wings of the butterflies that call Puerto Vallarta home.