New Spa Technologies, New Kayak Tour, and Hiroshi Menu at Villa del Palmar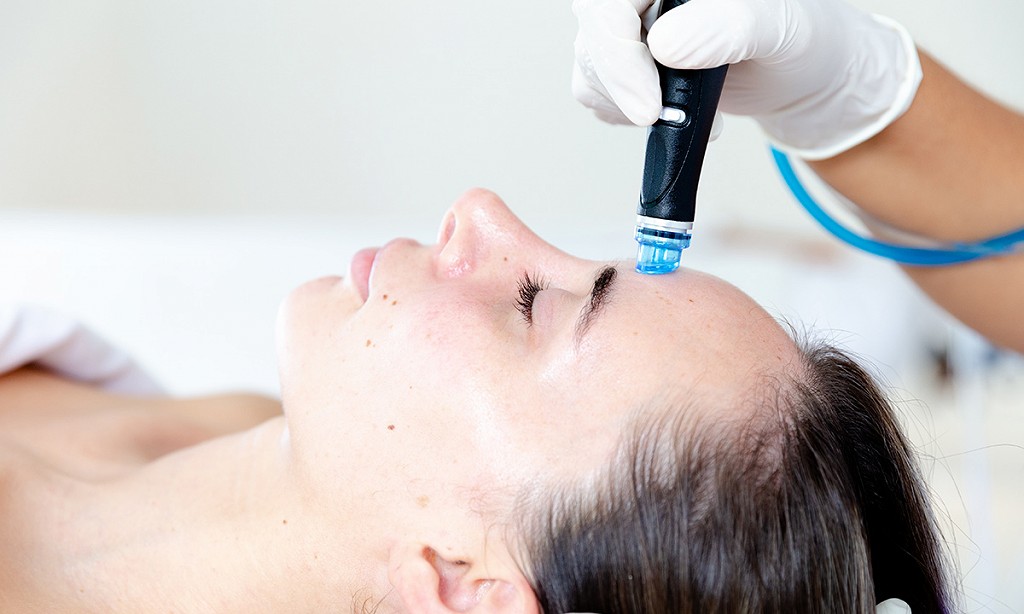 Spa Imagine is pleased to present new spa technologies at Garza Blanca & Hotel Mousai in Puerto Vallarta, Garza Blanca Los Cabos, and Garza Blanca Cancun.
Spa Imagine is continuously evolving trying to find revolutionary ways to meet the wellness needs of all guests and members. The aim of the new high-tech treatments is to promote beauty and address common wellness concerns.
The two new treatments offered are HydraFacial™ Elite™ and Binary Premium by Ross. These non-invasive facial and body procedures use technology to deeply cleanse and hydrate the skin to improve appearance.
HydraFacial™ Elite™
HydraFacial improves the look of skin texture and tone by combining deep cleansing, extraction, microdermabrasion, and hydration into one treatment. The spa therapist uses a pen-like device called the HydroPeel™ Tip to infuse antioxidant serums into the skin. Blue and red LED light therapy is also used to stimulate collagen and elastin. This treatment helps to both exfoliate and inject oxygen and nutrients to the skin. It will leave your skin with a luminous and healthy glow while reducing the appearance of fine lines and redness.
HydraFacial treatments are available in 50- or 80-minute sessions.
Binary Premium by Ross
Binary Premium is a biostimulation procedure for the face and body that provides several benefits including anti-aging, oxygenation, reduction of cellulite, and relieving muscle aches.
The treatment uses magnetic currents to promote cell regeneration and recovery. Techniques include electro-firming, electro-lifting, and electro-sculpting, which oxygenate the skin and create an anti-aging effect.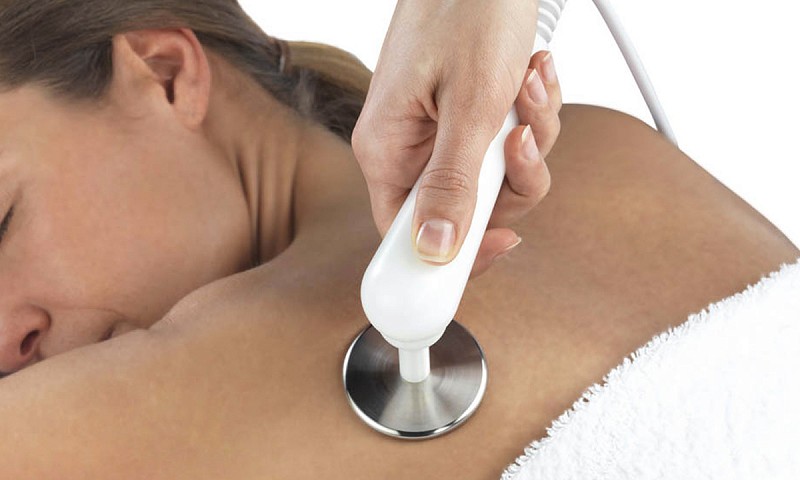 Binary Premium treatments are great for body and facial lifting, muscle toning, and skin firming (after diets/pregnancy). They are also great anti-cellulite treatments and help with skin recovery from scars, stretch marks, and burns, as well as offer pain relief for muscle aches or discomfort, sports rehabilitation, and recovery of the pelvic floor. Treatments also promote relaxation and wellness.
Both technologies will be available at Spa Imagine in Los Cabos and Puerto Vallarta in August 2021, and in Cancun this fall.
Book your appointment at Spa Imagine in Puerto Vallarta by calling 1-877-845-3791 or by calling the direct line at +52 322 176 0700 Ext. 6261 & 6262 or online by visiting https://puertovallarta.garzablancaresort.com/spa-imagine/contact.
Book your appointment at Spa Imagine in Los Cabos by calling 1-877-208-0689 or by calling the direct line at +52 624 105 44 70 or online by visiting https://cabo.garzablancaresort....
Garza Blanca Puerto Vallarta
Kayak Ocean Tour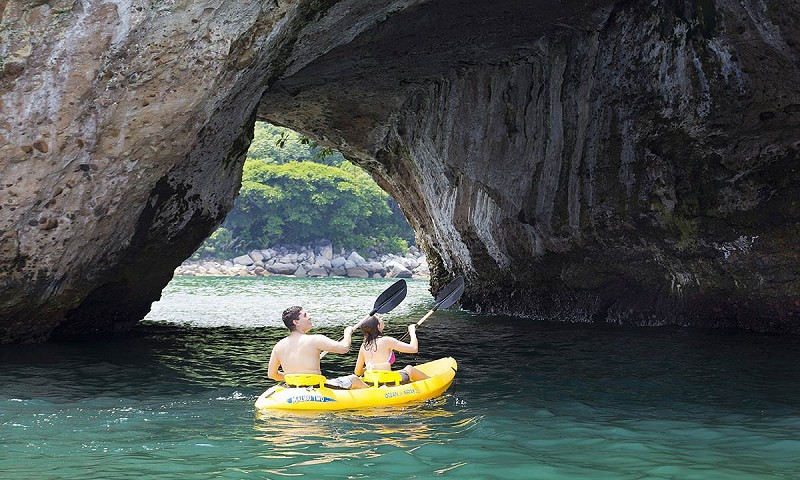 For several years, Garza Blanca in Puerto Vallarta has been offering complimentary Kayak & Snorkeling tours to Los Arcos, which depart from the beach daily at 8:00 am.
Due to popular demand, the activities team has created a second complimentary tour called Kayak Ocean Tour that departs at 11:30 am. The tour is offered four times per week on Mondays, Wednesdays, Fridays, and Sundays. The meeting point is at Garza Blanca Beach.
During the tour, you will paddle around the ocean towards Playa Paredon, approximately 3 miles roundtrip. The tour lasts approximately 2 hours and is an active tour. You may have the opportunity to stop and swim at the beach depending on weather and tide conditions. Kayak experience is recommended. The minimum age to participate in this tour is 12 years old. Advance reservations are required.
Villa del Palmar Cancun
Hiroshi Restaurant
We invite you to visit Hiroshi restaurant at Villa del Palmar Cancun, located next to the lobby. Hiroshi is a fusion of traditional Japanese food with Mexican ingredients, such as grouper fish and xcatic chili, which are typical in the region of Quintana Roo, but without losing the characteristics and traditional flavor of Asian food.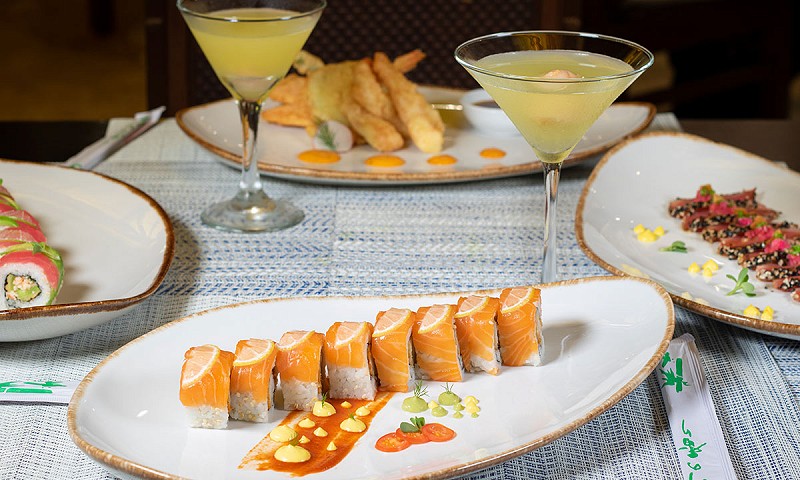 Adriana Rosales is in charge of the restaurant and Jonathan Ponce is our talented chef patron.
The menu is divided into 5 parts:
Cold Appetizers
Hot Appetizers
Makis and Nigiris
Main Courses
Desserts
While enjoying a delicious dinner, you can pair it with one of our signature drinks, such as the Geisha Smile, which is prepared with vodka, chopped fresh fruit such as cucumber and strawberry, and a touch of grenadine to give the red color that makes it shine, or the Sake Martini, in which you can find a sweet lychee at the bottom of your drink.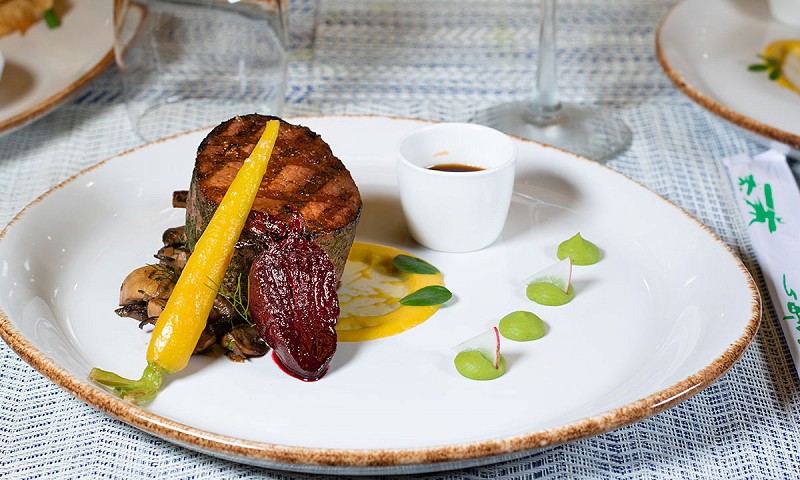 For an extra charge you can also enjoy our premium bar of sakes or Sapporo premium lager and Asahi beers.
Chef's Recommendations:
Cold Starter: Hiroshi salad, a fresh salad with cucumber, carrot, radish, mixed sesame and a ginger dressing.
Hot Starter: miso soup, one of the main dishes of Japanese gastronomy, with tofu, scallions, and wakame seaweed.
Mexican Roll: topped with tuna and stuffed with xcatic chili tempura, kanikama, avocado and sesame seeds.
Main Course: beef filet with herb crust on mushroom ragout served with corn puree with truffles and beets in red wine.
Dessert; Miso créme brûlée, made from miso paste with a sweet and salty flavor, and the traditional crunchy sugar crust.
During your visit to Villa del Palmar Cancun, we invite you to come to Hiroshi and discover all the sensational flavors that will dazzle your taste buds and will always leave you wanting to come back .